Last Updated on May 7, 2020 by Chef Mireille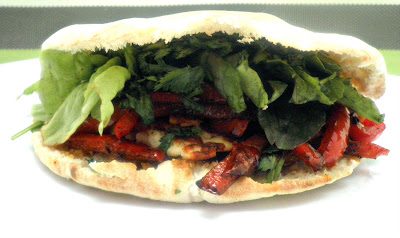 Halloumi Fig Sandwich – don't you want to take a bite?
Blogging Marathon #17
Theme: Archived Recipes Revisited & Improved
We are now in Week 3 of the Blogging Marathon and I am having so much fun revisiting archived recipes. Hope you are enjoying the journey as much as I and I hope I have inspired you to try some of these new and improved recipes at home.
In the original posting of this recipe, I simply explained how to prepare Halloumi for consumption. In this revitalized post, here is a complete recipe using this delicious cheese from Cyprus. Halloumi is an unaged cheese that is sold in a very light brine with a little mint. Since it is a dry cheese, similar to Indian Paneer (used in my Carrot Paneer here) or Latin America's Queso de Freier (used in my Desayuno Costariccense here), you can fry or grill the cheese, without worrying about it melting.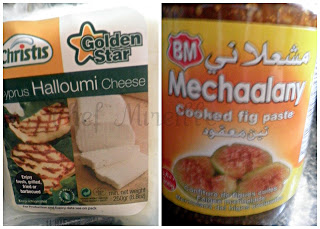 Middle Eastern Food Products
In this recipe, I used it in a Middle Eastern inspired sandwich with fig paste in pita bread.
Halloumi Fig Sandwich
(click here for printable recipe)
Ingredients:
3 sliced Halloumi cheese
1/2 red bell pepper, sliced into thin strips
1 teaspoon olive oil
salt and pepper, to taste
2 tablespoons fig paste/fig jam
a few lettuce leaves
2 tablespoons chopped cilantro
1 small pita bread
In a dry skillet, place slices of halloumi and dry fry a few minutes on each side, until golden brown. Remove to a plate and set aside.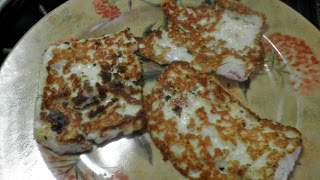 Heat oil in skillet, add bell pepper and saute for a few minutes, until softened. Add salt and freshly ground black pepper, to taste
Slit pita until it is 80% open. Leave a little of it sealed so that the sandwich components will not fall out.
Spread the fig paste. Add the halloumi and sauteed peppers. Add lettuce and cilantro.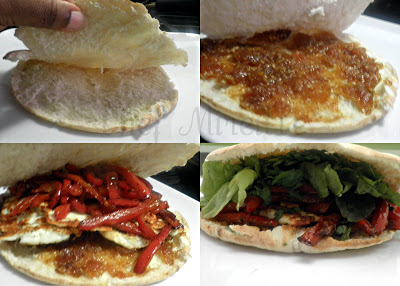 …a delicious sandwich with varying flavors. Sometimes I also add slices of fresh fig, but when I made this the season was not upon us yet for fresh figs.

Don't forget to check out the Blogging Marathon page for the other Blogging Marathoners doing BM#17
..this recipe is off to Priya's Healthy Diet – Sandwiches, hosted by Kalyani and My Culinary Creations – Sandwiches
LIKE THIS RECIPE? LEAVE A COMMENT..I LIVE FOR THEM!
Chef Mireille
Like me on FACEBOOK!
Follow me on TWITTER!