Last Updated on December 14, 2020 by Chef Mireille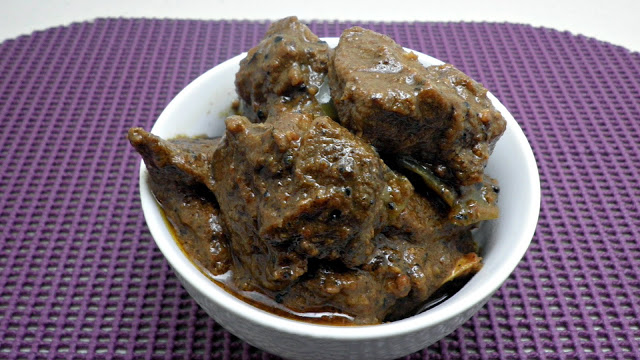 Blogging Marathon #17
Theme: Archived Recipes Revisited & Improved
When I was in culinary school, I took a class called Cuisine & Culture. I was having problems getting into the options I had given myself for the elective class of the semester. They were already full and I was getting so frustrated as nothing else really peaked my interest. One of my teachers that I had taken Nutrition, as well as Food Safety with saw me and suggested I register for a new class they would be offering. I have never been one of those shy people in class, so teachers really get to know my personality and interests. She said she thought I would really enjoy the class. The way she described it, it sounded very cerebral, but I trusted her opinion and I was low on choices. It ended up being the most interesting class of my entire culinary school education. exploring the relationships between religion, history, war and culture on the food we eat.
For my term paper, we had to pick a country or a region of a country if it was large, and discuss all of these factors. We also had to cook a dish from our chosen region and share it with the class. I did the paper on the Kashmir region of India and I chose the most popular dish from this region, Rogan Josh. In the original posting here, you can learn a lot about the history and culture of Kashmiris. So you see my interest in Indian cuisine started long before I entered the blogging world.
Who knows where I got the original recipe from..this was before I was blogging and thinking of accreditation, however, I tweaked it a bit and made it my own.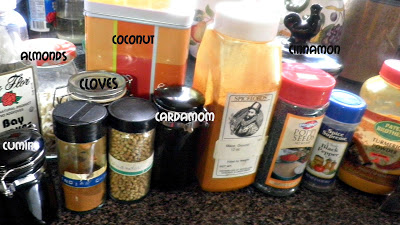 A well stocked pantry is required and it is a time consuming recipe, but it is so worth the effort when you taste this fabulous curry. No wonder this dish from Kashmir is known the world over and is on almost every Indian restaurant menu in the West.
Rogan Josh
(click here for printable recipe)
Ingredients:
1 tablespoon coriander seeds
1 teaspoon cumin seeds
1 teaspoon poppy seeds
4 cloves
4 peppercorns
1 inch cinnamon stick
2 cardamom pods, seeds only
1 tablespoon coconut, grated
1 tablespoon almonds, ground
1/4 teaspoon ground mace
1/4 teaspoon ground nutmeg
4 tablespoons ghee
1 teaspoon onion seeds (aka Nigella)
1 medium onion, finely chopped
4 cloves garlic, crushed
1 inch ginger, finely chopped
3 bay leaves
2 lbs. lamb, cut into pieces
1 1/2 teaspoon chili powder
1/2 teaspoon ground turmeric
salt, to taste
2 plum tomatoes, chopped
2/3 cup plain, natural yogurt
1 green bell pepper, cut into large dice
1 1/2 cups water
2 tablespoons lemon juice
1 tablespoon sugar

Heat a frying pan on medium heat and roast the coriander seeds, cumin seeds, poppy seeds, cloves, peppercorns, cinnamon stick and cardamom seeds until golden brown. Leave to cool and then grind to a powder.
Heat a frying pan on medium heat and roast the coconut, almonds, mace and nutmeg until light brown.
Heat the ghee or oil in a large heavy bottomed saucepan on medium heat. Fry the onion seeds for 30 seconds. Put in the onion, garlic, ginger and the bay leaves and saute until golden, 2-3 minutes. Add the meat pieces and fry until browned on all sides, stirring frequently; about 5-8 minutes.
Stir in the red chili, turmeric, salt, tomatoes and previously roasted and ground ingredients. Cook for about 15 minutes on medium heat, until most of the liquid has been absorbed, stirring frequently. Add the yogurt and cook on a low simmer until all the liquid has reduced, about 15 minutes.
Add the water and green pepper and bring to the boil. Reduce to a simmer and cook for 1 hour, stirring occasionally, until lamb is tender. (depending on age of lamb, cooking time could be longer. Add a little water and keep on cooking, until meat is tender).
Add lemon juice and sugar and cook for 1 minute.

…this recipe has been submitted to My Spicy Kitchen's Red Meat Event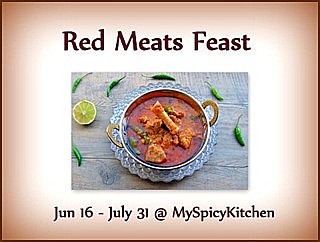 LIKE THIS RECIPE? LEAVE A COMMENT..I LIVE FOR THEM!
Chef Mireille
Like me on FACEBOOK!
Follow me on TWITTER!