Last Updated on June 4, 2015 by Chef Mireille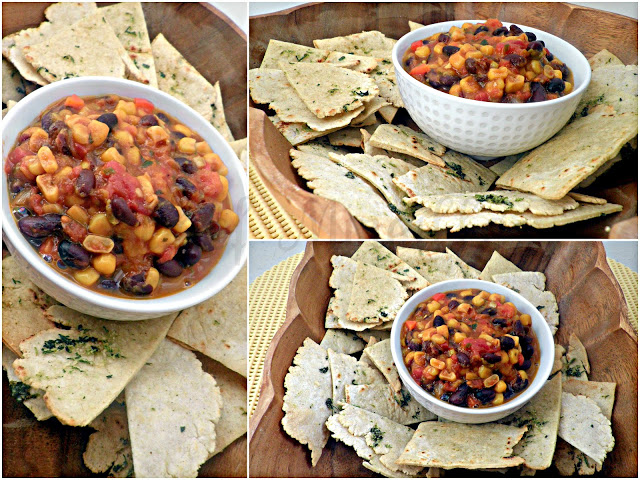 Homemade Tortilla Chips & Mango Salsa
Tortilla Chips are now a staple of American fast food, available everywhere from movie theaters to carnivals and football games. Usually accompanied by a really fattening cheese sauce, eat them with salsa instead and this oven-baked version make a rather healthy snack. The packaged ones now come in a variety of flavors from cilantro and lime to jalapeno. Although I used cilantro, lime and Parfmesan here, you can use the flavorings of your own choice.
The first step is to make the corn tortillas. To make these tortillas, you need a special pre-cooked corn flour sold in the International aisle of your supermarket or in Latin American markets. It is sold as masa, harina precocida or instant corn flour.
The nature of this dough is dry. It is not as soft and pliable as a wheat dough, so the best way to make these is with a tortilla press. If you are making tortillas for tacos and need perfectly round tortillas, I definitely would suggest investing in a press. However, since this recipe is for chips and I do not have a press, I did it using a by hand method (described below) which does not get you round tortillas or triangular tortilla chips as you would get in a bag.
To me, food is about taste and flavor. Aesthetics is secondary, unless someone is paying you to cook and serve food. That's a different story then, but if it's for home use, as long as it tastes good, who cares how it looks (except maybe picky kids 🙂
Of course, you can circumvent the whole process by simply buying store bought corn tortillas and then baking them in the process described below.
Corn Tortillas
(click here for printable recipe)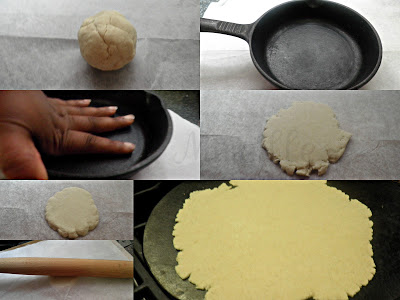 Ingredients:
2 cups masa (instant corn flour)
1 1/4 cups warm water
1 teaspoon salt
In a bowl, combine masa, water and salt until a soft dough is formed. Keep covered with a damp towel as you work, so that the dough does not dry out.
Since I do not have a tortilla press, I used a heavy cast iron skillet, to flatten the tortillas.
Take a few tablespoons of dough and roll into a ball. Place in between two pieces of waxed paper and press down with the skillet. Round the edges.
Using a rolling pin, roll out as close to a thin circle as you can get.
Heat a griddle/roti iron/tawa. Cook 2 minutes on each side.
Tortilla Chips
Ingredients:
tortillas, cut into quarters
grated zest of 1 lime
2 tablespoons cilantro, finely chopped
1 tablespoon grated Parmesan cheese
Preheat oven to 400 F. Brush both sides of tortillas with a little olive oil. Cut into small pieces.
In a large bowl, combine zest, cilantro and Parmesan cheese. Toss tortilla pieces in this mix.
Arrange tortilla pieces in a single layer on a cookie sheet and sprinkle zest-cheese seasoning over it and bake in oven for 10 minutes, until crispy.

Serve with your favorite salsa.
Here are some suggested seasoning variations.
Alternate seasoning:
1/2 teaspoon salt
1/2 teaspoon black pepper
1 tablespoon dried parsley
Indian inspired seasoning:
1 tablespoon chaat masala spice mix and serve with coriander or mint chutney
Southeast Asian inspired seasoning:
1 teaspoon galangal powder
2 teaspoons lemongrass powder
4 Kaffir lime leaves, thinly sliced and serve with instant Mango Achar
As I was ready to plate this for photographing, a look through my pantry and not a jar of salsa was to be found, however, there were a lot of other ingredients in there that would make a great salsa so here is a homemade salsa to go with your homemade tortilla chips.
Mango Salsa
(click here for printable recipe)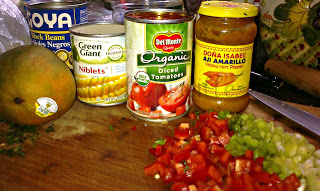 Salsa Ingredients
Ingredients:
2 teaspoons oil
4 scallions, chopped
3 cloves garlic, finely chopped
1 small red bell pepper, chopped
15.5 oz. can black beans, washed and drained
11 oz. can corn, drained
14 oz. can diced tomatoes
1 tablespoon yellow pepper paste ( finely chopped jalapenos can be used instead, but I didn't have any)
1 mango, chopped
juice of 1 lime
1/3 cup water
salt, to taste
2 tablespoons cilantro, finely chopped
Heat oil. Saute onions, pepper and garlic until vegetables are softened.
Add all other ingredients. Bring to a boil. Reduce to a simmer and cook for 20 minutes. Cool.

This is a chunky salsa, if you like a thinner salsa, simply add some more water.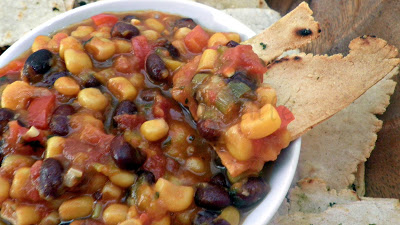 Chunky Mango Salsa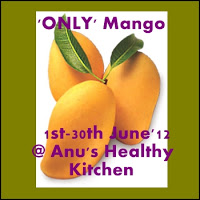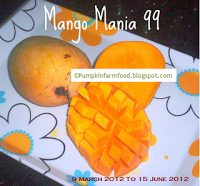 …linking to Priya's Fast Food Not Fat Food, hosted by Sizzling Tastebuds, Pradnya's Mango Mania, Pari's ONLY hosted this month by Anu & Sumee's Bon Vivant – Appetizers
LIKE THIS RECIPE? LEAVE A COMMENT..I LIVE FOR THEM!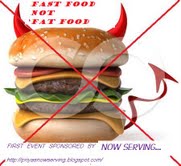 Chef Mireille
Like me on FACEBOOK!
Follow me on TWITTER!