Last Updated on January 12, 2020 by Chef Mireille
Strawberry Shortcake – a history lesson and a recipe! Learn the history behind the recipe and how to make this classic American dessert.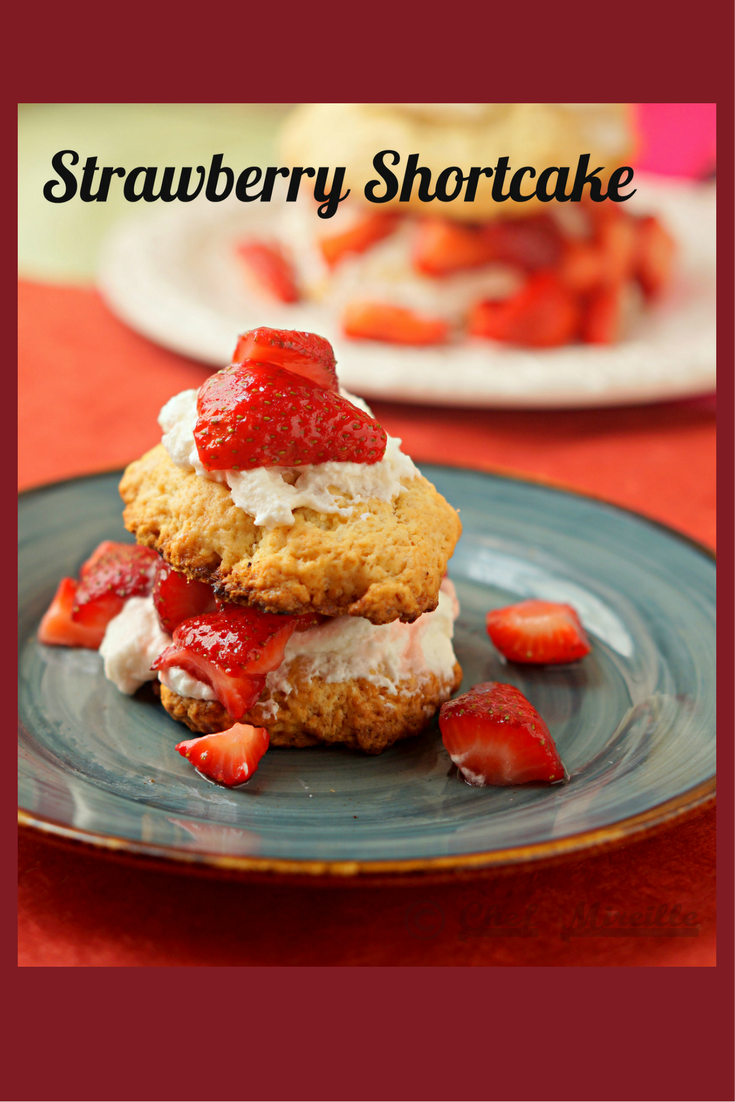 This week I am delving into traditional desserts from different states of America. Strawberry Shortcake is really a classic all American dessert, but this is my attempt in trying to trace it's history to see which state can lay claim to it.
The History of Strawberry Shortcake
Unlike apple pie which crossed the Atlantic from German and Dutch immigrants, Strawberry Shortcake is a truly American creation. Although some versions often use angel food cake or pound cake as the base, this is a modern adaptation. Although we usually associate Strawberry Shortcake with southern or midwestern cuisine, you will be surprised to find where this dessert came from. Read the details below to find out. Traditional Strawberry Shortcake is made with a biscuit base…another truly American creation. So let's start with talking about the history of the shortcake first.
The first recipe for an unleavened rich cookie appeared in an Elizabethan cookbook in 1588. These were the predecessors to the scone. This is why British people call cookies biscuits, where for us Americans a biscuit is a very different thing and so different from a cookie. Cross the Atlantic and the introduction of chemical leavening agents transformed these unleavened cookies into American shortcakes and biscuits. America is always the first to add chemicals to their food and nothing has changed right? However, this is one instance when we were right to do so. Imagine flat and dense cakes without the wonderful light airy texture and fluffiness that is achieved by adding just a little baking powder or baking soda.
Now let's get to the strawberry part of the history of this recipe. The first recipe for Strawberry Cakes started with the British version of the unleavened biscuit, layered with strawberries, covered with a hard icing and topped with more strawberries. This appeared in an 1845 issue of the Ohio Cultivator. The leavened shortcakes started appearing around 1847. However, the addition of cream did not come until much later. Strawberry Shortcake as it is now first appeared in print in a Rochester periodical in 1862. That's right…Strawberry Shortcake was created right here in New York. Maybe it's because we associate biscuits with Southern & Midwestern cuisine and that's the reason for the connection, but nope it's right here in upstate New York. I suppose back then everybody made biscuits before the Jewish immigrants came in the northeast and introduced bagels.
IN THE MAKING – HOW TO MAKE STRAWBERRY SHORTCAKE

The perfect summertime dessert!
Strawberry Shortcake – a history lesson and a recipe!
Strawberry Shortcake - a slice of classic Americana. Get the recipe and learn a little about the history of this classic recipe
Ingredients
Strawberry Ingredients:

5

cups

hulled and quartered strawberries

2/3

cup

sugar

Biscuit Ingredients:

3

cups

all purpose flour

1/2

cup

sugar

4

teaspoons

baking powder

3/4

teaspoon

salt

1 1/2

sticks cold butter

cut into small pieces

2

eggs

1/2

cup

heavy cream

1

teaspoon

vanilla extract

Cream Ingredients:

1 1/2

cups

heavy cream

2

tablespoons 

powdered sugar

1/4

teaspoon

ground clove
Instructions
In a bowl, combine strawberries and sugar. Toss gently to combine. Leave to sit while we work on the biscuits.

Preheat oven to 375 F. Line baking sheet with parchment paper and spray with non stick spray.

In a large bowl, combine flour, sugar, baking powder and salt.

In a small bowl, whisk together the eggs, heavy cream and vanilla.

Using a pastry blender, cut the butter into the flour mix in the large bowl until the butter is the size of small peas. Add egg cream mix and mix until just combined.

Spray a 1/2 cup measuring cup with non stick spray. Fill the cup with the batter and place on prepared baking sheet in a mound. Repeat for each biscuit.

Bake for 20 minutes, until golden. Leave to cool.

To make whipped cream, pour cream into the bowl of an electric mixer. After 2 minutes, add sugar and clove. Beat until whipped cream consistency.

To assemble shortcakes, place one on the bottom of a plate. Spread a little whipped cream on top. Layer some strawberries on top. Top with another biscuit. Garnish the top with another dollop of cream.
Notes
The addition of a little clove to whipped cream is not traditional, but my own addition that I have loved for years.
I had gotten this recipe from a colleague who is a pastry chef. This recipe is for restaurant style Strawberry Shortcakes. However, these are huge. For making at home, I would use 1/4 batter for each biscuit to yield smaller shortcakes that one person could actually finish for a normal sized dessert.
Nutrition
Calories:
697.11
kcal
|
Carbohydrates:
76.64
g
|
Protein:
8.24
g
|
Fat:
40.98
g
|
Saturated Fat:
25.01
g
|
Sodium:
442.21
mg
|
Fiber:
3.19
g
|
Sugar:
37.62
g
Did you try this recipe? Leave a comment below.
Please follow me on Instagram @chefmireille or tag me #chefmireille with your pics! I'd love to share them!
Do you know anyone else who likes learning about international food, culture, history and travel? Bring them over here to join the party! Don't forget to use those share buttons!
Start Here to find out how the Schizo Chef can help you with your cooking, travel and other needs!
If you like this recipe, PLEASE LEAVE A COMMENT & SUBSCRIBE!
Check out the Blogging Marathon page for the other Blogging Marathoners doing this BM#66