Last Updated on January 12, 2020 by
This delicious yet simple version of a classic French Quarter holiday dessert is decadently complimented with a rich Bourbon Sauce drizzle.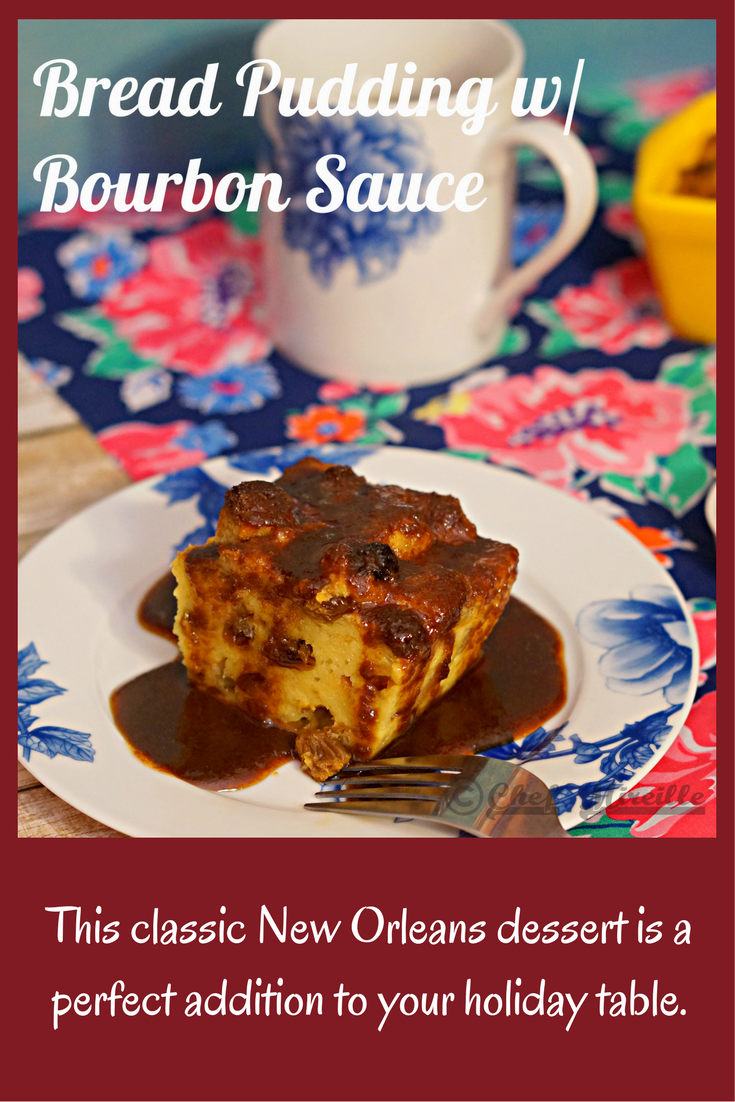 New Orleans Bread Pudding is one of my all time favorite desserts; from the American variety to the Caribbean variety, I love them all! You can check out the Dominica coconut version I made here, but today… I am going to make this delicious American version.
Bread pudding is one of the most popular desserts in Louisiana, especially in New Orleans during Mardi Gras when you can get a plate of bread pudding at every French Quarter establishment. People from Louisiana take their bread pudding seriously and make no mistake, it's always served with a Bourbon sauce. Some of you may be wondering how you make bread pudding from scratch so here, let me show you!
With the holiday season just around the corner, this dessert is a perfect French Quarter delight to add to your menu. I like to add a little twist of my own, but that doesn't mean classic versions are lacking in any way; it's all a mater of preference. This recipe is my take on the classic version so no crazy ingredients needed. I've made this bread pudding recipe simple, I hope you enjoy making this!
Before we get to today's recipe, let's take a look at some other holiday desserts you might want to make during this year's holiday season

HOLIDAY DESSERT RECIPES
IN THE MAKING – HOW TO MAKE NEW ORLEANS BREAD PUDDING
Serve with the sauce.
This classic New Orleans dessert is so decadent and heavenly.
This treat is absolutely perfect for tea time!
I used potato bread, but you can use any sweet bread like brioche or challah. Feel free to use my medianoche bread recipe here.
New Orleans Bread Pudding
A classic holiday dessert with French Quarter flavor!
Ingredients
Bread Pudding Ingredients:

7

oz.

stale bread

left out for 1-2 days to become hard

1/2

cup

raisins

1/2

cup

bourbon

6

Tablespoons

melted butter

2

cups

milk

3

eggs

3/4

cup

sugar

2

teaspoons

vanilla extract

Bourbon Sauce Ingredients:

1

cup

sugar

3/4

cup

heavy cream

2

Tablespoons

bourbon whiskey

Soak raisins in bourbon for at least 1 hour.
Instructions
Brush melted butter on the stale bread slices. Cut bread into cubes. Place cubes into a large shallow bowl.

In a small saucepan, heat milk but do not let it boil.

In another bowl - whisk together eggs, sugar and vanilla. Slowly add the heated milk a little at a time, whisking well after each little bit added. Be very careful to slowly temper the eggs so they do not scramble. Add raisins and stir to combine. Add this liquid to the bread and combine well. Let sit in the fridge for 1 hour.

Preheat oven to 350 F. Coat a cake pan or individual ramekins with non-stick spray. Make sure your pan or ramekins is/are small enough to fit into a larger pan, as the pudding is cooked in a water bath.

Transfer bread mix to prepared cake pan or ramekins.

Place pan or ramekins into a larger casserole dish and fill 3/4 up the sides with boiling water.

Bake for 1 hour.

While the pudding is baking, let's make the bourbon sauce.

In a saucepan, add sugar and cook on low heat until the sugar is melted and turns into a light caramel. Remove from heat. Add cream. Wait until it stops bubbling and whisk to combine. If any of the sugar caramelizes and clumps into candy, remove it. Place on the heat again and add the bourbon. Simmer 5-10 minutes, until thickened.

Serve with the sauce.
Notes
I used potato bread, but any sweet bread like brioche or challah can be used. Feel free to use my medianoche bread recipe here.
Did you try this recipe? Leave a comment below.
Please follow me on Instagram @chefmireille or tag me #chefmireille with your pics! I'd love to share them!
Do you know anyone else who likes learning about international food, culture, history and travel? Bring them over here to join the party! Don't forget to use those share buttons!
Start Here to find out how the Schizo Chef can help you with your cooking, travel and other needs!
If you like this recipe, PLEASE LEAVE A COMMENT & SUBSCRIBE!

Check out the Blogging Marathon page for the other Blogging Marathoners doing this BM#66