Last Updated on December 23, 2019 by Chef Mireille
Spaghetti with Green Beans & Cannellini Beans
This simple pasta dish with a fresh tomato sauce is a great option for Meatless Monday.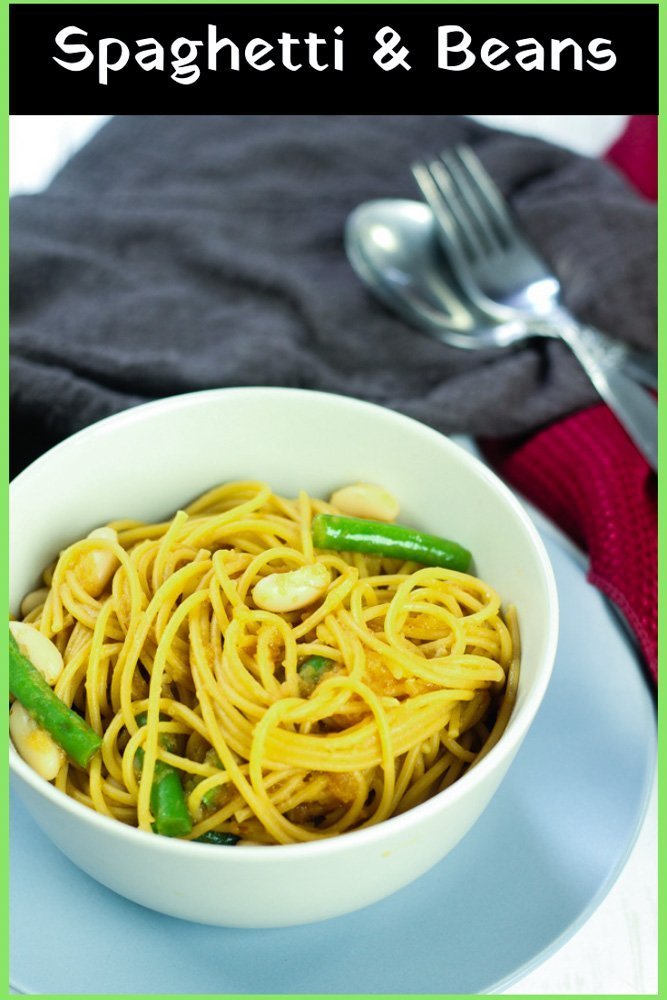 A few months ago I visited one of the local farms in New Jersey which allows you to pick your own produce. The tomatoes and beans used in this recipe were picked straight from the plants and cooked the next day. I don't need to tell you how fresh and wonderful this was. When the produce is really fresh, it really does not need a whole lot of ingredients to give it flavor.
Spaghetti with Green Beans & Cannellini Beans, if you can even call it that because it is so simple, is from a cookbook my mom brought me back from her trip to Florence a few years ago. It is called The Cuisine of Italy – All the Recipes. This recipe is from the Campania region of southern Italy. The book only gave the quantities for the tomatoes and the pasta. Everything else you can add according to your own tastes.
This traditional Italian dish is very different from American pasta dishes, which are often swimming in sauce. In Italy, the sauce is meant to simply coat the pasta without extra sauce pooling on the plate.
Interested in trying some more traditional Italian dishes? Check these out!
Italian Recipes
The only thing I changed was adding the beans. Since I came back from the farm with these beautiful green beans, I added them to the pasta. Additionally, I added a can of cannellini beans to add extra protein. That way I made it a complete meal for Meatless Monday.
And of course what doesn't taste better with some good cheese sprinkled on top!
This simple dish was perfect to bring out the flavor of the fresh vegetables. It's a fresh and light dish!
I used veggie spaghetti to add some more nutrients, but it can be made with any spaghetti of course. Now I know you are excited to try Spaghetti with Green Beans & Cannellini Beans
Spaghetti with Green Beans & Cannellini Beans
Spaghetti & Beans – A quick and easy pasta dish, perfect for Meatless Monday.
Ingredients
12

oz.

spaghetti

2

pounds

tomatoes

1/2

pound

green beans

trimmed into thirds

2

tablespoons

olive oil

1

teaspoon

sugar

2

teaspoons

salt

1/4

teaspoon

crushed red pepper

15.5

can cannellini beans

drained and rinsed

4

tablespoons

grated Pecorino Romano cheese

as desired
Instructions
With a sharp knife, make an X on the bottom of each tomato. Have a large bowl with ice water standing by.

Bring a large pot of water to boiling. Add tomatoes until skin of tomatoes start to crack, about 1 minute.

Remove from the pot and place in the ice water immediately.

Bring the water back to boiling. Add green beans and cook for exactly 1 minute. Remove and set aside.

Peel and core the tomatoes, removing all of the seeds.

Using a food processor, puree the tomatoes.

Transfer to a saucepan. Add 1 tablespoon of the olive oil, sugar, salt and red pepper. Bring to a boil. Reduce to a simmer and cook on low heat for about 20 minutes, until sauce has thickened and darkened in color.

Add remaining oil and whisk to combine to get a smooth consistency.

Meanwhile, cook pasta al dente.

Drain pasta, reserving some of the pasta water and toss with sauce, green beans and cannelini.

Add a few tablespoons of the pasta water and toss.

To serve, sprinkle grated cheese on top.
Notes
You can use other cuts of pasta if you prefer.
Nutrition
Calories:
221
kcal
|
Carbohydrates:
39
g
|
Protein:
7
g
|
Fat:
4
g
|
Saturated Fat:
1
g
|
Sodium:
597
mg
|
Potassium:
423
mg
|
Fiber:
4
g
|
Sugar:
6
g
|
Vitamin A:
1159
IU
|
Vitamin C:
19
mg
|
Calcium:
31
mg
|
Iron:
1
mg
Did you try this recipe? Leave a comment below.
Please follow me on Instagram @chefmireille or tag me #chefmireille with your pics! I'd love to share them!
Ready to make this recipe? I would love to see your photos! Tag me on Instagram #theschizochef with your pics!
You can also make it with other cuts of pasta.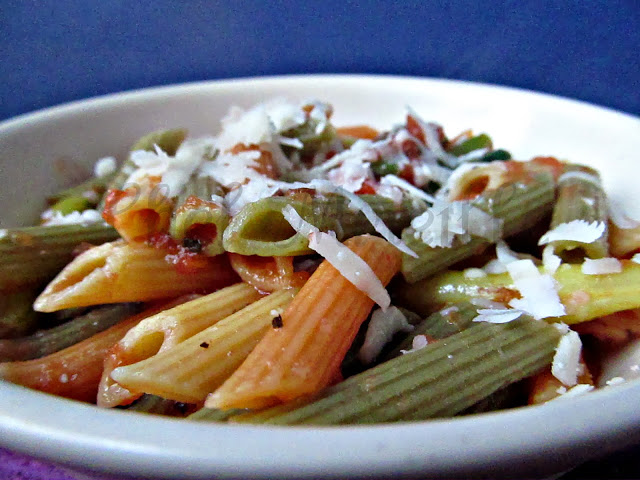 This post is for the CC Challenge of the month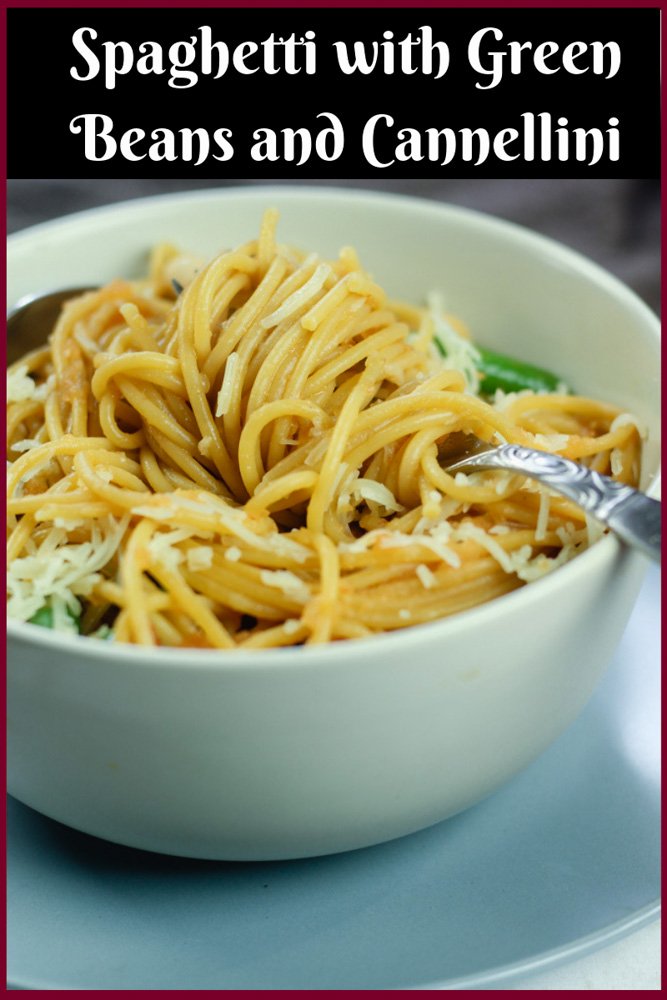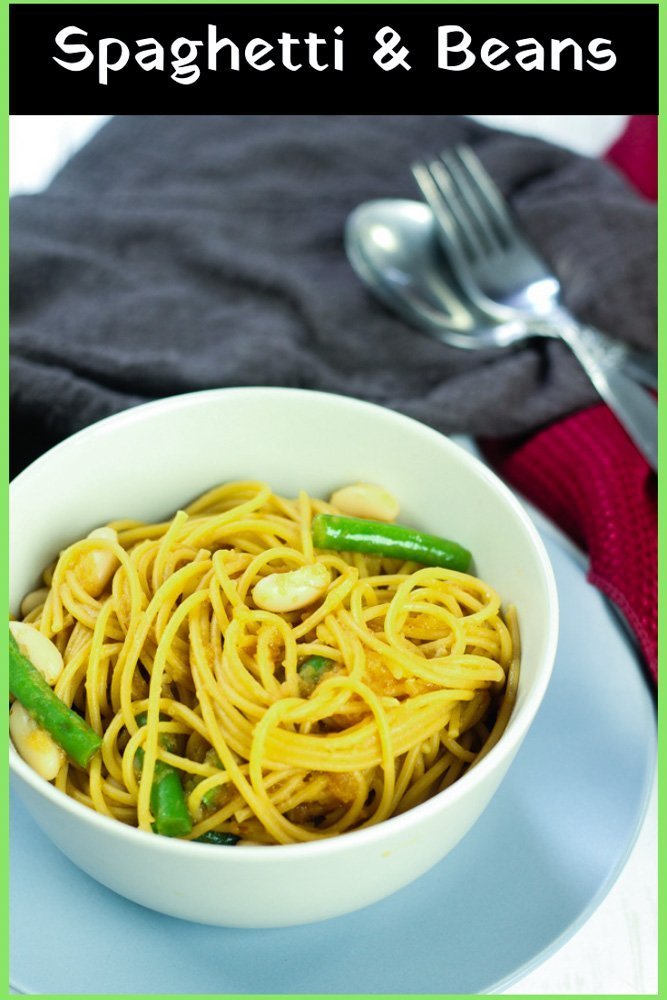 DO YOU YUM? SAVE IT BELOW!
Yum
Don't forget to visit the RECIPE INDEX with over 1000 recipes from around the world including lots of Vegetarian Recipes and Gluten Free Recipes!
This post may include affiliate links.