Last Updated on June 3, 2015 by Chef Mireille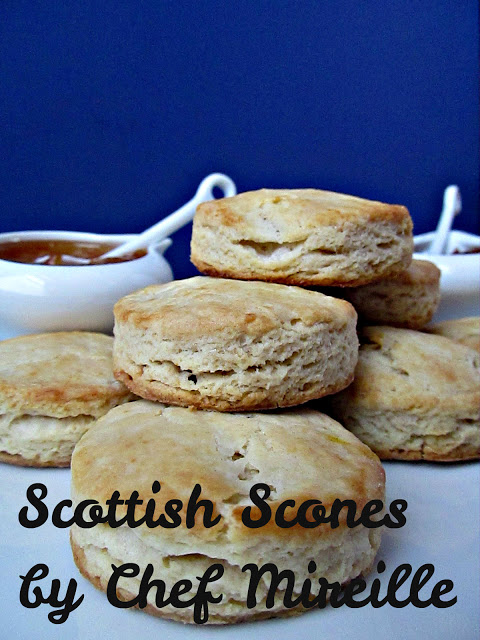 Scones have become the rage in the US, or at least NY. Since that is where I live, that is my area of expertise. Scones are no longer just for those restaurants that specialize in High Tea. Fast food coffee/breakfast chains like Starbucks and Hot & Crusty to local diners all sell scones. Scones originated in Scotland and have been popular throughout the UK for centuries. However, take a Brit or a Scotsman to one of these NY dining establishments for a touch of the UK and they'll think you've given them a plate full of blarney that bares no resemblance to the scones they get at home.
So what is the main difference between an American scone and a Scottish one you might ask?
A Scottish scone is closer to an American biscuit (not what the UK calls a biscuit, which is really what we Americans call a cookie or a cracker). In fact, many believe the biscuit invention was a variation of the Scottish scone. Like the American biscuit, traditional Scottish scones are usually made with shortening/lard, which gives it the crumbly texture. A proper Scottish scone should not be very sweet or rich as it is meant to be a vehicle for jam, clotted cream, lemon curd or even just plain sweet butter. Most are usually unflavored, although sometimes currants are included. Other popular varieties include oat scones, savory cheese scones and potato scones.
While these are more bread like, American scones are more cake like with additional sugar and eggs always included. The variety that exists with American scones are endless – from fruits to chocolate to savory scones that can include anything from ham to mushrooms and asparagus. The sweet varieties are often topped with sweet glazes, something you would never find on a Scottish scone. While I have a few scone recipes already posted on this blog, this time I am providing you with a traditional Scottish version.
Scottish Scones
Yield: 12 scones
Ingredients:
1 1/2 cups self rising flour
4 tablespoons cold butter
4 tablespoons cold vegetable shortening (traditionally, lard would be used but I prefer vegetable shortening to animal fat)
1/3 cup + 2 tablespoons milk + extra for brushing on top
1 tablespoon + 2 teaspoons sugar
Preheat oven to 400 F.
In a large bowl, combine the flour and sugar. Using a pastry blender, cut the butter and shortening into the flour until it resembles small peas.
Add milk a little at a time, until a soft dough comes together.
On a well floured board, pat the dough until about 3/4″ high.
Using a floured biscuit cutter, cut out scones and place on a parchment lined cookie sheet.
Repeat until all the dough has been used up.
Brush the tops with milk.
Bake for 15-20 minutes, until golden brown.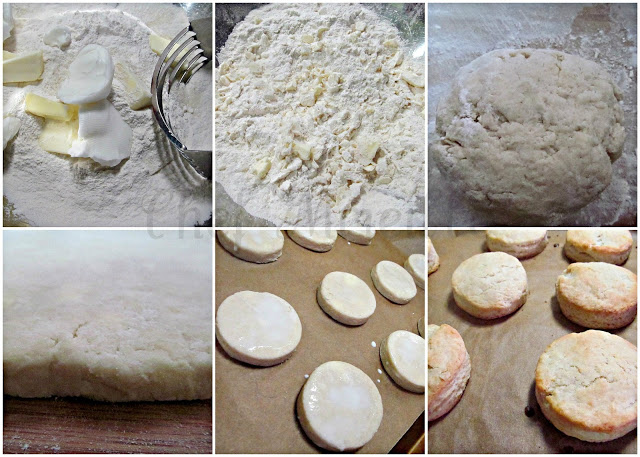 Serve with jam/preserves, lemon curd and clotted cream for a traditional Scottish breakfast.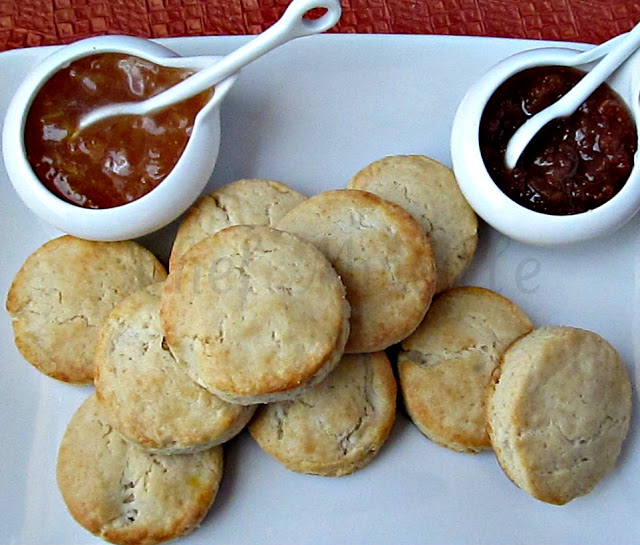 Flaky on the outside and soft on the inside…just waiting for soft butter or fresh preserves…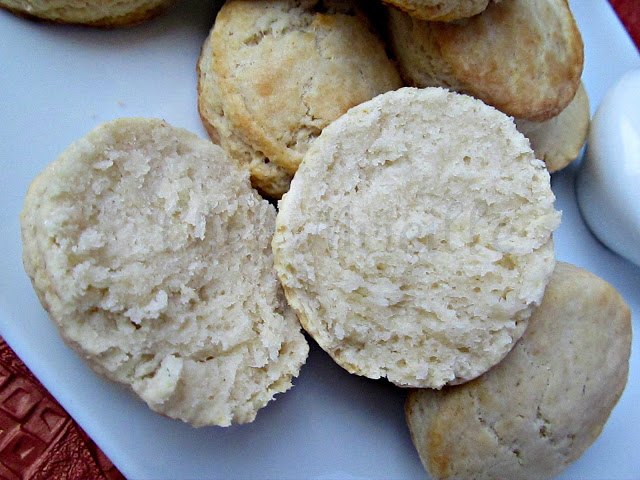 …linking to Bake Fest, hosted by Tangy Minds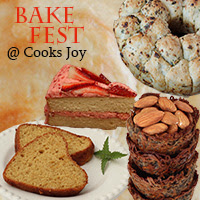 LIKE THIS RECIPE? LEAVE A COMMENT..I LIVE FOR THEM!
Chef Mireille