Last Updated on June 3, 2015 by Chef Mireille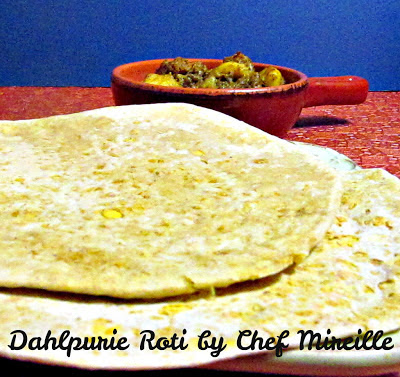 Blogging Marathon #28
Theme: Indian Breads
For my stuffed bread this week, I am taking you to the Caribbean. Technically speaking, this is an Indo-Caribbean bread instead of a strictly Indian one, but it still falls close enough within the theme I think.
Due to the large Indian population that came to the Caribbean in the 1800's after slavery was abolished, we have a lot of Indian food that Caribbean people have claimed as their own. Some of these foods remain the same as they are in India, however most of them have changed with the use of local ingredients and eating habits.
Many Indian words are used, especially in Trinidad which has the largest Indian population in the Caribbean for food products, although the spellings might be a bit different. For example, the Indian word for bitter gourd is karela and in Trinidad, it is known as caraili. Cumin is called geera and mint is called podina.
In India, roti is basically the word for bread and can refer to any type of Indian flatbread like paratha, chappati, thepla, etc. In the Caribbean, a roti is basically a sandwich. Our roti's are larger and softer so they can be folded around a stuffing. They are stuffed with different curried fillings. The most popular stuffings are chicken, goat, shrimp, pumpkin or chana (chickpeas). So when someone says that want a goat roti, they are expecting a large bread, stuffed with curried goat and potatoes.
We have a few kinds of roti breads that are used as the base. Paratha Roti is one of the most popular, also called Buss Up Shot because after the roti is cooked, it is fluffed up by hand. For this reason, our roti's are softer and more pliable than Indian style parathas.
Dahlpurie is the most common type of stuffed roti we eat. Because of the stuffing, it is usually eaten on the side with curry, instead of the curry being folded inside of the roti.
Dahlpurie
Serves 4
Ingredients:
1/2 cup yellow split peas
1 clove garlic
4 cups water
1 tablespoon curry powder
1 teaspoon roasted cumin powder
1/2 teaspoon salt, divided
2 cups + 2 tablespoons all purpose flour
1 teaspoon baking powder
1 tablespoon oil
1/2 cup + 2 tablespoons water
ghee
Combine the peas, garlic, water and curry powder. Bring to a boil. Reduce to a simmer and cook until tender, about 45 minutes.
Drain and grind in a food processor with the cumin powder and half of the salt.

In a large bowl, combine flour, baking powder and oil. Add water a little at a time, until you have a semi-soft dough. Cover with a kitchen towel and let rest for 30 minutes.
Divide dough into 4 balls and divide split pea mix into four portions.
On a floured cutting board, roll out one ball of dough to a 5″ disc. Place one portion of the split pea filling inside and pull the dough up and around the filling, being sure it is sealed completely.
Roll this ball again to a large, thin circle, about 8″.
Heat a roti iron and brush it with a little ghee. Place one of the rolled out stuffed circles and cook 1-2 minutes on each side.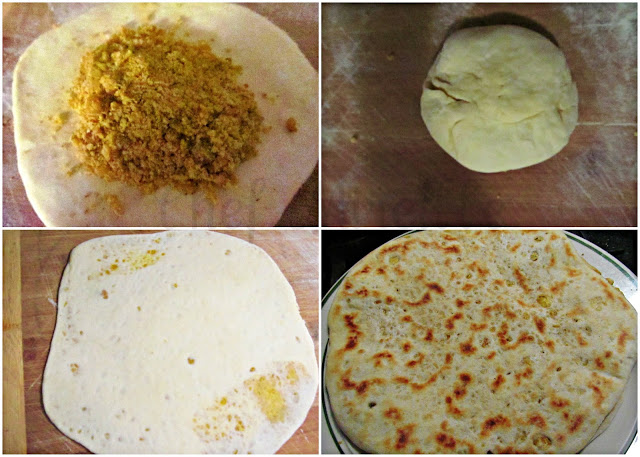 Repeat for remaining balls of dough.
I hadn't had this in a really long time. In truth, this was my first time making dahlpurie myself, but it was so comforting eating this with Caribbean Curry Chicken. There is something so unique about the flavors of Caribbean curries that are different than Indian curries. As much as I enjoy Indian food, this meal was so comforting reminding me of every family party, as a child. To eat, tear off a piece of dahlpurie, split it open and grab some curry with it. Pop it in your mouth and enjoy a perfect marriage of flavor!

My Auntie Ursula from Tobago, who is now deceased, made the best roti's. I remember going to her house and neat perfectly round uniform sized balls of near 100 roti dough layed out on the counter as she rolled and cooked for all the visiting relatives who would stop by at any time during the week of Christmas to New Year's. Her house was always full of food during that week. I wouldn't even give the dining room table topped with Macaroni Pie, Stew Chicken, Rice & Peas, Potato Salad, Baked Ham and Black Cake a glance as I walked past it and straight into the kitchen where the good stuff was being cooked. Mama Doreen, Auntie Ursula's mother, would be sitting down on a chair by the door. Unfortunately, she was suffering from old age senility so she was always asking me "Who you?" when I walked into the kitchen and I when I was really young I was a little afraid of her. However, I was willing to brave that just to get a hot roti fresh off the roti iron (what we use to cook them on).
It's ironic for me when I think of certain people who are now gone and missed, I associate them with the food they made. For me, I think of roti when I think of Auntie Ursula, like I think of Fish Cakes when I think of my grandmother.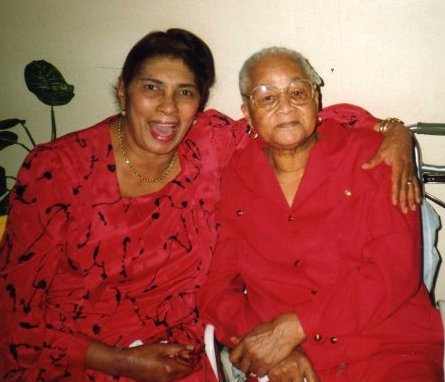 Auntie Ursula & my grandmother
As much as I love exploring other cuisines and trying foods of different cultures, there is nothing like a platter of Caribbean Curry Chicken & Dahlpurie to feel nostalgic and totally satisfied. Nothing on earth is better.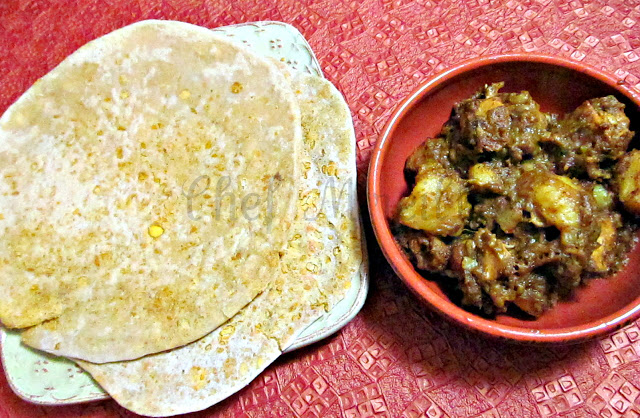 A few notes:
I only used about 3/4 of the split pea filling. The extra is great to sprinkle on rice, quinoa and veggie stir-fry.
As this was my first dahlpurie attempt, the texture was still not quite as soft and pliable as Caribbean roti's usually are. However, with the correct Caribbean flavor, it did not bother me a bit as it was a perfect vehicle to soak up the chicken curry. (stay tuned for future attempts as I continue to perfect Caribbean dahlpurie)
Check out the Blogging Marathon page for the other Blogging Marathoners doing BM#28
LIKE THIS RECIPE? LEAVE A COMMENT..I LIVE FOR THEM!
Chef Mireille