Last Updated on January 11, 2020 by Chef Mireille
Ravioli with Figs and Proscuitto is the perfect balance of sweet and salty. A quick and easy recipe if using store bought raviolis.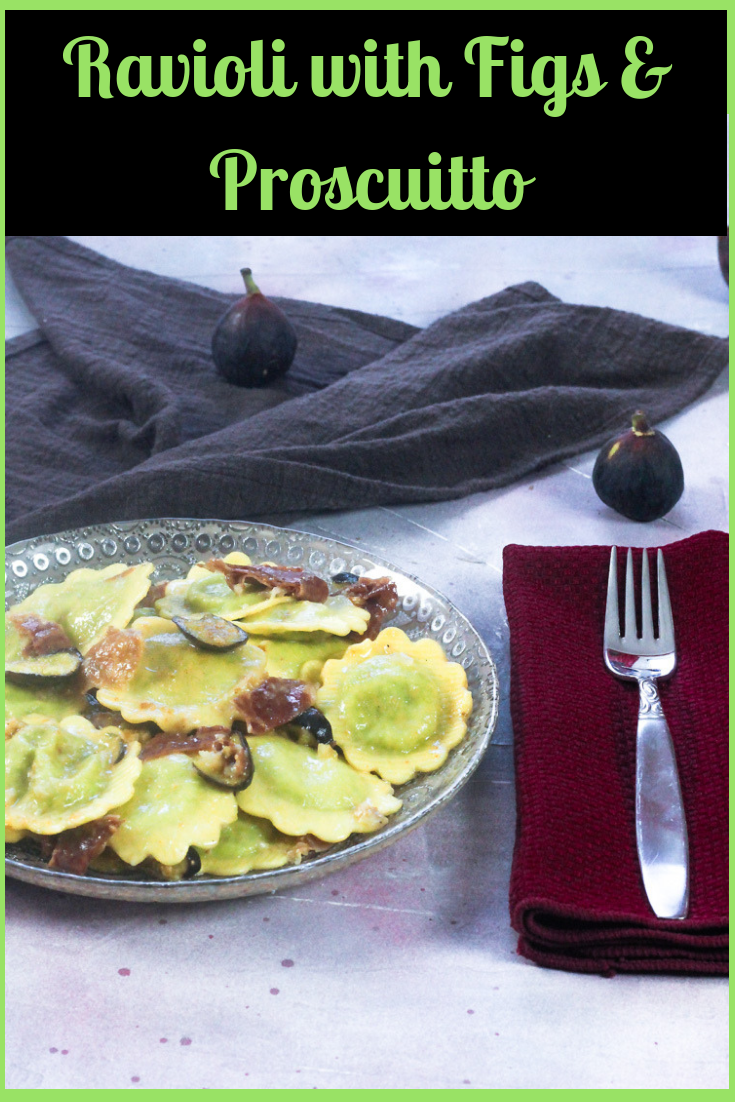 Eataly
I recently visited Eataly, the Italian superstore with 6 locations throughout the US, including 2 NYC locations. I don't visit very often because every time I do, my budget gets thrown out the window. It is a foodie's paradise with mostly artisinal really high quality products including everything from coffee and chocolate to pasta, fresh meat and fresh produce. Cheese, olives, bread, cured meats and cooking gadgets make this a one stop store for anything Italian.
They have a large selection of dried pastas with lots of different regional pasta shapes, including farro based pastas. Although I picked up a few of these uniquely shaped pastas, I also got some fresh ravioli's. They also have a variety of fresh pastas, including raviolis. Although you can make this recipe using dried raviolis, the flavor is so much better with these freshly made ones. If you can get your hands on fresh raviolis or make them yourself, it is worth the extra effort. I purchased raviolis filled with green peas, ricotta and mint. Use any veggie or cheese filled raviolis for this delicious recipe.
I love fresh figs, but they are so hard to find in the regular supermarkets. I have been looking for them all summer and I have not been able to find any that are not overripe and way too soft. Finally, I was able to get a container full of perfect black figs.
Italian Food
Here in America, when we think of Italian food, we often think of foods in rich cream sauces or thick tomato based sauces. However, Italian food in Italy is very different. Though in some regions those heavy sauces are made, much Italian food is centered around fresh simple ingredients, simple flavored with garlic and cheese. Using high quality fresh ingredients, you don't need a lot of herbs and bells and whistles to make an awesome plate of food! With the use of fresh figs in this recipe, it is indicative of pastas enjoyed in the Italian islands like Sicily and Sardinia.
Do you like fresh figs as much as I do? Try out some of these other Fig Recipes!
Fig Recipes
With super fresh ingredients, this simple pasta knocks it out of the park – flavor wise! It's perfectly balanced – both salty and sweet at the same time!
Ravioli with Figs and Proscuitto
a quick and easy pasta that is both salty and sweet and done in under 15 minutes.
Ingredients
8

oz.

fresh ravioli

2

tablespoons

olive oil

3

finely chopped garlic cloves

1

oz.

thinly sliced proscuittto

3

sliced figs

2

tablespoons

freshly grated Parmesan cheese
Instructions
Bring a pot of salted water to the boil. Add ravioli and cook 2-3 minutes until they float to the top. Drain.

In a large skillet, heat oil. Add garlic and cook on low heat until they start to turn golden.

Add proscuitto and figs. Cook for 2 minutes on medium heat.

Add raviolis and toss until the raviolis are thoroughly combined with the other ingredients.

Add cheese and toss to combine.
Notes
If using dried pasta, cook according to package directions.
Did you try this recipe? Leave a comment below.
Please follow me on Instagram @chefmireille or tag me #chefmireille with your pics! I'd love to share them!
Do you know anyone else who likes learning about international food, culture, history and travel? Bring them over here to join the party! Don't forget to use those share buttons!
Start Here to find out how the Schizo Chef can help you with your cooking, travel and other needs!
If you like this recipe, PLEASE LEAVE A COMMENT & SUBSCRIBE!