Last Updated on June 2, 2015 by Chef Mireille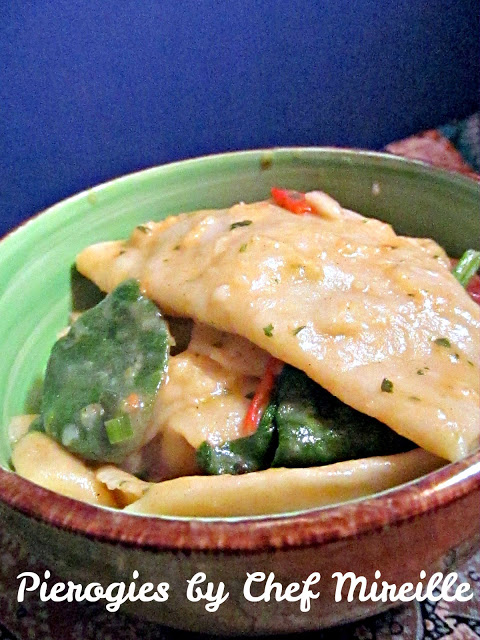 Blogging Marathon #30
Theme: Dumplings
Pierogies are boiled dumplings originating from Poland and now commonly served in many Slavik and former USSR countries. This is one of the most popular foods served in any Polish home. In many US cities with large Eastern European communities, there are pierogi festivals, like Whiting, Indiana and Lawrenceville, Georgia. Of course, there is also a festival held in Poland every August in Krakow. The savory ones are usually stuffed with potatoes and cheese, while the sweet ones are usually stuffed with a berry filling like blueberry or strawberry. These are most often served with sour cream.
One of the stock items usually found in my freezer are Mrs. T's frozen pierogies, however, pierogies are pretty easy to make so here is a homemade version. This has been in my drafts folder for over a year. So glad I FINALLY made them!
Pierogies
Yield: 35 pierogies
Ingredients:
1 1/2 cup potatoes, peeled, boiled and mashed
1/4 cup chives, chopped
1 cup cheese, grated
1/2 teaspoon freshly ground black pepper
1 1/2 teaspoon salt
2 1/2 cups all purpose flour
1 egg
1/2 cup sour cream
1/4 cup warm water
In a large bowl, combine flour and 1/2 teaspoon of the salt. Make a well in the center and put the egg, oil, water and sour cream in the well. Add the flour into the well, a little at a time, until thoroughly combined and a soft dough is achieved. Knead for a few minutes. Cover with a damp towel and let rest for 30 minutes.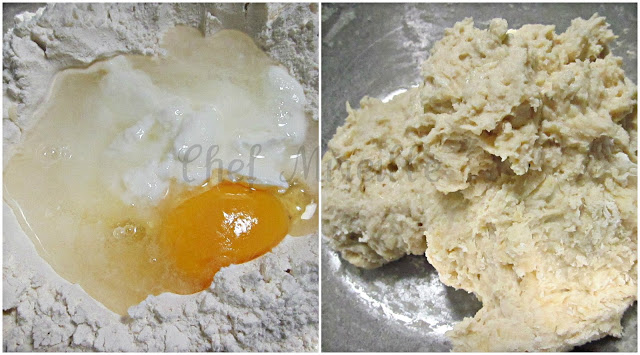 Combine potato, chives, remaining salt, pepper and cheese and mix until thoroughly combined.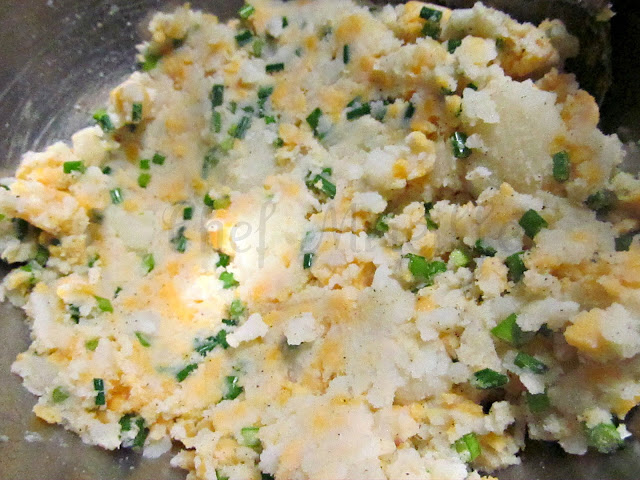 Divide the dough in half, wrapping one half in the damp towel.
Prepare a cookie sheet with parchment paper. Dust with flour.
On a heavily floured board, place the other half of the dough. Dust the top with another heavy dusting of flour. Roll out to a 11×14 rectangle.. Using a 3″ biscuit cutter, cut out circles. Clean up the scraps and form into a ball. Place in the damp towel. Place a little of the potato filling on each of the cut out circles. Fold over the circle and use a little water to seal the edges.
Roll in the flour on the cookie sheet. Repeat until all the circles are filled and dusted well on both sides with flour.
Roll out second half of dough and repeat.
Now take all the leftover scraps together and roll into a square about 10×10. Repeat filling procedure again. Continue to roll out scraps and fill until all the dough is used.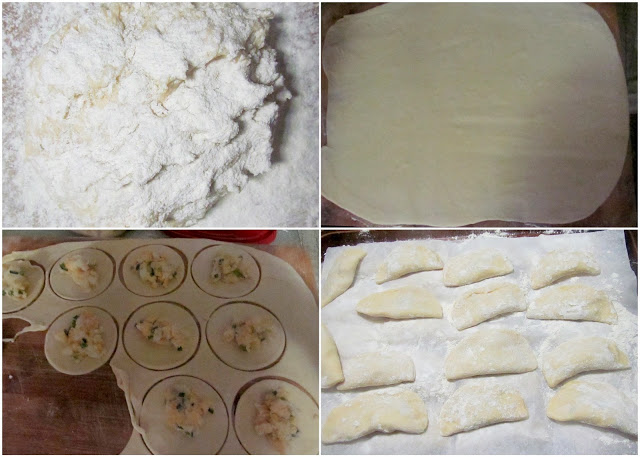 Heat a large pot of water with a little olive oil to a boil. Add filled pierogies and when they rise to the top, they are done.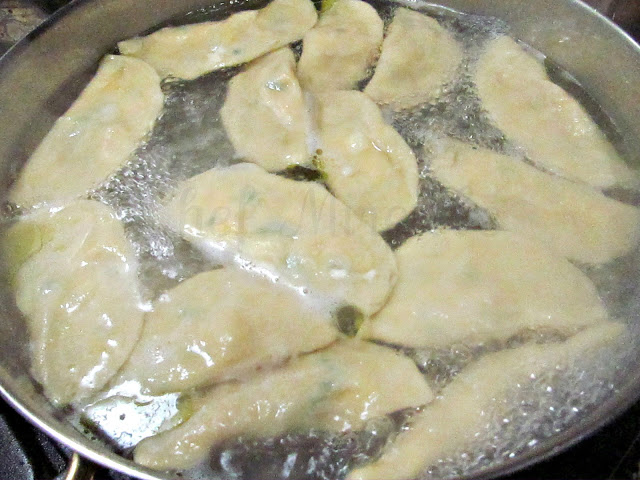 You can serve them now with sour cream, as is done in countries of the eastern block like Russia, Poland and the Ukraine.
OR you can stir fry them, which is how I prefer them.
Heat 2 tablespoons of olive oil. Add cooked pierogies, 2 cups of chopped tomatoes and 1 1/3 cups of vegetable or chicken broth. Bring to a boil and cook for 3-4 minutes, tossing frequently. Reduce to a simmer and add 2 cups of spinach leaves and 2 tablespoons parsley. Cook until spinach has wilted.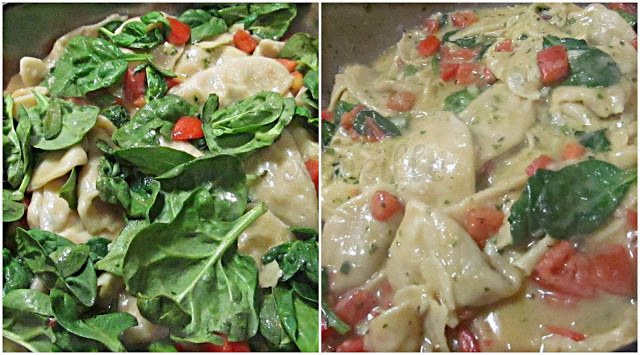 A few of mine weren't sealed properly and opened a little while cooking, but I actually liked this because it then thickened the sauce a bit. Regardless, for my first attempt I was pleased and they tasted scrumptious!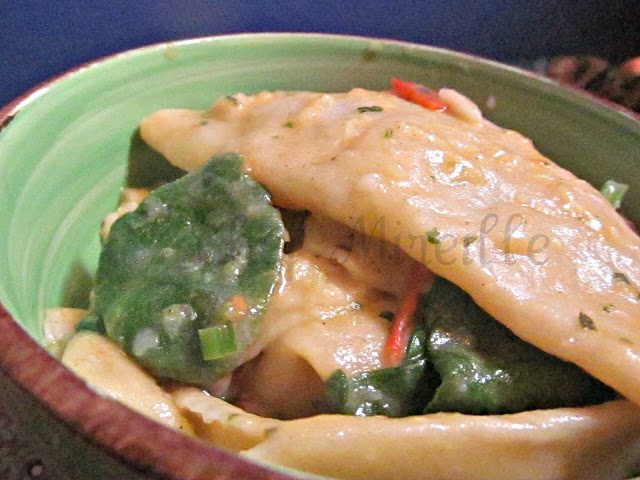 Check out the Blogging Marathon page for the other Blogging Marathoners doing BM#30
LIKE THIS RECIPE? LEAVE A COMMENT..I LIVE FOR THEM!
Chef Mireille