Last Updated on June 2, 2015 by Chef Mireille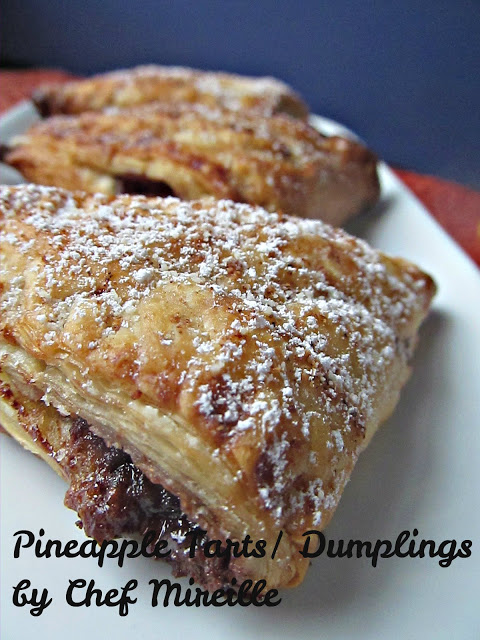 Blogging Marathon #30
Theme: Dumplings
This week my BM theme is dumplings. A very hectic week has me much delayed in my Day 2 and Day 3 posts, but I have never reneged on my BM posts yet and I don't plan to start. So I needed something quick and simple, but dumplings can be quite complicated. As I know a dumpling is different things in different cuisines, I went to Wikipedia to get a clear definition of a dumpling. There are so many different kinds that pretty much anything can be called a dumpling. By Wikipedia's definition, a fritter, turnover tart or doughnut is also a dumpling.
Dumplings are things that are stuffed inside some type of pastry or pasta that can be boiled, baked or fried. They can also be balls of meat, vegetable and/or grain that are fried, boiled or baked. Finally, there is the type that just consists of dough cooked in boiling water, usually added to stews or soups. The varieties are endless, which led me to this simple recipe.
I already learned that pineapple and nutella work really well together when I made these Pineapple Wafer Cookies. Utilizing ready made products like nutella and frozen puff pastry, these "dumplings" were made in a jiffy.
Pineapple Tarts/Dumplings
Yield: 14 dumplings
Ingredients:
1 cup pineapple, chopped very small (about 1/4 of a pineapple)
1/4 cup nutella
1/2 teaspoon nutmeg, freshly ground
7 square 5×5 frozen puff pastry sheets
2 tablespoons powdered sugar
Preheat oven to 425 F.
Defrost puff pastry for 15 minutes.
Make filling my combining pineapple and nutella. Mix well.
Dock the puff pastry squares by piercing the square with a fork or use a docking tool, if you own one.
Cut diagonally in half. Place 1 tablespoon of pineapple filling in the middle of each triangle. Fold over and seal by pressing together with the tines of a fork.
Place on the prepared cookie sheet. Sprinkle nutmeg on top and bake for 15 minutes.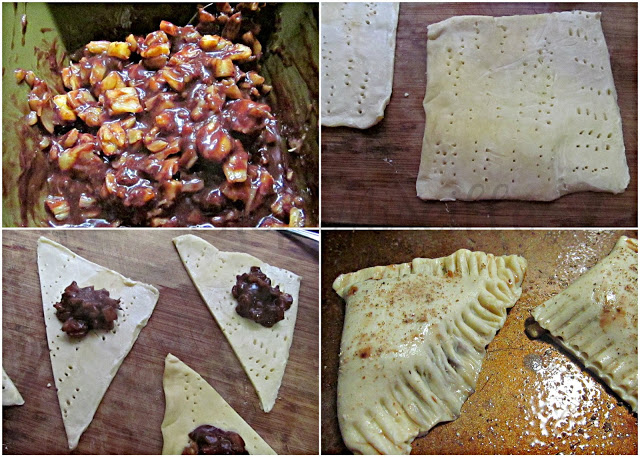 As soon as they come out of the oven, sprinkle powdered sugar on top and serve.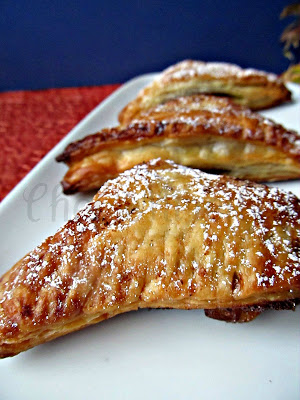 Whether you call it a tart or a dumplings, translation is the same = DELICIOUS!
Check out the Blogging Marathon page for the other Blogging Marathoners doing BM#30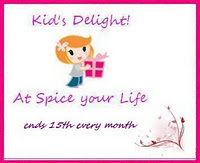 being served at Kid's Delight hosted by Kalyani
LIKE THIS RECIPE? LEAVE A COMMENT..I LIVE FOR THEM!
Chef Mireille