Last Updated on May 20, 2015 by Chef Mireille
In some parts of the world, summer is over but here in NYC we are right in the middle of it. 90 degree temperatures, high humidity and to make things worse, my AC broke down and not having the opportunity to get a new one, I am really experiencing the full effects of a NY summer than ever before. Turning heat on to cook/bake and eating hot food is something that I have been avoiding whenever possible.
This month I am hosting Srivalli's Kid's Delight with the theme of – Summer Special, celebrating foods served chilled or at room temperature. Put your creative hats on and I look forward to ice creams, sorbets, sandwiches, salads and more!!!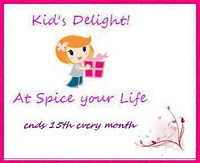 Rules:
1 – Post any kid-approved recipe served chilled or at room temperature.
2 – Recipe must be posted between July 15th and August 14th, 2013.
3 – Post must have a linkback to this page and Srivalli's Kid's Delight page.
4 – Archived recipes are welcome, but it is MANDATORY that it is reposted with a linkback to this announcement page and Srivalli's Kid's Delight page.
4 – Link your recipe using the Linky Tool below. If you have any problems, you can email me your submissions at: islandpalate(at)gmail(dot)com.
5 – Usage of logo is optional, but it is appreciated as it helps spread the word.
LIKE THIS RECIPE? LEAVE A COMMENT..I LIVE FOR THEM!
Chef Mireille