Last Updated on May 20, 2015 by Chef Mireille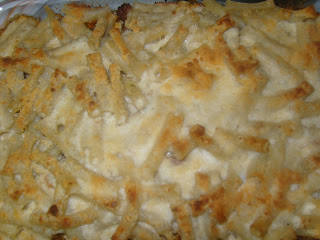 Pastitsio is a classis Greek dish, which is basically Mac and Cheese with a layer of ground meat in the middle. Flavored simply with oregano, it is a little bland for my Caribbean palate, so I decided to take it up a level, so here is my version of Pastitsio. Play around with it – use whatever is in your refrigerator – substitutions are totally allowed:
1 lb. pasta (I used ziti because that is what I happened to have – traditionally, elbow macaroni is used
1 lb. ground meat (I used lamb)
2 t dried oregano
2 T fresh parsley
2 T fresh mint
2 t fresh rosemary
2 t aleppo pepper
3 stalks celery, finely sliced
3 carrots, finely sliced
2 t garlic, minced
1/2 fennel bulb, finely sliced
5.5 oz can V-8 juice
1/2 lb. Kasseri cheese, grated
1/2 gallon milk
2 T butter
2 T all purpose flour
olive oil
1/4 cup grated Parmesan
In a large skillet, saute carrots, celery, garlic and fennel in 2 T olive oil. Add ground meat, dried herbs and aleppo pepper. Saute until all meat is cooked through. Add V-8 (I used hot and spicy, but you can use whichever variety you prefer) and stir to combine. Stir in fresh herbs (you can use whatever herbs you happen to have on hand) and salt to taste. (Do not add too much salt because the cheeses will also add salt to the final product). remove from heat.
In another large pot, cook pasta as directed on box. Drain.
In a seperate saucepan, make bechamel sauce. Melt butter in a saucepan. Add flour and make a roux by cooking together until golden brown. Add milk and bring to a boil. Reduce heat and add Kasseri (or other grated cheese that you prefer – gruyere, mozarella, manchego, pepper jack would all be delicious). Cook for another few minutes until cheese is all melted and sauce is slightly thickened. Remove from heat.
In a large casserole dish, coat with olive oil. Add 1/2 of the cooked pasta, then add all of the meat sauce. Cover with the remaining pasta. Pour bechamel over casserole and top with Parmesan. Bake in a 350 degree oven for 40 minutes, until golden brown on top.
Serve with garlic bread and a simple salad of Mixed Greens, dressed with olive oil and lemon juice.
Use the cheese you prefer, the herbs you prefer and the pasta you prefer – Add loads of vegetables and kick up the nutrients – mushrooms, zucchini, eggplant, parsnips, green beans would all be great additions. This is the way to make a recipe you own – Use this recipe as a guide and you can reinvent your own
Pastitsio!!

Chef Mireille