Last Updated on January 10, 2020 by Chef Mireille
Pancakes Huancaina – Spicy Cheese Savory Pancakes for Bread Bakers are made with a classic sauce from Peruvian cuisine. Salsa Huancaina which is so easy to put together with queso fresco. Savory Pancakes for Breakfast!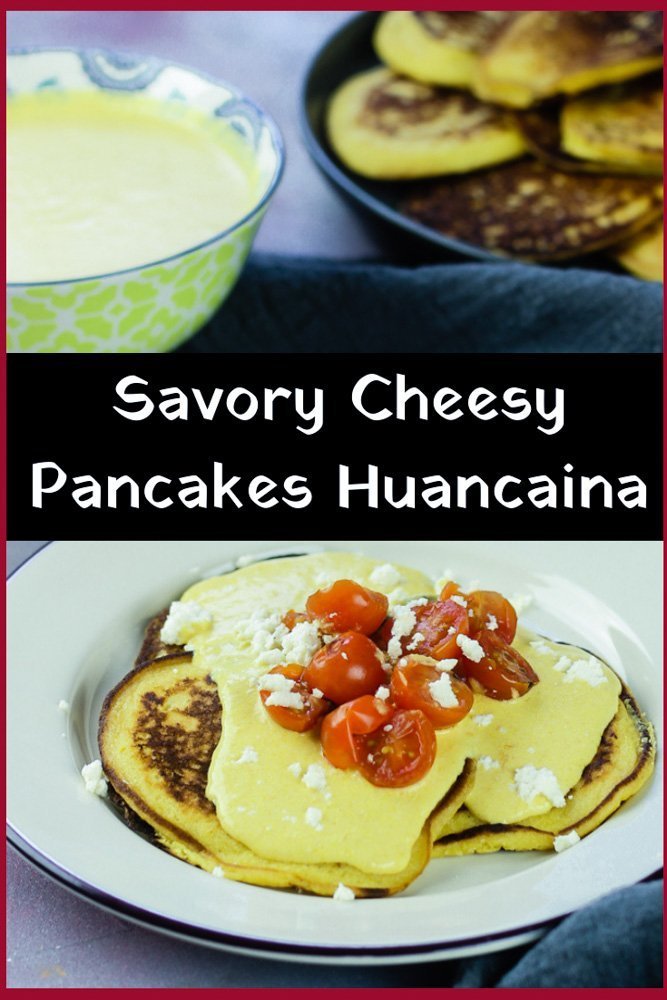 It's time for Bread Bakers and this month's host is Sue who went with the theme of cheese. Cheese in some way has to be included in the bread. How easy is that – I am a cheese lover, whether it is some grilled halloumi, some aged Parmesan or a creamy havarti. Just don't come to me with those stinky cheeses – sorry no gorgonzola has ever been in my fridge!

Have you ever had Huancaina? Huancaina is a heavenly thick and creamy spicy Peruvian cheese sauce that comes together very quickly with a few simple ingredients and the primary ingredient is queso fresc0, South American fresh cheese. GET THE RECIPE!
This cheese sauce is used in the Peruvian version of Potato Salad called Papas Huancaina, where slices of chilled roasted potatoes are served with hard boiled eggs and Salsa Huancaina.
You can also just serve Salsa Huancaina with home made french fries for a snack.
Where I live in NYC, Peruvian food has gotten very popular with restaurant chains like Pio Pio. It is now very easy to find the pepper pastes like panca and aji amarillo which is commonly used in Peruvian cuisine. There are 2-3 mainstream brands found in many supermarkets that are easy to find like Inca foods. If it is not as easy to find in your area, there are many online sources where you can find these pepper pastes from amazon to smaller companies.

I ended up making two versions of these Pancakes Huancaina that include the Salsa Huancaina in the batter itself and then extra is ladled over the pancakes for extra cheesy goodness!
I had made it the first time for Papas Huancaina (Peruvian Potato Salad), which I made to celebrate my Mom's birthday. She's ok now, but had a health scare and plans to celebrate her birthday got all confused with different sections of the family. I have a HUGE extended family, which does not adapt well to last minute changes because there are just too many people to notify. Because of this, my Mom ended up having two birthday celebrations.
For one of the parties, I made a total fusion meal – Caribbean style Curry Chicken, Peruvian Papas Huancaina and German Sweet & Sour Cabbage. Both parties ended with her favorite Caribbean Black Cake (Fruitcake). This was the smaller party, so the menu was kept simple. However, my Mom is not a huge cheese sauce kind of person, so I had quite a bit of Salsa Huancaina left over.
I spent the night at her house after her birthday and decided to use the Salsa Huancaina in some breakfast savory pancakes because I knew that salsa would just sit idle there if I left it as is. I did not want to waste the delicious goodness. We had them for breakfast with fried sweet plantain and the breakfast was enjoyed by both my Mom and my sister! In this version, I made the pancakes with whole wheat flour. I was limited to the pantry supplies at her house.
But then somehow I had neglected to record the quantities of the ingredients. Don't know how that happened. I was upset at first, but then oh well, that meant I would just have to make it all over again. These were so delicious I didn't mind at all.
This time since I was home I used a combination of flour and masa harina. Both versions came out just as delicious and it's a matter of preference which ones you want to try first!
Get the recipe for Salsa Huancaina and then you can put together these pancakes in short order!
Salsa Huancaina Notes
One note about the Salsa Huancaina. I made the sauce the day before so after being overnight in the refrigerator it had thickened quite a bit. If you make the pancakes with freshly made huancaina, you will most likely need to reduce the quantity of milk used in the pancake batter.
…so let's get to how to make Pancakes Huancaina – Spicy Cheese Savory Pancakes for Bread Bakers
IN THE MAKING – HOW TO MAKE PANCAKES HUANCAINA

If you prefer a savory breakfast, these pancakes are the way to go!
I used tomatoes, but you can also garnish with some chopped avocados, if you prefer.
Pancakes Huancaina – Spicy Cheese Savory Pancakes for Bread Bakers
Pancakes Huancaina - Spicy Cheese Savory Pancakes for Bread Bakers are made with a classic sauce from Peruvian cuisine. Salsa Huancaina which is so easy to put together with queso fresco. Savory Pancakes for Breakfast!
Ingredients
1

cup

chilled salsa huancaina

1

egg

1

cup

masa harina

1

cup

all purpose flour

1

tablespoon

baking powder

a large pinch of salt

2 3/4

cups

milk

Garnish Ingredients:

chopped tomatoes

chopped avocados

optional

crumbled queso fresco
Instructions
In a large bowl, combine cold salsa huancaina and the egg. Whisk until well blended.

Add masa, flour, baking powder and salt.

Add 1 cup of the milk and whisk until well blended.

Continue to add more milk as needed, until pancake consistency is achieved. SEE NOTE

Heat a skillet and spray with non stick spray or brush with a little butter.

Using a 1/4 cup of batter for each pancake, fry pancakes until golden brown on both sides, 2-3 minutes on each side.

Serve with more salsa huancaina drizzled on top.

Garnish with chopped tomatoes or avocado and crumbled queso fresco.
Notes
If your salsa huancaina is freshly made, you may need to use a little less milk as the salsa will be thinner than one that has been chilled in the refrigerator.
Did you try this recipe? Leave a comment below.
Please follow me on Instagram @chefmireille or tag me #chefmireille with your pics! I'd love to share them!
Are you as much of a cheese fanatic as I? Then make sure to check out the other Cheese Breads the Bread Bakers whipped up this month!
#BreadBakers is a group of bread loving bakers who get together once a month to bake bread with a common ingredient or theme. Follow our Pinterest board right here. Links are also updated each month on this home page.
We take turns hosting each month and choosing the theme/ingredient.
Ready to make this recipe? Tag me on Instagram @chefmireille #theschizochef with your pics!
Do you know anyone else who likes learning about international recipes, culture, history and travel? Bring them over here to join the party! Don't forget to use those share buttons!
Start Here to find out how the Schizo Chef can help you with your cooking, travel and other needs!
If you like this recipe, PLEASE LEAVE A COMMENT & SUBSCRIBE!