Last Updated on January 28, 2020 by Chef Mireille
Or Tor Kor Market – Foodie Paradise in Bangkok – the place for snacks, curry paste and ready to eat food. Not to be missed for food lovers visiting Bangkok!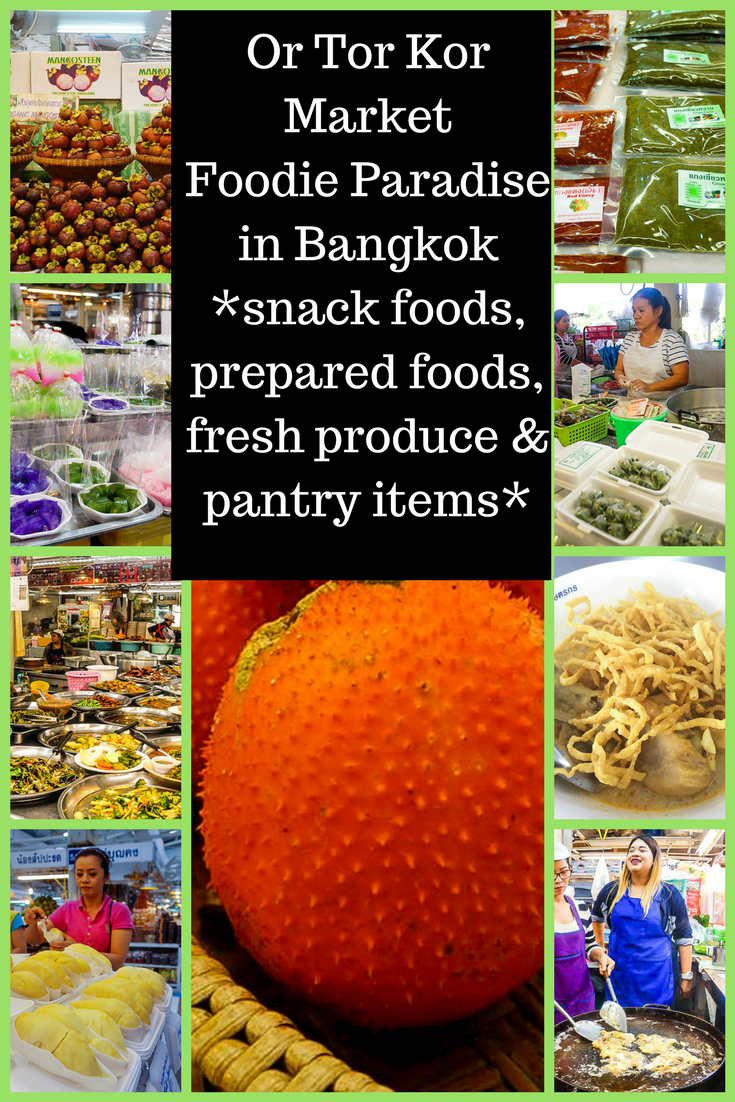 I always advocate eating street food when traveling. It's one of the best ways to experience local cuisine at a fraction of the cost of the high end restaurants that cater to western tourists. The food is generally better tasting and better for your budget. However, some people who don't come from street food cultures are apprehensive about street food, especially when they don't see refrigeration, as is common in American/European street food cities. Thailand is one of the best places to experience street food, however for those a little wary of it Or Tor Kor Market is the place for you.
It is the market for the Farmer's Association and is super clean, sanitary and organized. It's a high priced market by Thai standards, but for western tourists it's still cheap as far as food goes and so worth the extra $ you might spend compared to the road side foods, for the variety and cleanliness.
This is your one stop shop for everything food related in Bangkok.
Fresh Food
Fresh fruits – Have you ever had a Mangosteen or Monordica? Monordica juice is delicious – it tastes kind of like a cross between an orange and a tomato. Hard to explain but a must if you like trying new foods. Have you worked up the nerve to try durian. The really ripe smelly kind or the not so ripe ones that are more palatable, to me. Every fruit you can think of is available for you to sample at Or Tor Kor Market.
Fresh Vegetables and Flowers are also available.
If you are staying some place with cooking facilities, in addition to fresh produce, fresh seafood and meat is also available for purchase.
Ready to Eat Foods
The food court is the biggest attraction of Or Tor Kor market. Even locals often come at lunch time to get a bite to eat at the many food stalls. The prices are pretty similar to what you get street side and the variety is amazing.
Large vats of soups, stews and curries, hand made dumplings, fried chicken, oyster omelettes, grilled meats. Khao Soi, the Thai Curry Chicken Noodle Soup, although more famous in Chiang Mai was delicious here. (Want to try your hand at cooking it yourself? Try my recipe here!)
Lots of tapioca and other Thai desserts are there to satiate your sweet tooth!

These hand made spinach dumplings were amazing!
There is so much to choose from. No matter what your dietary preferences, you will find something delicious to eat at Or Tor Kor market.
Take Home Foods
Do you like to cook Thai foods as much as you like to eat them. Take home fresh curry pastes and chili powders to create your own Thai meals when you get back home. Don't forget to get some dried Butterfly Pea Flowers to make your Blue & White Sticky Rice Pudding. Check my recipe here!
Snack Foods
There are lots of snack foods you can pick up here to take back when you get the munchies at night in your hotel!

How to Get There
Take the MRT Metro to Kampheng Phet Station Exit #3, walk across the parking lot and you're there!!!
Do you know anyone else who likes learning about international recipes, culture, history and travel? Bring them over here to join the party! Don't forget to use those share buttons!
Start Here to find out how the Schizo Chef can help you with your cooking, travel and other needs!
If you like this recipe, PLEASE LEAVE A COMMENT & SUBSCRIBE!