Last Updated on January 12, 2020 by Chef Mireille
New England Clam Chowder from the New England states has become a part of classic Americana cuisine. The perfect winter time comfort food!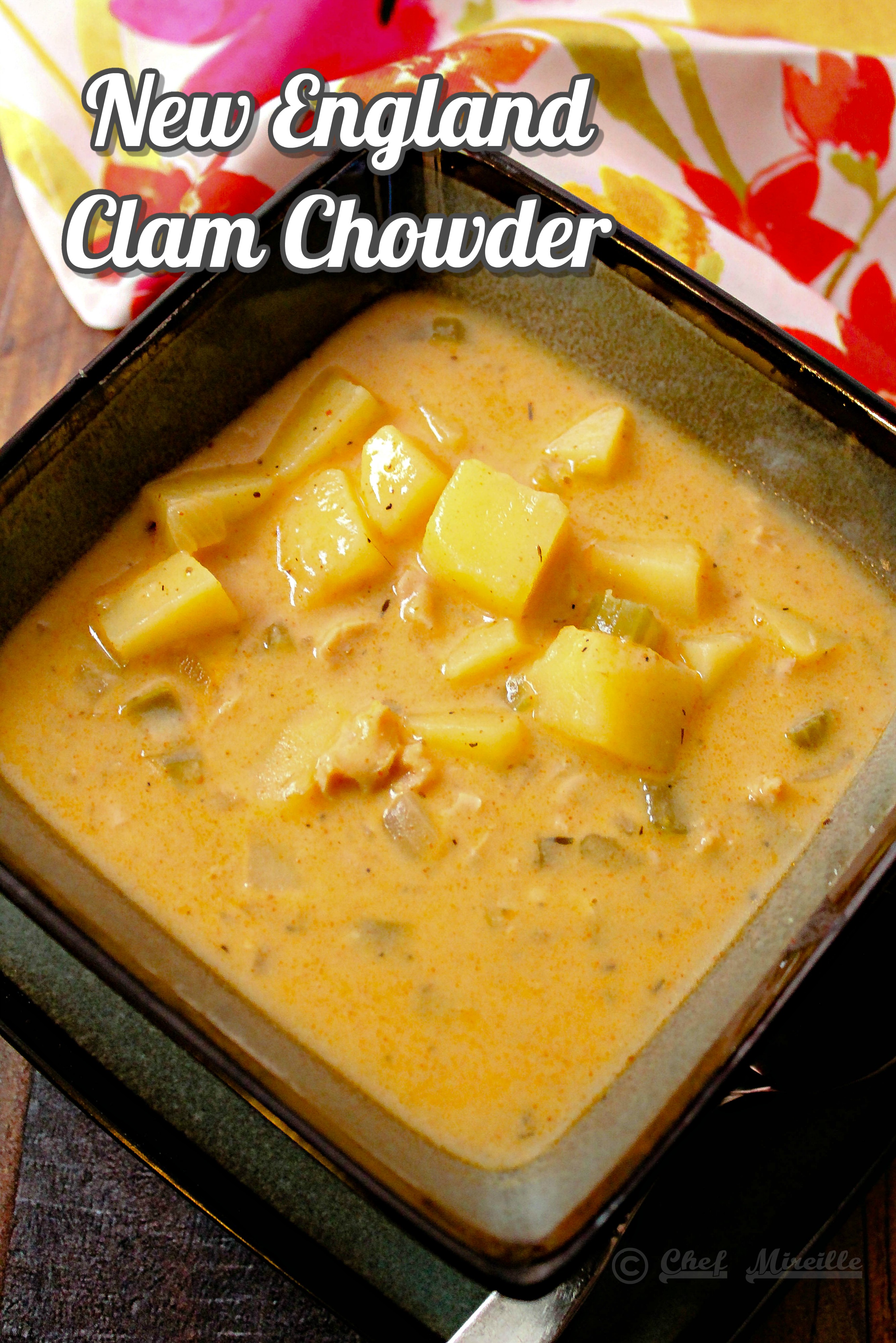 In America, like almost any country in the world, has regional cuisines. Although many foods are generic throughout the country, there are still many other foods that are particular to specific regions in the country. In New Orleans, breakfast may be beignets while here in NYC you will be hard pressed to try to find somewhere selling beignets. Instead bagels with lox and cream cheese are a dime a dozen for breakfast. Go to low country Southern states and breakfast might be shrimp and grits or biscuits and gravy.

Before we get to today's regional soup, what is a chowder. Basically, a chowder is a roux based soup that includes potatoes. The potatoes are sometimes left in diced form or sometimes pureed to be used as the thickening agent for the soup. Even when not pureed, the starch released from the potatoes as they boil help to thicken the soup. The two most popular chowder's in the US are Clam Chowder and Corn Chowder.
Clam Chowder is a very popular winter soup. However, there are two types of clam chowder. New England Clam Chowder and Manhattan Clam Chowder. The New England version comes from those coastal New England states, where seafood is abundant. The difference in the Manhattan version is the use of tomato, instead of the dairy based soup in the New England version.

Old Bay seasoning is the most popular spice mix used with seafood here in the United States and especially in New England. However, I chose to use my own mix of seasoning in this version of clam chowder. You will see my soup has a color that is kind of orange-pink instead of the traditional white colored soup. If you would prefer the classic white soup, omit the paprika in my recipe below. I like the flavor and color, but that is subjective.
Some prefer their clam chowder thicker. If you are one of those that like a really thick clam chowder, you can add a slurry at the end. A slurry is a mixture of flour and water that you add to the soup at the end and then let it simmer, until thickened.
Before we get to today's soup, the temperatures are getting colder so it's definitely soup season. Here are some other soup recipes you might like to try!
Soup Recipes
IN THE MAKING
This is the perfect wintertime comfort food.
New England Clam Chowder
Ingredients
4

tablespoons

butter

1

tablespoon

oil

1

chopped bell pepper

3

stalks celery

chopped

1

chopped onion

2

finely chopped cloves garlic

5

tablespoons

all purpose flour

4

cups

broth

any combinationa of clam juice, lobster juice and chicken broth

2

cups

milk

2

diced large potatoes

1

bay leaf

1

teaspoon

paprika

½

teaspoon

celery seed

½

teaspoon

mustard powder

½

teaspoon

dried thyme

½

teaspoon

dried oregano

¼

teaspoon

ground ginger

¼

teaspoon

cayenne pepper
salt and black pepper

to taste

3 6.5

oz.

cans chopped clams
Instructions
In a large pot, heat oil and butter until butter is melted.

Add bell pepper, celery, onion and garlic. Saute until softened.

Add flour. Saute for 2 minutes, until flour is no longer raw.

Add broth and milk. Bring to a boil.

Add potatoes, bay leaf and spices. Simmer until potatoes are cooked through, about 20 minutes.

Add clams with their juice. Simmer another 5 minutes.
Did you try this recipe? Leave a comment below.
Please follow me on Instagram @chefmireille or tag me #chefmireille with your pics! I'd love to share them!
Do you know anyone else who likes learning about international food, culture, history and travel? Bring them over here to join the party! Don't forget to use those share buttons!
Start Here to find out how the Schizo Chef can help you with your cooking, travel and other needs!
If you like this recipe, PLEASE LEAVE A COMMENT & SUBSCRIBE!
Check out the Blogging Marathon page for the other Blogging Marathoners doing this BM#78