Last Updated on September 16, 2021 by Chef Mireille
Southwest Stuffing with jalapeno, corn, cornbread and pepper jack cheese makes the perfect Thanksgiving side dish!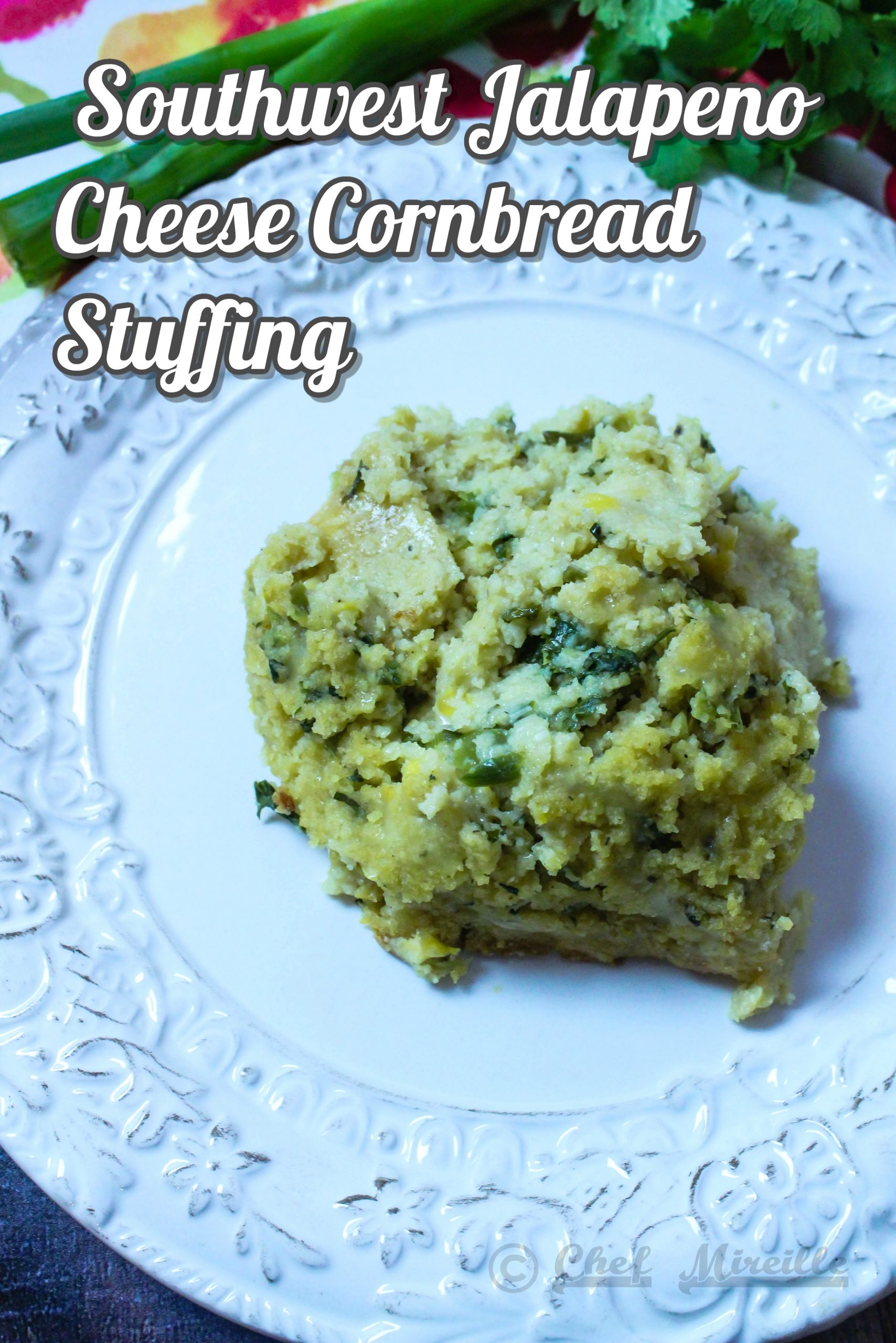 It's been a slow blogging month. You know the saying "When it rains, it pours". First my apartment got painted which graduated to a redecorating project. In the middle of it, I got the flu. Then a family friend visited us from St. Lucia, causing me to spend a few days as tour guide through NYC. Not to mention, this is a busy season for freelance chefs and with all of that, the blog took a major back burner role. However, I vow, this is the last time I am going to allow this to happen.
Be prepared to hear from me often. Anyway, enough of my excuses, let me get to what you are really here for – some great Thanksgiving recipes. Thanksgiving is going to be upon us before we know it and this week I am focusing on Thanksgiving side dishes, specifically stuffing. Like all countries, American food is very regionalized, even such a big national holiday like Thanksgiving. The side dishes you are going to get in Minnesota will be very different from the ones you will be eating in New Orleans.
This week I am going to present stuffings you might enjoy from different parts of the country. Why not try a new stuffing this year, instead of the old standard that might be a regular on your Thanksgiving table. The first one I am presenting today is my version of a Southwest stuffing. Think Texas, New Mexico, Arizona. Thanksgiving in those states might bring you a stuffing with these local flavors.
Before you start the recipe, you first need a great cornbread for any delicious Cornbread Stuffing. Hop on over here and use my recipe, which formed the base for this one.
How to make Southern Cornbread Dressing
Please don't let the photos dissuade you from trying this delicious dish. I am going to have to ask you to pardon the quality of the photos as a redecorating of my apartment is under way and photography set up isn't possible at this point. However, I promise you if you try it, this is one of the best stuffings you will ever have had.
Cheesy with just the perfect hint of spice at the back end.
This will become a new holiday favorite for your family. Cheesy and luscious!
Southwest Jalapeno Cheese Cornbread Stuffing
Ingredients
1

recipe skillet cornbread

cooled

1

tablespoon

butter

2

chopped scallions

1

chopped small bell pepper

1

finely chopped jalapeno

3

tablespoons

finely chopped cilantro

14.75

oz.

can cream style corn

8

oz.

grated pepper jack cheese

1 1/3

cups

chicken stock

or vegetable broth

salt

to taste
Instructions
Preheat oven to 350 F.

By hand, crumble the cornbread. Set aside until ready to use.

In a large skillet, melt butter.

Add scallions, bell pepper and jalapeno. Saute until softened.

Add cilantro and corn. Stir to combine.

Remove from heat. Transfer to a large bowl if necessary.

Add cheese, cornbread, stock and salt. Stir to combine.

Transfer to a buttered casserole dish.

Bake for 45 minutes.
Did you try this recipe? Leave a comment below.
Please follow me on Instagram @chefmireille or tag me #chefmireille with your pics! I'd love to share them!
Don't forget to visit the RECIPE INDEX with over 1000 recipes from around the world including lots of Vegetarian Recipes and Gluten Free Recipes!