Last Updated on January 13, 2020 by Chef Mireille
New Asha Sri Lankan Restaurant and Sri Lankan groceries in NY – Visit the Sri Lankan enclave in Staten Island for traditional Sri Lankan food & supplies.
For authentic Sri Lankan cuisine in the NYC area, Staten Island is the place to go. Victory Blvd. is home to a variety of Sri Lankan restaurants and markets where you can purchase dry and canned products, cooking appliances like traditional clay pots and fresh produce like banana blossoms.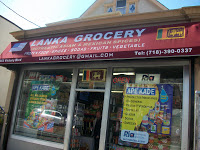 Lanka Grocery, 353 Victory Blvd, Staten Island, has the largest variety of products of all the grocery stores. Varieties of dried fish, cooking utensils, fresh produce, spices and grains can all be purchased here.

For the best Sri Lankan food on Staten Island, New Asha is the place to go. It is a small establishment with just a few tables. They mostly do take out. The restaurant can accommodate about 12 people. Due to their small size, they don't usually prepare a lot of food in advance. Most of their business comes from local catering. If you are going with a group, the best thing to do is to call the day before to make sure there is enough food and they will make exactly what you would like to order. The owner is very nice and accommodating.
If this is your first experience with Sri Lankan cuisine, the best thing is to ask the owner to bring you a variety of the food she has. She will bring you everything from Fish Egg Rolls to Kottu to Chinese Fusion Chicken to a variety of Curries and Biryani.
What they call Rolls are fried appetizers that can be stuffed with a variety of fillings from lamb to fish and egg. The Dutch influence on the country is apparent in these appetizers as these are basically Dutch croquettes, which are very common in the Netherlands. You can buy them at street side stands all throughout Amsterdam.
Kootu is the next dish you must try if you go to any Sri Lankan restaurant. It is stir fried strips of roti bread with onions, spices and whatever meat you desire. The photo here is Chicken Kootu. The vegetarian version with lots of coconut was the best tasting dish at New Asha. The fish curry in a coconut milk curry was a close second. They even offer Sri Lankan's version of Chinese chicken which is like their version of Sweet and Sour Chicken but way better than you would get in any Chinese restaurant – not that disgustingly sweet, syrupy sauce. Instead, it is well flavored chicken with just a hint of sweetness (see top photo). The other photo here is young jackfruit.
Although there are some similarities to Indian food – like Biryani, Curry and Vadaas, Sri Lankan cuisine is unique in its own way. They use more spices in their food – cumin, fennel, star anise, pandan, etc. but not as much chile.
This is a great way to spend a beautiful afternoon. Enjoy a nice boat ride on the Staten Island Ferry (which is free). When you get to Staten Island, a 10 minute bus ride will take you the heart of the Sri Lankan enclave. You can walk the distance but it is mostly uphill, so I advise taking the bus, but then walking on your way back to the ferry so you can stop at all of the markets on the way. In addition, this is a multi-cultural neighborhood of Staten Island, so you will pass Trinidadian, Polish, Senegalese and other restaurants on the way back. You can buy some take out food at one of these other establishments and enjoy yet another cuisine for dinner.
Do you know anyone else who likes learning about international food, culture, history and travel? Bring them over here to join the party! Don't forget to use those share buttons!
Start Here to find out how the Schizo Chef can help you with your cooking, travel and other needs!
If you like this recipe, PLEASE LEAVE A COMMENT & SUBSCRIBE!