Last Updated on May 20, 2015 by Chef Mireille
What's the key to a great soup? Well, one contributing factor is a flavorful broth. While it's convenient to buy canned broth from the supermarket, there is nothing like making it yourself. In addition to the freshness, you can flavor it according to your own preferences – dumping in your favorite spices and herbs and even putting in a chile or two for a flavorful, spicy broth to make the soup the same. Although I made this broth kind of neutral, I often add a Scotch Bonnet pepper when making it.
I save vegetable scraps and freeze them. Asparagus stems, broccoli stalks, carrot peels, parsley and cilantro stems are common veggies I save for the purpose of making broth. Make sure they are clean and just keep a large ziploc bag in the freezer and keep on adding to it until you have enough to make broth. I also save shrimp shells and sometimes I make a shrimp broth for fish/seafood soups.
These broths also make flavorful rice, instead of using plain water.
Furthermore, you are getting more value for your dollar. By not automatically discarding these scraps, you are utilizing all of what you pay for when buying vegetables.
Homemade Vegetable Broth
Ingredients:
2 pounds vegetable scraps
4 stalks celery
3 cloves garlic
1 onion, quartered
7 stalks thyme
12 black peppercorns
6 allspice berries
3 cloves
12 cups water
Combine everything in a large pot and bring to a boil. Reduce to a simmer for 30 minutes.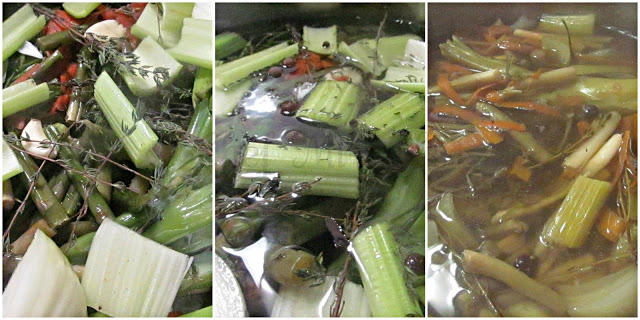 Strain.
You now have a flavorful broth for soup, stew, rice, sauces…and so much more!
Now let's get to the soup I made with this delicious flavor packed broth!
There is a Yemeni restaurant here in Brooklyn that I love and they serve this amazing complimentary lamb soup to start your meal with. It's mostly broth, but so flavorful.
On a cool night with torrential rain storms outside as we have been receiving every other day washed out NYC, I made this warm soup. While I wasn't able to replicate the flavor of the Yemen Cafe soup, this one was delicious too, although this one was closer to a Moroccan Soup with the use of Raz al Hanout!
Moroccan Lamb Soup
Serves 4
Ingredients:
8 oz. boneless leg of lamb
3 cloves garlic, crushed
1 tablespoon Za'atar
1/4 cup mint leaves, chopped
1/4 cup olive oil + 1 tablespoon
salt and freshly ground black pepper, to taste
1 onion, chopped
a pinch of saffron
6 cups vegetable broth
3 potatoes, chopped into large pieces (about 10 oz.)
3 small parsnips, chopped into large pieces (about 7 oz.)
2 teaspoons Raz al Hanout
1/3 cup cilantro, finely chopped
Preheat oven to 400 F. Make a few slits in the lamb. Place the garlic cloves in the slits.
Rub the 1/4 cup olive oil all over the lamb. Sprinkle the rub on all sides with the za'atar, mint and liberally with salt and pepper.
Place in an oven bag. Make a few slits in the bag and roast for 1 hour.
Let rest for 15 minutes. Slice.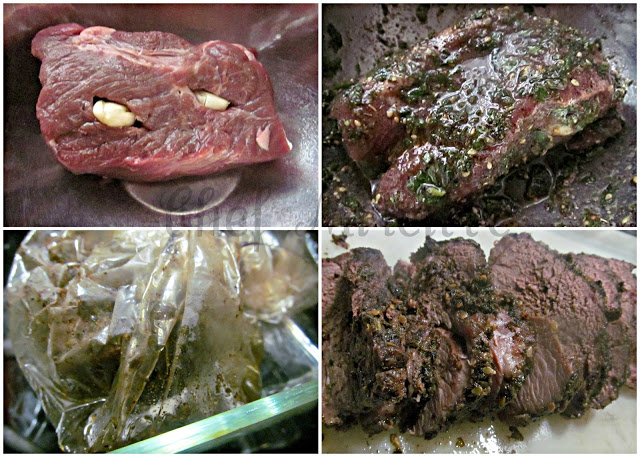 Heat the tablespoon of oil. Add onion. Saute until softened.
Add broth, saffron, potatoes, parsnips, raz al hanout and salt, to taste. Bring to a boil. Cook for 15 minutes.
Add lamb and cilantro. Cook for another 5 minutes.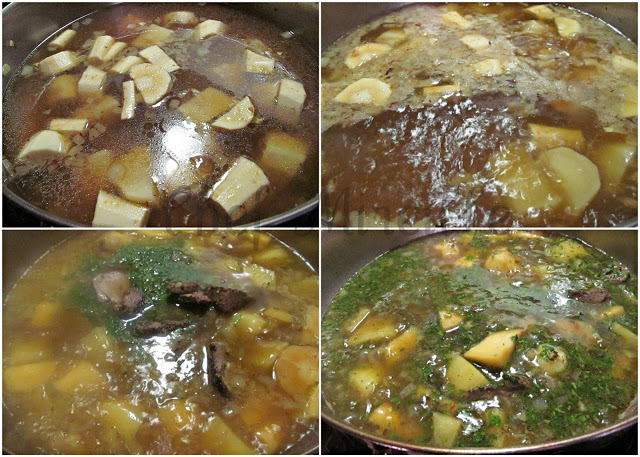 With the smoky flavors of the Middle East, this soup was delicious. Due to the fat content of the lamb, this is a rich soup and complemented well with this dense, spiced Moroccan Chickpea Flatbread (recipe coming soon)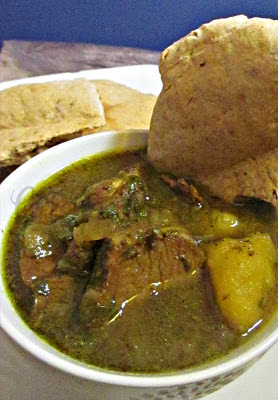 …linking to Flavors of Cuisines – Middle Eastern hosted by Asiya & Souper Sunday
LIKE THIS RECIPE? LEAVE A COMMENT..I LIVE FOR THEM!
Chef Mireille