Last Updated on June 3, 2015 by Chef Mireille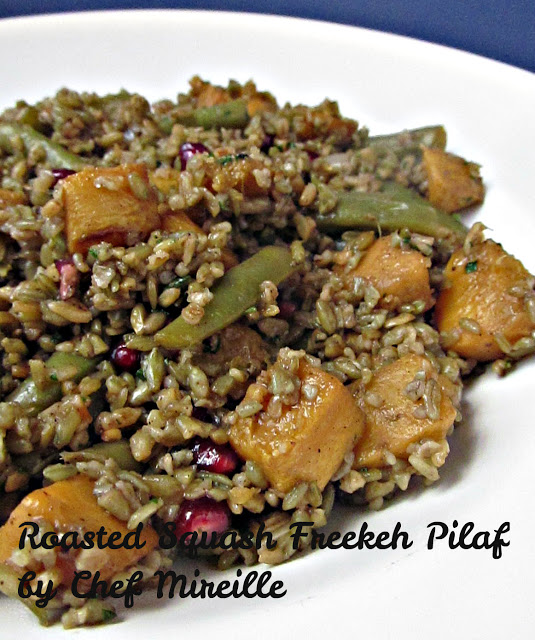 Blogging Marathon #29
Theme: Cooking with Colors
Spelled many different ways – frick, freekeh or farick is wheat harvested when the seeds are yellow and soft. It is roasted, thrashed and sun dried. Used throughout the Middle East and North Africa, it is then cooked like you would use rice. However, it is healthier than rice. High in protein and low in its glycemic index, it is appropriate for diabetics. Butternut squash also has a low glycemic index and is high in both fiber and potassium, a natural energy source.
If freekeh (green wheat) is unavailable where you live, substitute whole wheat berries, however you will have to soak the mature wheat berries for 30 minutes before.
For today's BM theme, my color is orange – the color of butternut squash. Delicious and healthy, this is a diabetic friendly option.
Roasted Squash Freekeh Pilaf
Serves 8
Ingredients:
3 tablespoons olive oil
1 onion, chopped
2 garlic cloves, finely chopped
2 1/2 cups green wheat (frick/freekeh)
3 cups vegetable broth or water (for my homemade vegetable broth, see here)
1 lb.butternut squash, peeled and chopped into large dice (half of 1 large butternut squash)
2 teaspoons baharat (Middle Eastern spice blend)
1/2 teaspoon sumac
1/2 teaspoon salt
1 1/2 green beans, trimmed and snapped in half
1/4 cup cilantro, finely chopped
1/3 cup pomegranate seeds
juice of 1/2 lemon
salt and pepper, to taste
Preheat oven to 400 F. Toss squash with 2 tablespoons of the olive oil, baharat, sumac and 1/2 teaspoon salt. Roast in oven for 40 minutes.
In a skillet, heat remaining olive oil. Add onion and garlic. Saute for a few minutes, until softened. Add green beans and saute another 2 minutes.
Add broth, green wheat, salt and pepper. Bring to a boil. Reduce to a simmer and cook until tender and all of the liquid has been absorbed, about 15 minutes.
Add squash, cilantro, lemon juice and pomegranate seeds.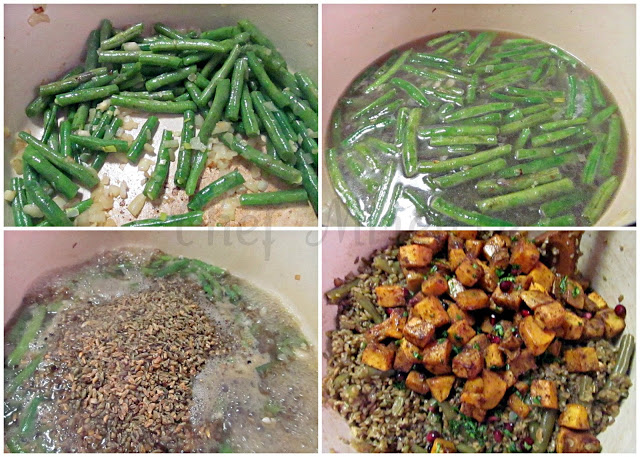 Toss lightly to combine.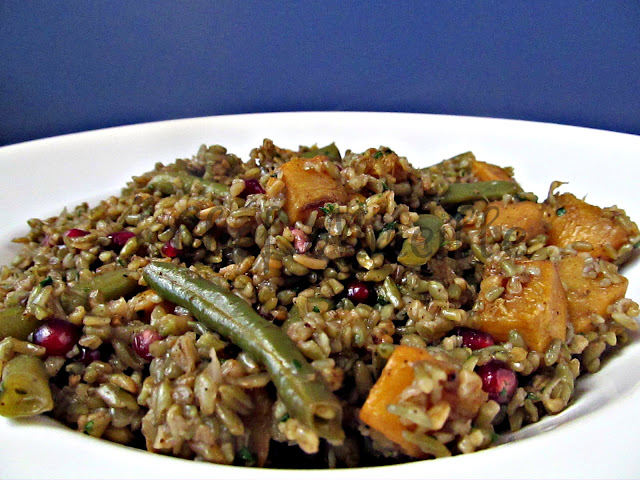 Check out the Blogging Marathon page for the other Blogging Marathoners doing BM#29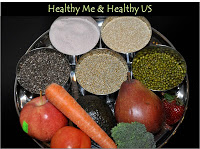 …linking to Healthy Me & Healthy Us hosted by Kalyani and Flavors of Cuisines – Middle Eastern hosted by Sandhya
LIKE THIS RECIPE? LEAVE A COMMENT..I LIVE FOR THEM!
Chef Mireille