Last Updated on January 10, 2020 by Chef Mireille
Mexican Bunuelos are an easy snack that comes together in just a few minutes, with limited ingredients and effort. This popular Mexican street food is a great way to use up leftover tortillas.
For more traditional Mexican Recipes, get your Mexican Food Fix here.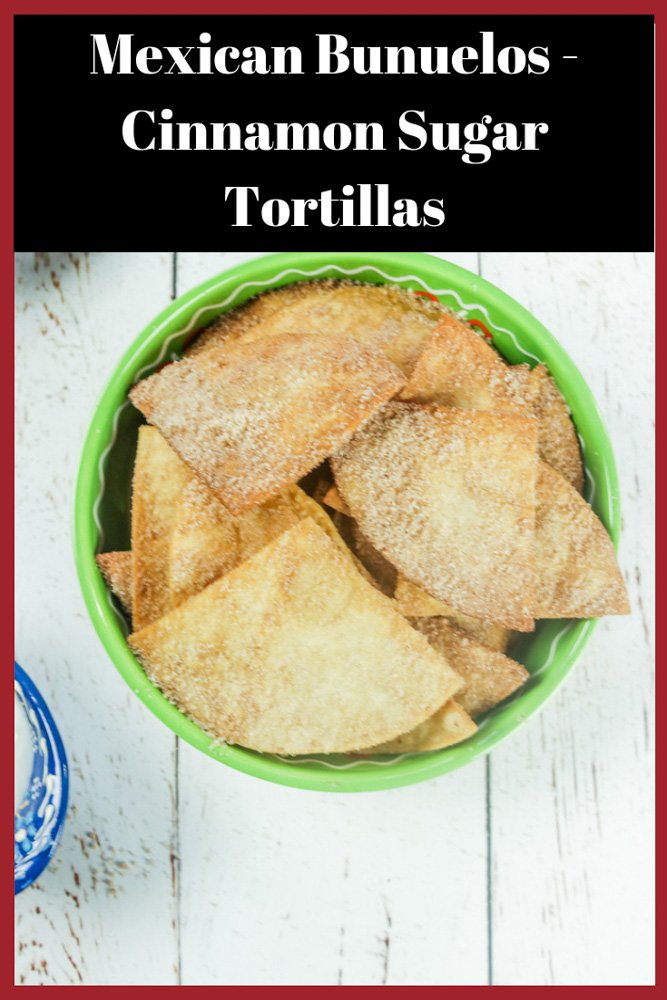 This week I have been presented holiday foods often eaten during Epiphany celebrations in Mexico. Also known as Three Kings Day, this is another delicious food to celebrate the holiday. Even if you will not be celebrating Three Kings Day tomorrow as they will be doing in most of Latin America, this is a delicious treat to have any time. It is so quick and easy to put together. With just three ingredients, there is nothing simpler.
Many people know of Spanish bunuelos, which are doughnuts often eaten with a cup of melted chocolate in Spain. Mexico's version is a lot less work. It is also a popular street food throughout Mexico.
Do you have some leftover corn tortillas in the fridge leftover from the last time you made enchiladas? This recipe is a great way to use them up.
Do you live in a community where people often stop by unexpectedly and you need a quick snack to offer then with a cup of tea or coffee? Well from now on, make sure you always have some corn tortillas in the fridge and these can be made quickly and at a moment's notice!
I have cut each tortilla into quarters, but they are often made with the tortilla left whole or cut in strips. It is up to you how you would like to serve them.
Accompaniments
They are usually just served plan as is. However, I thought vanilla yogurt complimented these bunuelos so well. Vanilla and cinnamon are natural partners in crime with any dessert.
If you are serving these for a party and want to make it even a little more festive, you might want to drizzle the Coconut Glaze from this recipe on top.

So quick and easy and such a munchable treat!

Perfect when you need a quick snack!
Mexican Bunuelos
Mexican Bunuelos are a fast and easy dessert utilizing leftover corn tortillas and cinnamon sugar.
Ingredients
6

corn tortillas

1/2

cup

sugar

1

teaspoon

cinnamon

oil

for frying

Optional Accompaniments:

vanilla yogurt

coconut glaze
Instructions
Leave tortillas whole or cut, as desired.

In a large bowl, combine sugar and cinnamon. Mix to combine.

In a deep skillet or wok, heat enough oil for deep frying.

Add tortillas and fry in batches 1-2 minutes, until golden brown.

Transfer to a paper towel to absorb excess oil.

Toss in cinnamon sugar.

Serve on its own or with accompaniments as desired.
Did you try this recipe? Leave a comment below.
Please follow me on Instagram @chefmireille or tag me #chefmireille with your pics! I'd love to share them!