Last Updated on December 25, 2020 by Chef Mireille
Mexican Ponche Navideno is a warm fruit and spice drink that is especially made during the holidays in Mexico from Christmas to Three King's Day.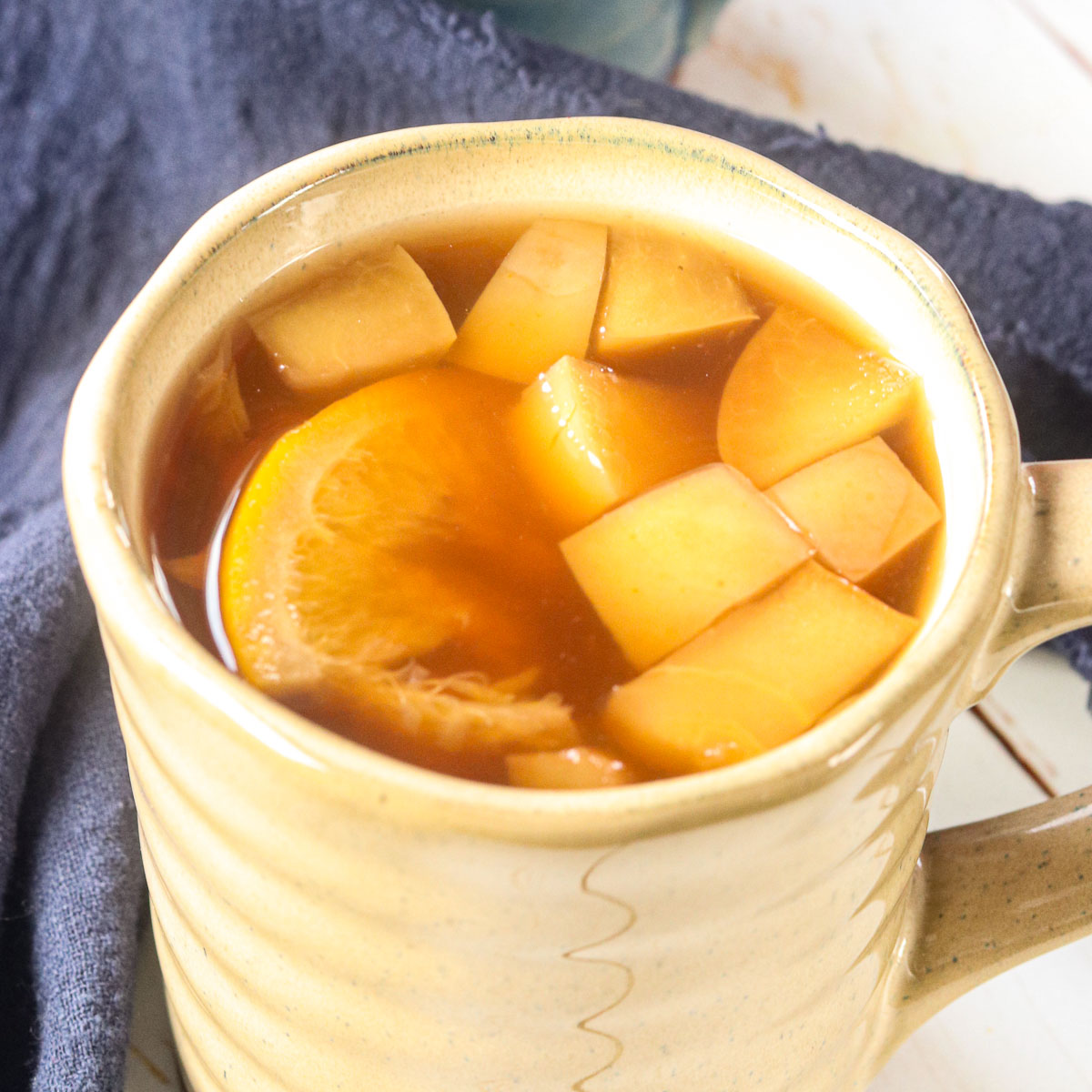 This post may include affiliate links.
Translated literally, Ponche Navideno is Christmas Punch, but it is enjoyed during the entire holiday season through to the Epiphany, also known as Three King's Day.
Three King's Day
Many Catholics and Orthodox Christians celebrate Three King's Day. Although it is a holiday recognized by all Christians, Catholics and Orthodox Christians celebrate it the most. Catholics, especially in Latin countries, celebrate it with great fanfare. Everywhere from Spain & Portugal to South & Central America.
The Orthodox Christians of Eastern Europe celebrate it a week later as they follow a different calendar. Their Christmas is also a week later.
Three King's Day celebrate when the 3 wise men brought gifts to the newly born baby Jesus and Jesus was baptized in the Jordan River. There are many rich and sweet foods eaten during the Epiphany season as it is seen as a time of celebrating until Lent fasting starts. \
After the Epiphany is when the famous King's Cake of New Orleans starts appearing at bakeries there until Lent.
The Epiphany will occur this year on Sunday upcoming – January 6th. This week I will be highlighting some recipes that are included in Epiphany celebrations in Mexico. I have already showed you how to make Pozole, a soup commonly eaten during Epiphany celebrations. Now you will learn some more recipes to celebrate the holiday!
Ponche Ingredients
Ponche is one of the beverages that Mexicans celebrate the holidays with – from Christmas to New Year's to the Epiphany. There is some variety from region to region in Mexico, depending on the abundance of local fruits. Some regions use more citrus fruits, while other regions use more stone fruits.
Living in a very diverse neighborhood, just going to my local supermarket I was able to find all of the ingredients used in my version of Ponche. However, depending where you live, you might have to go to specialty markets or online sources.
You can also take the main concept of ponche and adapt it with fruits locally available. However, certain ingredients like the hibiscus (sorrel, flor de Jamaica) and tamarind are generally always included, so you want to include those.
Let's go over the ingredients and where to look for some of the specialty ingredients used! As some of the ingredients are not available fresh at your local US supermarket, many of the ingredients are instead found in the frozen or canned section of the market. Of course, fresh is best and if not, it is not a reason to avoid making this delicious ponche.
Specialty Ingredients
Tejocote is a type of Mexican hawthorn. I used the version canned, in syrup. First, look in the frozen section of the market. If frozen or fresh is not available, the canned version is the best substitute.
Mexican Yellow Cherry I was able to purchase frozen. If you cannot locate these, just use regular cherries.
Fresh Tamarind is sweet and not sour like the tamarind concentrate you may use for Thai cooking. Look in the produce section of your market. The red box is usually sweet and the green box is the sour one. Make sure to get the red box! To peel the tamarind, simply crack the shell and remove it. Then remove the tamarind hair layer.
Fresh Guava is pretty common and easy to find here in NYC. If it is not available where you live, you can add a little guava nectar so you can at least get the flavor if the fruit is not available.
Piloncillo/Panela is a raw natural sugar. Jaggery, found in Indian markets, can be substituted. If neither of these is available, you can use brown sugar. They are sold in very hard discs. Just use the whole disc as it will melt in the simmering liquid.
Dried Hibiscus, also known as sorrel, flor de Jamaica or roselle can be found in tea shops if you are unable to source it at your local market. Caribbeans use this a lot so you will be able to find it at fruit/vegetable markets in Caribbean neighborhoods if you have one near you.
Sugarcane – During the summer, I can usually get fresh sugarcane here in NYC, however, it is harder in the winter. I utilized canned sugarcane, however if you have the fresh available, that is better to use.
As long as you live in a large city with large Latin or Caribbean markets, most of these ingredients should be available to you.
If you cannot find these ingredients, some others you might like to add as substitutes include cranberries, quince and gooseberries.
Although I did not use in this version, sometimes dried fruits such as prunes or raisins are added.
All the other ingredients are readily available and you should have no problems finding.
Have you tried instacart yet? It's how I get all of my fresh grocery items delivered within 2 hours!
How to make Ponche Navideno
Boil everything together!
Make sure you serve each mug with a sugarcane stick to use as a stirrer.

Such a warm and comforting drink. Perfect on cold winter evenings, even if you are not celebrating Three King's Day.

Mexican Ponche – Ponche Navideno
Mexican Ponche – Ponche Navideno is a fruit and spice holiday drink that is enjoyed warm. If desired, a little rum or brandy can be added to it.
Ingredients
2

chopped and cored apples

1

cup

yellow cherries

12

oz.

quartered guavas

approximately 8

10

oz.

tejocote

approximately 15

1

large orange

halved and sliced

2

tablespoons

dried hibiscus

7

sweet tamarind pods

peeled

3

cloves

8

oz.

piloncillo/panella cone

rum or brandy

optional
Instructions
Combine all ingredients (except rum/brandy if using) in a large pot with 16 cups water. Bring to a boil.

Reduce to a simmer and cook for 30 minutes.

Make sure the piloncillo is completely dissolved.

Stir to combine.

Serve warm with both liquid and fruits.

If desired, serve with a little rum or brandy added to it.
Notes
If the spices floating around bother you, you can remove the fruit and then drain the liquid. Serve the clear liquid with some of the fruit added back in.
Nutrition
Calories:
87.13
kcal
|
Carbohydrates:
19.25
g
|
Protein:
1.76
g
|
Fat:
0.84
g
|
Saturated Fat:
0.14
g
|
Sodium:
38.68
mg
|
Fiber:
2.68
g
|
Sugar:
8.8
g
Did you try this recipe? Leave a comment below.
Please follow me on Instagram @chefmireille or tag me #chefmireille with your pics! I'd love to share them!
DO YOU YUM? SAVE IT BELOW!
Yum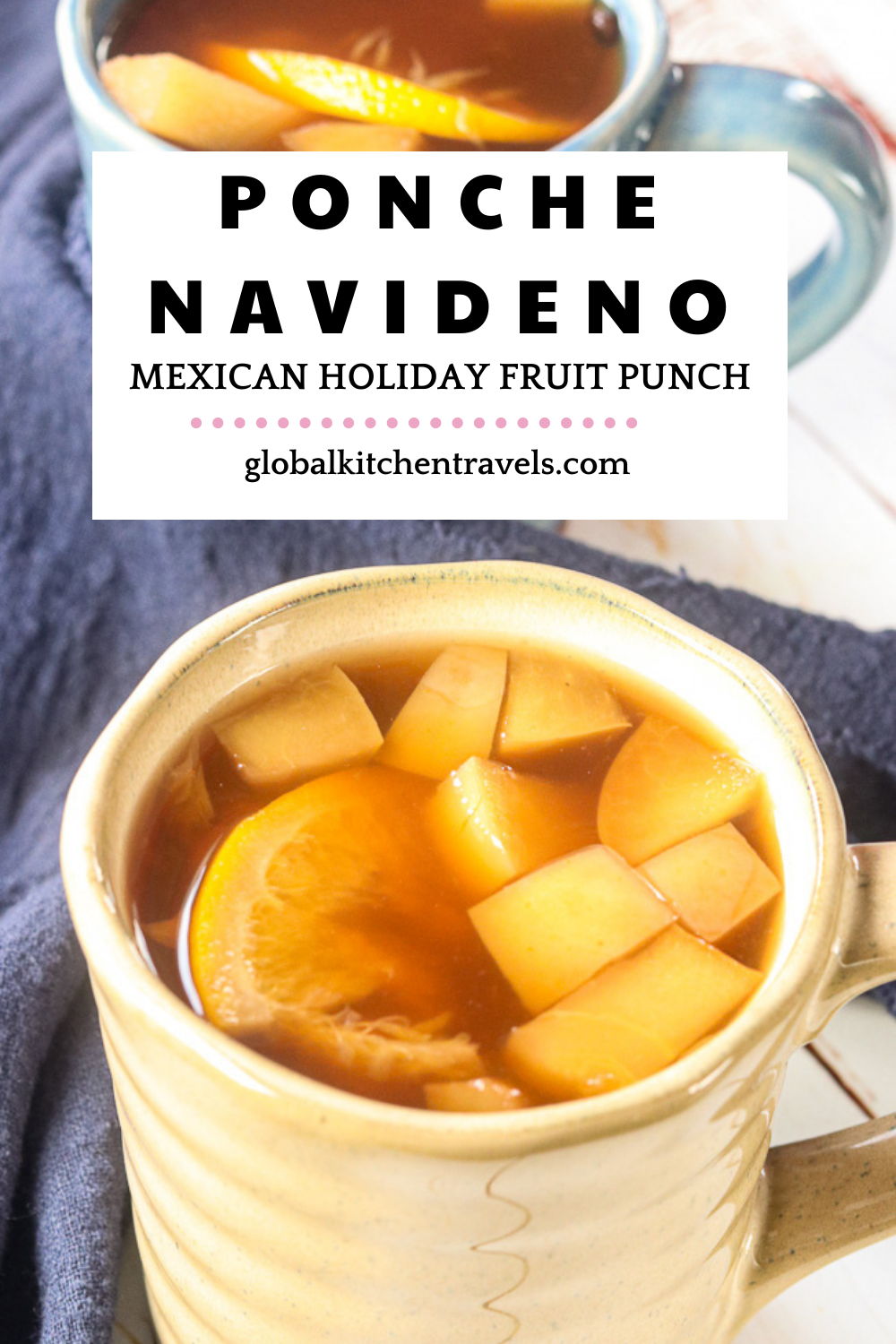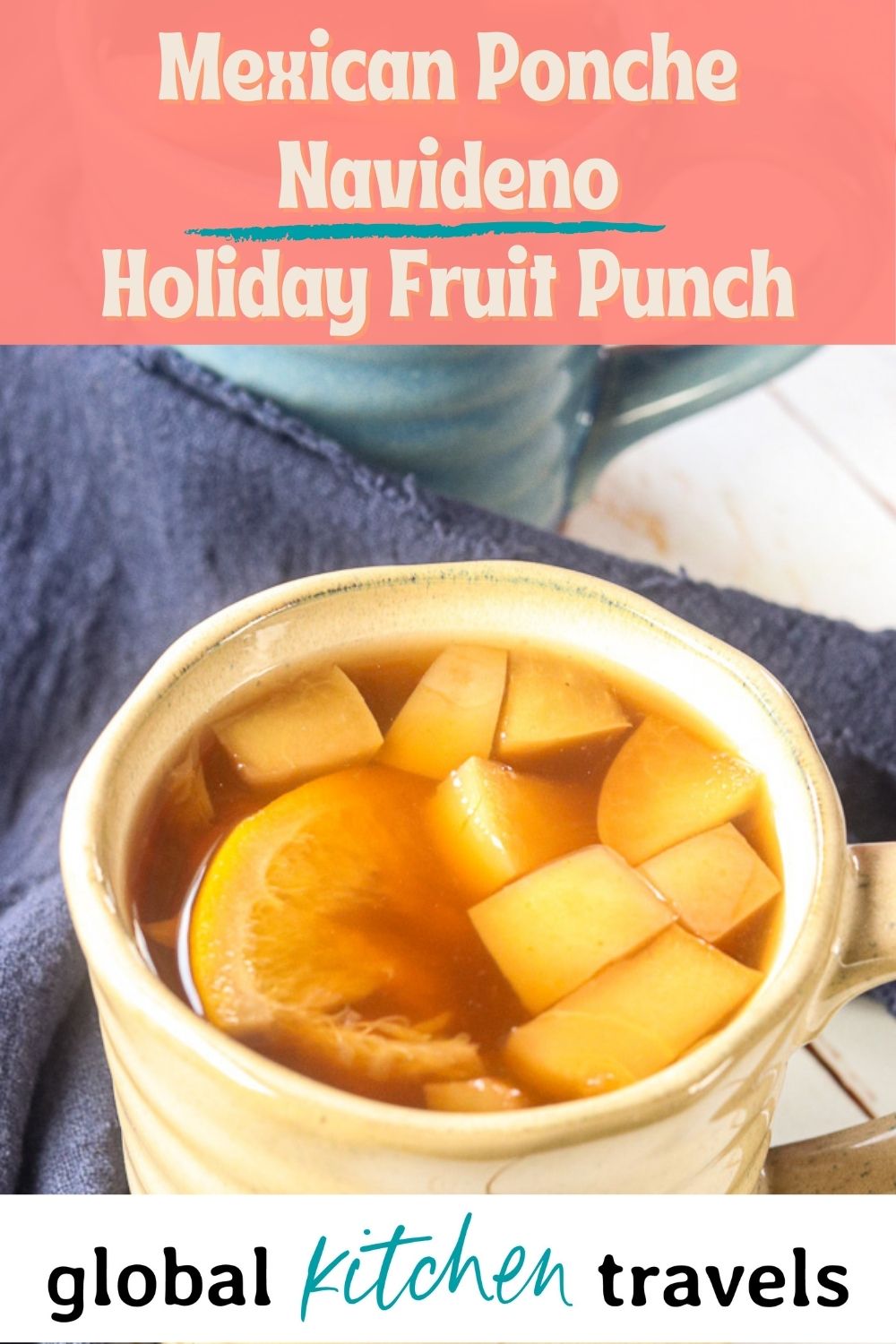 Don't forget to visit the RECIPE INDEX with over 1000 recipes from around the world including lots of Vegetarian Recipes and Gluten Free Recipes!