Last Updated on January 12, 2020 by Chef Mireille
Merguez Frittata Muffins – Perfect Picnic Food are packed with flavor and perfect to serve at any party or take them along to your summer picnic!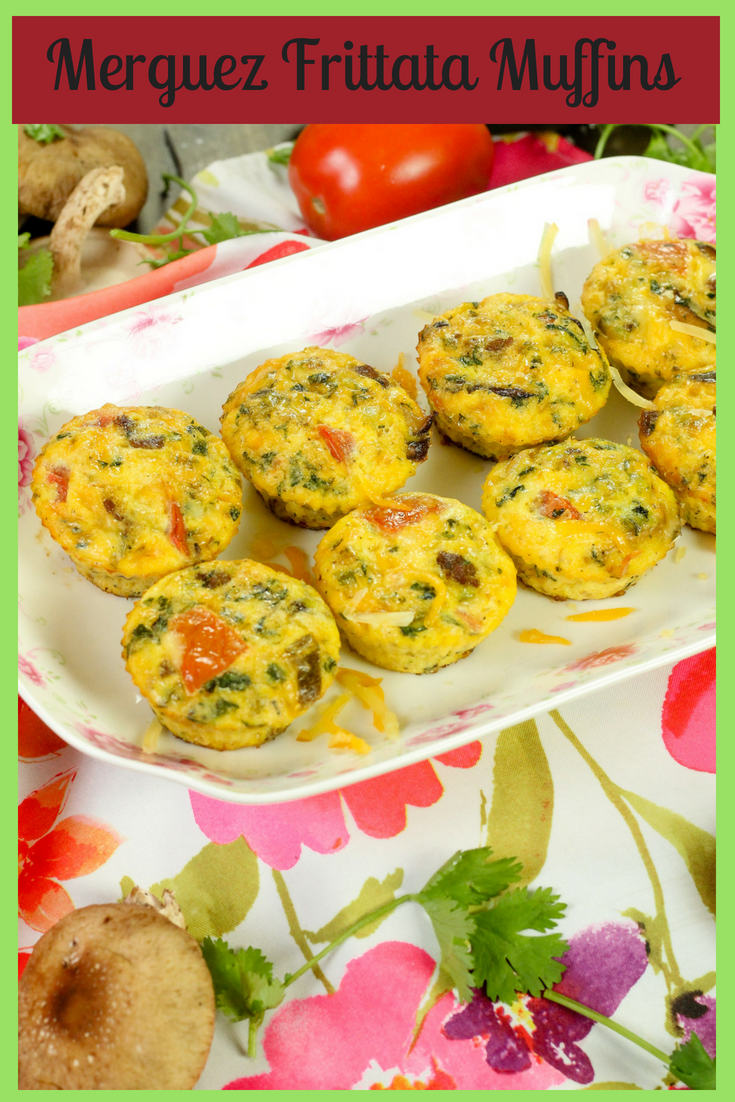 Every few months I participate in a Food Blogger Recipe Swap. I was paired this month with the Cheerful Kitchen and these Taco Muffin Tin Eggs immediately caught my attention. I took her idea for these Frittata Muffins and went Middle Eastern with the flavor profile.
Merguez is a Middle Eastern lamb sausage flavored with cumin, coriander, paprika and other Middle Eastern flavors. I love the flavors in this sausage and buy them whenever I find them. Do you like Middle Eastern flavors as much as I do? How about experimenting more with the flavors of the region!
Middle Eastern Recipes
Lebanese Rishta – Lentil Vermicelli Soup
Lentil Pilaf with Carmelized Onions
Sfoof – Lebanese Semolina Turmeric Cake
Manakish – Za'atar Bread
Whole Wheat Lahmacun – Turkish Pizza
Piyaz – Turkish White Bean Salad
Omani Bamia Stew – Okra Stew

IN THE MAKING – MAKING MERGUEZ FRITTATA
These are also good at room temperature so perfect to take along with you to summer picnic's.
It's also great for breakfast with some fresh berries! If you're on a low carb diet, these Merguez Frittata Muffins – Perfect Party Food are full of protein and a great way to start the day!
Merguez Frittata Muffins – Perfect Picnic Food
Easy frittata muffins are perfect for brunch, any party or picnic.
Ingredients
1

tablespoon

oil

8 ½

oz.

merguez sausage

1

finely chopped jalapeno

2

chopped scallions

1

cup

sliced shitake mushrooms

1

tablespoon

finely chopped cilantro

1

tablespoon

finely chopped parsley

9

eggs

¼

cup

milk

1

teaspoon

salt

½

teaspoon

ground black pepper

1

chopped plum tomato

½

cup

grated smoked gouda

1

cup

grated cheddar cheese
Instructions
Preheat oven to 350 F.

Remove merguez from casings and chop.

In a skillet, heat 1 tablespoon of oil.

Add merguez. Saute until sausage is cooked through.

Drain out excess oil.

Add mushrooms, jalapeno and scallions. Saute until vegetables are softened.

Add cilantro and parsley. Toss to combine.

In a bowl, whisk eggs, milk, salt and pepper until combined.

Add tomato. Add cooked merguez combination and mix until thoroughly combined.

Add cilantro and parsley. Mix until thoroughly combined.

Add cheese and mix until thoroughly combined.

Spray a muffin tin or silicone muffin molds with non stick spray.

Fill muffin molds ¾ full.

Bake 20-25 minutes until set.
Did you try this recipe? Leave a comment below.
Please follow me on Instagram @chefmireille or tag me #chefmireille with your pics! I'd love to share them!
Do you know anyone else who likes learning about international food, culture, history and travel? Bring them over here to join the party! Don't forget to use those share buttons!
Start Here to find out how the Schizo Chef can help you with your cooking, travel and other needs!