Last Updated on May 20, 2020 by Chef Mireille
Mealie Cakes – African Cornmeal Biscuits – These gluten free light savory cornmeal biscuits from Lesotho are a delicious accompaniment to stews or soups.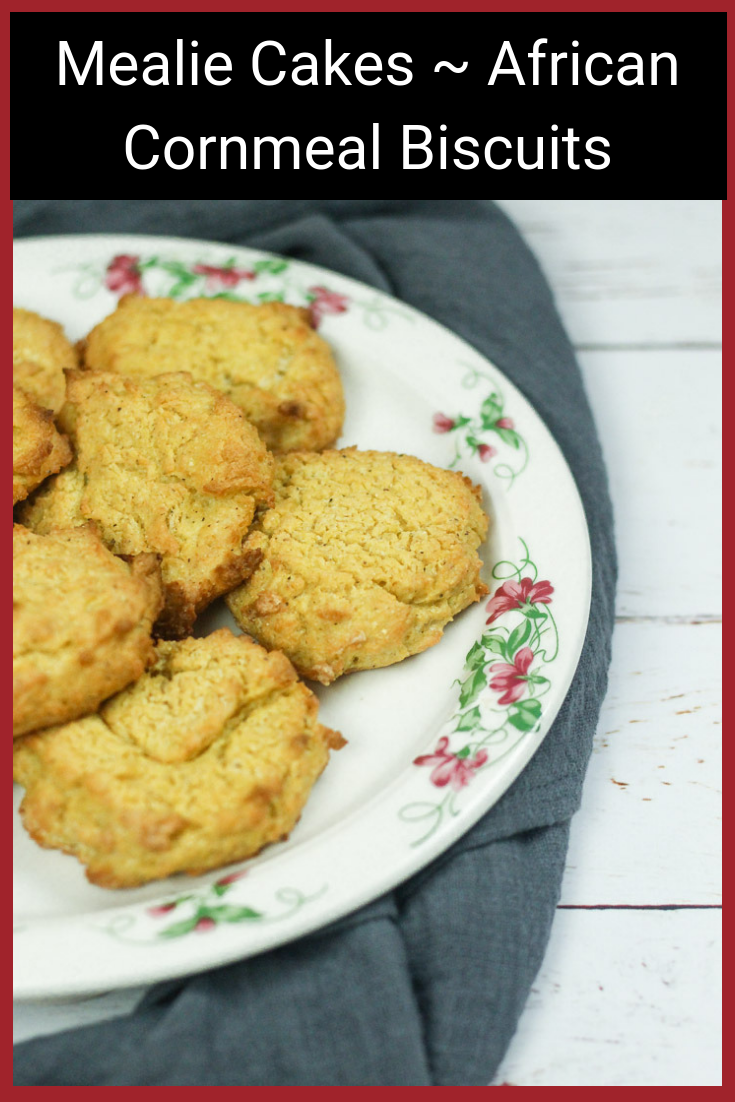 Most month's I participate in the Blogging Marathon, a group of bloggers who blog on selected themes. How the organizer, Valli, comes up with so many different themes is beyond me. It's a great way as a blogger to keep the inspiration going. Anyway, for this month one of the themes was to pick a letter and find 3 capital cities that begin with that letter and recreate recipes from those selected countries. You know this was right up my alley. Another excuse to discover more international recipes.
So I was perusing the list of world capitals and Maseru immediately caught my eye. Maseru – many people probably have never even heard of this capital- however it is mentioned in one of my favorite movies. Cry Freedom, a movie I have seen more times than I can count, mentions it. In fact, writing up this post reminded me of the film and I was so happy to find it on Amazon Prime. If you have Amazon Prime's streaming service, if you have not seen this movie, you should search it out now.
Cry Freedom
Cry Freedom depicts the true story of Donald Woods and Steve Biko, two men from totally different backgrounds who formed the most unlikely of friendships. Donald Woods was a white newspaper publisher during South Africa's apartheid regime and Steve Biko was a black freedom fighter, who was eventually murdered by the South African government. Eventually, Donald Woods is forced to flee South Africa with his family. He had to do this covertly as he was not allowed to leave the country as he was declared a banned person, meaning he couldn't travel or even speak with more than one person at a time, outside of his immediate family. They escaped through a contact who owned a small airport in Lesotho and it is in Maseru where he applies for amnesty at the British High Commission.
I wonder how the others doing this theme picked their letter, but this is how mine came about.
Before we get to the recipe, let's learn a little more about Lesotho so we can better appreciate their history and culture!
A little Lesotho History
Lesotho is such a unique country in that it is located within another country. Instead of bordering South Africa, it is geographically located within South Africa, yet the nation is independent of South Africa.
Here's a brief synopsis of how Lesotho came to be because I find history as fascinating as the food – I hope you do too!
Surprisingly, Lesotho was never a part of South Africa. As the Dutch Boers were taking over South Africa, they tried to also take over what was then known as Basutoland and inhabited by the San people who speak Sesotho. Back in the 1700-1800's both the British and the Dutch were fighting over African colonies. Basutoland defeated the British in a few battles fought in the mid 1800's. The San then lost quite a bit of land to the Boers in a battle in 1867. They then appealed to Queen Elizabeth and became a British protectorate until they got their independence in 1966.
Lesotho means the people who speak Sesotho, which differentiates them also from other South African tribes who mostly speak Bantu, Zulu or Xhosa (the one with the clicks).
---
…now let's get back to the recipe…
I was surprisingly able to search out several Lesotho recipes like this one. Once that research was complete, the letter M was quickly decided upon.
Mealie is the word for corn in African countries. I have made different versions of Mealie Bread from both Zambia here – and this South African steamed version here . I love anything made with cornmeal, so I knew I would love these biscuits!
IN THE MAKING – HOW TO MAKE MEALIE CAKES
These biscuits are very light and airy. In fact, when they first came out of the oven, they are hollow – similar to Bolivian Cunape (gluten free cheese bread).

These cornmeal biscuits are usually enjoyed with savory stews in Lesotho. Although not a Lesotho recipe, you might enjoy it with this Omani Goat & Okra Stew or this Pork Stew!
They are a perfect accompaniment to any savory stew or soup!
Today is also the start of the annual December Bake-a-Thon so look out for some delicious baked both sweet and savory treats this month – just like this one!
Do you know anyone else who likes learning about international food, culture, history and travel? Bring them over here to join the party! Don't forget to use those share buttons!
Start Here to find out how the Schizo Chef can help you with your cooking, travel and other needs!
If you like this recipe, PLEASE LEAVE A COMMENT & SUBSCRIBE!
Check out the Blogging Marathon page for the other Blogging Marathoners doing this BM#95
Check out the other bloggers doing this Bake-a-thon
[inlinkz_linkup id=803887 mode=1]