Last Updated on June 2, 2015 by Chef Mireille
It's time for the monthly Blog Swap Meet again and this month's theme was Pi – savory, sweet and all pies in between. For this pie swap, I made a savory French gallette with Latin Flavors. Do hop on over to Kneaded Creations for the recipe!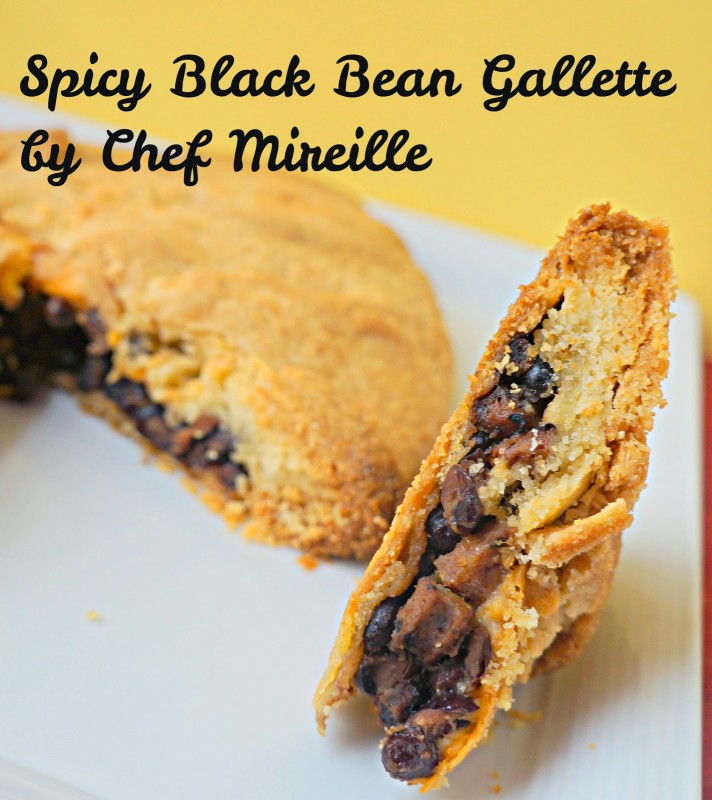 Meet Deb who was so kind to host my recipe on her site as well as to contribute this fabulous pie and so appropriate as we are in the month to celebrate St.Patty's!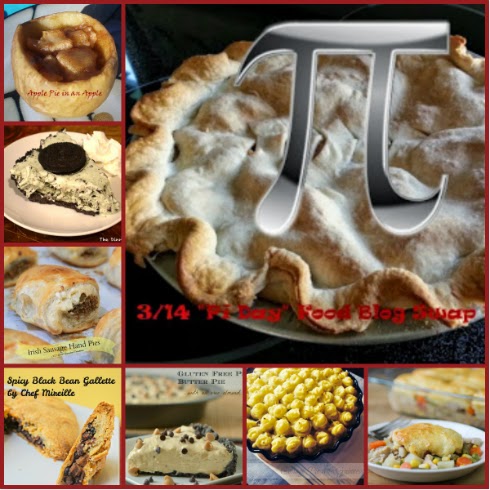 Hi, I am Deb, the baker and blogger over at Kneaded Creations I want to thank Mireille for participating the the Pi Swap Meet, and swapping posts with me. What fun this has been to create a recipe for Pi Day! At first, I intended to post a wonderful sweet irish pie, but then I decided to make a traditional savory Irish hand pie instead! I think that you will be so pleased when you try these. I usually make a couple of dozen which are gone in no time. Cut small, they are great for parties as appetizers. Regular size, they are great for a quick breakfast as you run out the door, or delicious packed in a lunch for a warmed up or cold treat. I got the recipe for these in an interesting way.
A few years ago, good friend of mine brought these to a party at work. Her mother, Morag, emigrated to America from Ireland in the 1920's and brought the recipe for her Irish Sausage Hand Pies with her. I thought they were so delicious, and I asked her for the recipe. She hemmed and hawed about how it was her mother's recipe, and she didn't know if she should share it. I begged her to ask her mother to share the recipe with me.
I had no answer for several weeks, and had not only given up hope, but had forgotten about it. Then, one afternoon, I got a phone call from Morag, herself. She said she had hesitated giving me the recipe, because it had taken her quite a lot of trial and error trying to simulate the flavor and texture of the sausage hand pies that she had made in her home land. She explained that evidently, not only the sausage is different but the spices available here in the US are also different than those she used in Ireland. After much experimentation, she had finally come up with a flavor that was close to the sausage hand pies of Ireland. She wasn't sure that people would like them, and she was really not sure it was good enough for a blog "and all that exposure." I guess I convinced her that the recipe was just slightly less than earth shaking and deserved to be shared, because she finally gave me the recipe!
Never having been to Ireland or tasting the sausage pies there, I have nothing with which to compare, but I can tell you that these Irish Sausage Hand Pies are so tasty, it is hard to settle for just one! Morag O'Neil, I have to give credit where it is due, and I want to thank you so much for sharing your incredible sausage hand pie recipe!
Morag's daughter changed her mom's recipe to use puff pastry instead of home made pastry, and I also used this deviation in the recipe I am sharing with you. Bon Appetite!
Recipe:
Irish Sausage Hand Pies
Ingredients:
Commercial Puff Pastry- two sheets
1 egg, beaten
1 tsp. milk
Sausage Filling
1 lb ground pork sausage
1 tbsp. Italian seasoning
1 tsp. thyme
½ tsp. dried marjoram
½ tsp. crushed rosemary leaves
½ tsp. salt
½ tsp. black pepper
1 C. bread crumbs
1 minced garlic clove
1 egg beaten (second egg)
Instructions:
Preheat oven to 400* Line Cookie Sheet with parchment papter
Mix all spices together and stir together with the minced garlic and bread crumbs.
Add the ground meat to the spice/bread crumb mixture, and mix with your hands until combined well.
Add the egg and continue to mix with hand until the egg is well incorporated into the meat mixture.
Roll sausage into a couple of long rolls about 1 foot long each.
Using the thawed puff pastry, open the pastry sheet
Cut the sheet into two pieces the long way, so that each measures about a foot long, and is 1/2 of the sheet wide.
Combine 1 egg with the teaspoon of milk and beat together well.
Paint the top side of the pastry with the egg mixture.
Put one of the sausage rolls onto the edge of the pastry, and roll toward the center to the other side.
Now the sausage should be covered with pastry.
Using the egg mixture, make sure the edge of the pastry is painted, and "glued" to the body of the pastry roll.
Paint the outside of the pastry with the egg mixture.
Cut the ends of the pastry to the sausage, and discard the cut off pastry.
Slice rolls into equal sized portions of 4,6,or 8, depending on how you wish to serve them- as appetizers or hand pies.
Place on cookie sheet with parchment paper
Bake rolls at 400* for 15 minutes, then lower the heat to 350*, and continue to bake for another 10 minutes.
Remove your beautiful golden treasures from the oven, and allow to cook on a wire rack., or place on a plate and gobble them up quickly!
LIKE THIS RECIPE? LEAVE A COMMENT..I LIVE FOR THEM!
Chef Mireille