Last Updated on December 16, 2020 by Chef Mireille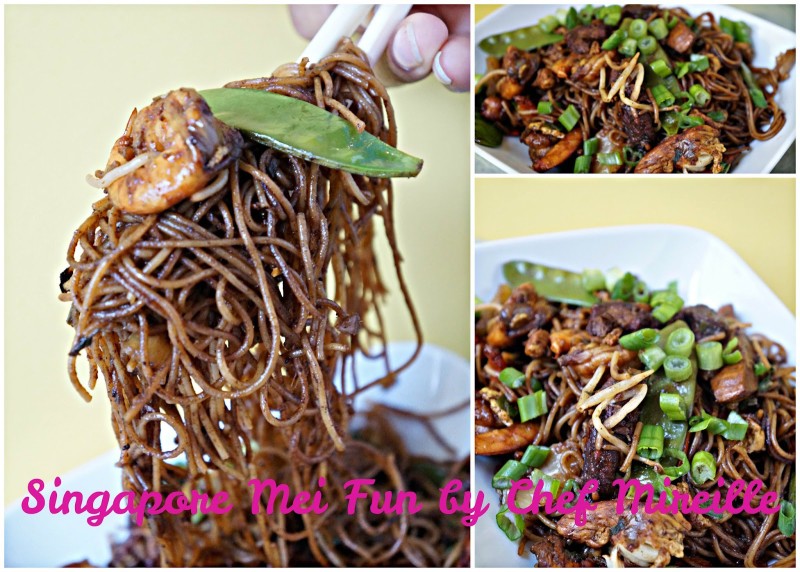 Whenever I order food at Chinese restaurants, Singapore Mei Fun is my standard dish 90% of the time. It is the perfect one pot meal with vermicelli noodles and full of any variety of vegetables and meats, but the twist is the addition of curry powder and I always order mine extra spicy, which is drizzled with a little chili oil.
Even the average Chinese person hardly ever makes char sui at home. Char Sui is that smoky, sweet pork that is included in many Chinese dishes – especially tossed with Fried Rice or Lo Mein. However, I really challenged myself and made Char Sui at home. See the recipe here.
Singapore Mei Fun
Serves 8
Ingredients:
2 tablespoons peanut oil
1 1/2 tablespoons ginger, grated
1 onion, chopped
5 scallions, chopped
3 cloves garlic, finely chopped
1 red chile, finely chopped
1 cup cooked char sui pork
1/2 pound shrimp, shelled and deveined
1 lb. chicken breast, cut into strips
1 cup snow peas, trimmed
1 1/2 cups bok choy, chopped
1 cup bean sprouts
2 eggs, scrambled
1 lb. vermicelli noodles
1/4 cup soy sauce
2 tablespoons Shaioxing cooking wine (or any Chinese rice wine)
2 tablespoons oyster sauce
5 tablespoons curry powder
1 tablespoon chili oil
1 tablespoon sesame oil
salt and ground white pepper, to taste
extra scallions, for garnish
Season chicken and shrimp with salt and ground white pepper. Steam shrimp until just cooked.
Place noodles in a large bowl. Add boiling water to cover and leave for 5 minutes, until noodles are softened. Drain immediately and run with cold water to stop cooking process and separate the noodles. Add 3 tablespoons of the curry powder, soy sauce, cooking wine and oyster sauce. Toss well.
In a large wok, heat 2 tablespoons of peanut oil. Add onion, scallions, ginger, garlic and chile. Saute for 2 minutes, until softened. Add chicken and saute until cooked through
Add remaining curry powder, snow peas, bok choy and bean sprouts. Cook for 2 minutes on high heat.
Add shrimp and pork. Add noodles and eggs and toss well. Toss well until everything is incorporated well.
Add cilantro, sesame oil and chili oil. Toss to combine.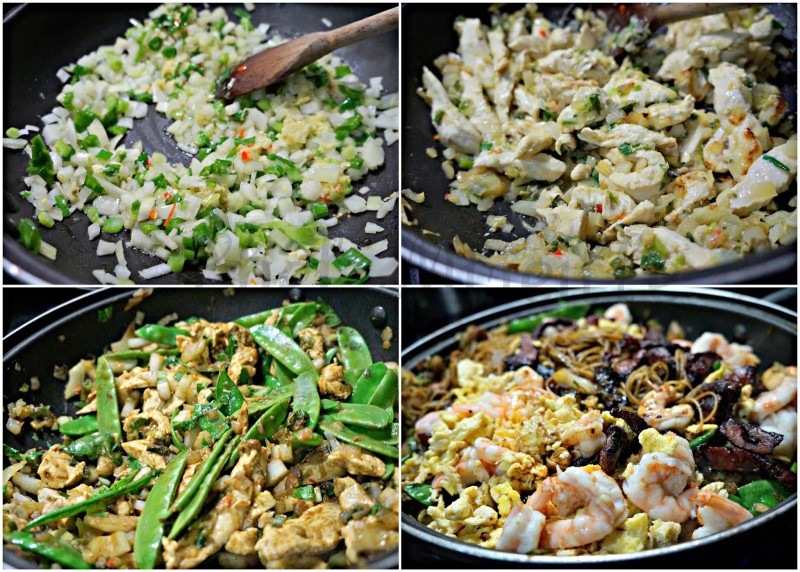 Garnish with scallions.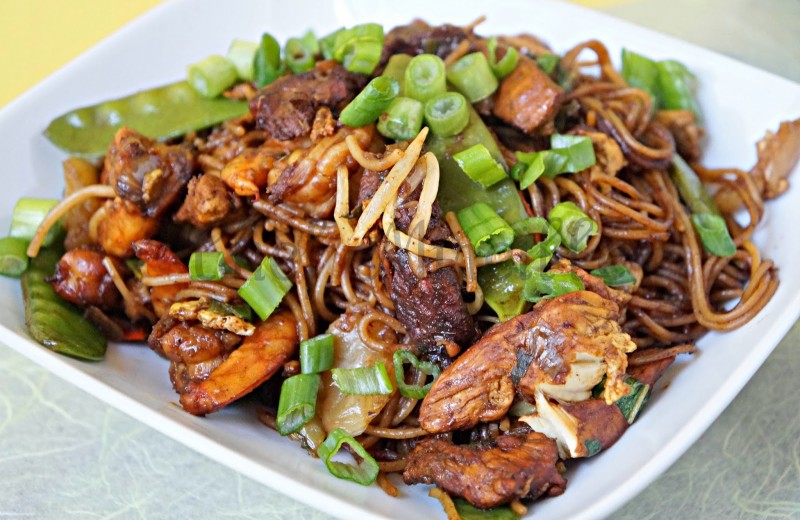 Check out the Blogging Marathon page for the other Blogging Marathoners doing BM#38
LIKE THIS RECIPE? LEAVE A COMMENT..I LIVE FOR THEM!
Chef Mireille