Last Updated on April 2, 2019 by Chef Mireille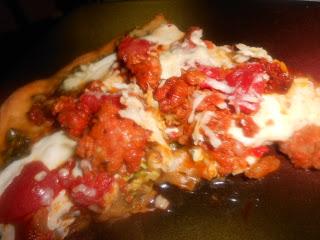 I celebrated Hurricane Irene passing with limited effect on New York by making some homemade pizza. I pray for those severely affected by the Hurricane and to those families who have lost lives.
Fresh, homemade pizza is really not that complicated or time consuming. Once you take one bite, I guarantee you will be erasing Domino's and Papa John's number from your speeddial.
This pizza is a perfect marriage of flavors – spice from the sausage, sweetness from the tomato and salty from the Pecorino Romano!


Spicy Sausage Pesto Pizza
Pesto:
1 head garlic
2 cups fresh basil leaves
1/3 cup pine nuts
1 1/4 cups olive oil (plus extra for coating)
1 tablespoon Kosher salt
1/4 teaspoons crushed red pepper flakes
1 – Preheat oven to 400 F.
2 – Peel cloves of one head of garlic. Coat a small sheet tray or baking dish with a little olive oil. Place garlic cloves and roast in oven for about 25 minutes, until cloves are browned.
3 – While garlic is roasting, remove basil leaves from stems and place in a large bowl with cold water and let stand for 5 minutes. This is the best way to wash basil. The dirt and sand will stay at the bottom of the bowl. DO NOT POUR THE WATER OUT OF THE BOWL. Instead, remove the basil leaves from the water, using tongs or your hands. This ensures none of the dirt at the bottom of the bowl gets on the cleaned leaves.
4 – Peel cloves of other head of garlic.
5 – Using a food processor, process roasted garlic with cleaned basil leaves until finely chopped. Add pine nuts and keep processor running while slowly adding olive oil. Add salt and pepper.
TIP: Double the recipe and then you will have some extra to toss with pasta for dinner during the week.
Dough:
2 3/4 – 3 cups all-purpose flour (plus extra for dusting)
1 package dry active yeast (2 1/4 teaspoons)
1 teaspoon salt
1 teaspoon sugar
2 tablespoons olive oil (plus extra for coating)
1 cup water
1 – Heat the water to medium warm temperature, 120 – 130 degrees F.
2 – Meanwhile, mix the yeast, salt, sugar and 1 1/2 cups of the flour in a large bowl.
3 – Add the water and oil and mix until well moistened and thoroughly combined. You can use an electric mixer if you prefer, but about 3 minutes with a wooden spoon works just as well.
4 – Using your hands, knead in 1 cup of flour. At this time, the dough should pull away from the sides of the bowl Turn dough onto a lightly floured surface and knead in another 1/4 to 1/2 cup of flour until dough is smooth and elastic.
5 – Coat a large bowl with olive oil. Place dough in bowl and cover with a kitchen towel. Leave to rest for 30 minutes. Meanwhile prepare your toppings.
Pizza Toppings:
1 small ball fresh mozzarella cheese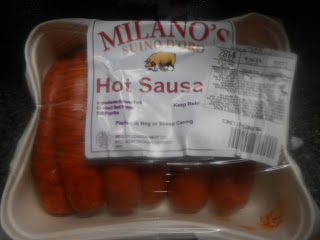 3 links hot Italian sausage
14 oz. can diced tomatoes or fresh tomatoes (I used diced tomatoes because I was stuck indoors because of Hurricane Irene and that was all I had on hand)
1/3 cup fresh Pecorino Romano cheese, shredded
1 – Remove sausage meat from casings. Chop meat.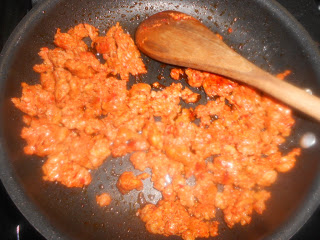 Sauteed Sausage Meat
2 – Place the meat in a saute pan and cook until meat is cooked through, about 5 minutes.
3 – Slice fresh mozarella into 1/2″ slices.
4 – If using canned tomatoes, drain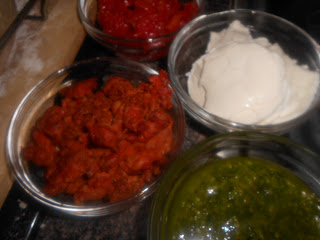 Toppings for Pizza: Sauteed Sausage Meat, Pesto, Sliced Mozzarella, Diced Tomatoes
Making your pizza:
If you have a pizza stone, great. Otherwise, just roll out door and press into a pizza pan or a pie pan. (Note, a pie pan will yield a thicker crust due to the smaller size of the pan). I have never claimed to be a pastry chef, therefore, I do not possess the talent to roll out my dough into perfectly sized circles. This is homestyle pizza, so there is no need to make it into a perfectly shaped pie.
1 – Preheat oven to 425 F.
2 – Divide dough into 2 balls. Freeze 1 ball for future use or make 2 pizzas.
3 – On a lightly floured surface, roll out the dough into as close to a circle shape as you can get, using a rolling pin. I roll it out right on the pizza stone, so I don't have to bother transferring the dough after it is rolled out. Press down with your fingertips to remove any air bubbles.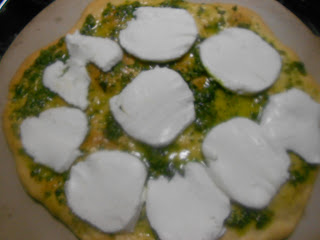 4 – Bake in oven for about 15 minutes, until golden. Don't worry if it seems very crispy. Because of the moisture laden toppings, it will soften up and be perfect.
5 – First, coat with the pesto. Then add your slices of fresh mozzarella. Sprinkle sausage and tomato on top. Finally sprinkle the shredded Pecorino Romano on top.
6 – Bake for 15 minutes, until cheese is melted.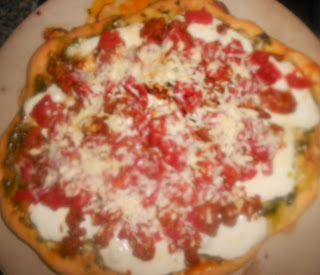 The Finished Pizza
A delicious thin crust homestyle pizza, plus some extra pesto for a quick and easy dinner during the week. Just toss with pasta, vegetables and grilled chicken breast for a quick Pesto Primavera Pasta for a 30 minute weeknight dinner.