Last Updated on May 20, 2015 by Chef Mireille
Berry Picking is one of the best activities during the summer. especially for city kids. If you grow up on a farm, it is not a big deal. However, for most city kids, berries come from the supermarket or if they are lucky, the local Farmer's Market which is located on a city block or open space.
Last weekend, I took a friend and her kids berry picking. Long Island is the best place to go berry picking in the NYC area. I go to the upstate farms for apple/pumpkin picking in the fall. Strawberry season was over, but blueberries and blackberries were in full bloom, with a few raspberries here and there that were ready to be picked.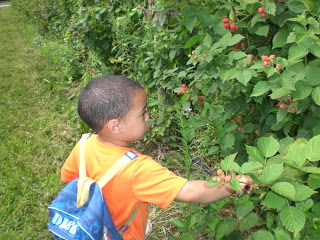 Even at 3 years old, he was able to look for the darkest colored berries to get the sweet ones
It was truly an experience to go with city kids who had never been to a farm. They were so excited – the only problem was trying to get them to keep them in their baskets, instead of eating what we were picking. I think their mother was even worse with this, as she appreciated the flavor of the berries more so than the kids. Berries from the supermarket, even Whole Foods or Fairway, just does not taste the same as when they are picked fresh from the tree.
It is quite a lot to travel to get to these farms, very expensive if you go by public transportation. If you are one of the city dwellers like me who does not have a car, I suggest getting one of your friends who does. Get a group together, travel out and share the gas costs.
The farm we went to was Harbes Farm and Vineyard in Matittuck, NY. In addition to their berry patches, they have a wonderful vineyard, which produces fruity, spicy balanced wines that are neither too dry or too sweet. They do have 1 dry rose, which I opted not to try. $3 tastings are available, however I highly recommend the Cherry Barn Merlot and the Blue Mack Chardonnay. With the most expensive bottle at $24, their selections are all affordable. Their are also hay rides and other farm activities available at Harbes, as well as a cafe that serves hot dogs, pretzels, popcorn and other fast food type of items. You can also buy a variety of fresh fruits and vegetables at their farmstand.
For a wonderful day out with friends or family, this is the perfect weekend excursion. Wine tasting for the adults, hay rides for the kids, berry picking for everyone – there is something at Harbes Farm and Vineyard for the whole family.
After I ate my full of blackberries, I made a delicious Blackberry Cobbler, that we all enjoyed.
Blackberry Cobbler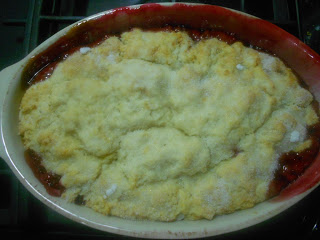 Fruit Mixture:
1/3 cup Vanilla Sugar (I always have vanilla sugar on hand, to add flavor to my baking products. Simply split 4 vanilla pods and process in a food processor with 4 cups sugar for about 5 minutes, until pods are chopped very fine.)
1 tablespoon tapioca starch (or cornstarch)
3/4 cup fresh squeezed orange juice
3 cups fresh blackberries
1 teaspoon orange zest, finely chopped or grated
Biscuit Dough:
1 1/2 cups all purpose flour
3/4 teaspoon ground ginger
1 1/2 tablespoon sugar
1 1/2 teaspoons baking powder
1/2 teaspoon baking soda
3/4 cup buttermilk
4 1/2 tablespoons oil
1 tablespoon sugar, for dusting.
Preheat oven to 375 F. In a medium saucepan, combine sugar and starch over medium hat. Slowly, add orange juice while whisking continuously, to avoid lumps. Cook for a few minutes until slightly thickened. Add zest and berries and cook until the berries are heated through, about 5 minutes.
In a medium bowl, add all dry ingredients for biscuit dough (except sugar for dusting). Add buttermilk and oil and mix until all ingredients are combined to make a soft dough. As soon as all the dry ingredients are moistened, it is ready. DO NOT OVERMIX.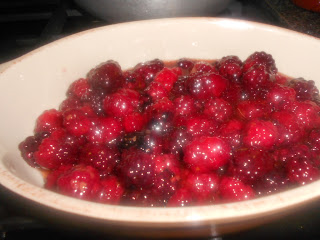 Pour hot fruit into a medium casserole dish. Using a tablespoon, drop the dough on top of the fruit. Dust with the tablespoon of sugar and bake for about 20-25 minutes until golden brown.

Chef Mireille
facebook.com/GlobalTastes
twitter.com/GlobalTastes
https://digg.com/scribingchef
[email protected]