Last Updated on June 4, 2015 by Chef Mireille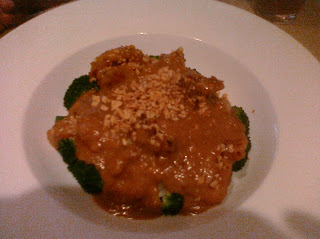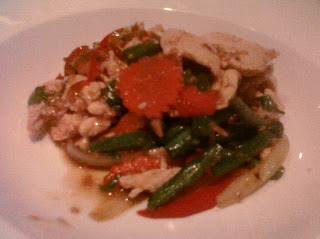 I have been a negligent blogger, but commuting 3 hours a day for my job as the resident chef at a nursery school, leaves little time for sharing my culinary happenings.
I am going to try better by using my commuting time. I am currently waiting for the train after a show and a Thai lunch, so I am blogging the experience now from my phone.
Beyond is a Thai Restaurant located in the heart of the West Village on West 4th street, right off of 6th Ave. They have a daily special menu that includes one appetizer, one entree and one beverage for $14.
There are 6 choices for appetizer and about 12 choices for entree.
The Tom Yum soup flavors were well balanced with ample chili paste bouncing against the fragrant cilantro. However, I would prefer more shrimp and mushrooms to soak up the delicious broth.
Beyond Dumplings were open faced, like shumai. They were delicious, with both chicken and shrimp. The seafood fritters were my least favorite appetizer. They were bland.
Rama Curry is a delicious peanut curry with noodles. Well balanced flavors made this delicious. Chicken and Thai Basil was perfectly cooked, with tender chicken, al dente vegetables and strong chili and basil flavors. All of the entrees ordered by my party were done well. All left with full bodies and contented palates.
While everyone enjoyed their meal. NY is full of so many good Thai Restaurants that I can't say there was anything extraordinary to make me go out of my way to eat at Beyond. That being said, if I am in the neighborhood and looking for a good meal, I would definitely enjoy another meal here.
— Sent from my Palm Pre