Last Updated on November 23, 2021 by Chef Mireille
Good Evening:
I hope everyone who experienced last night's blizzard is staying warm with lots of hot cocoa and delicious Christmas leftovers. I am having to stop myself from overindulging in the delicious West Indian black cake I made for the holiday. For those who don't know the wonderfulness that is black cake, it is a Caribbean specialty, usually made at special occasions like Christmas and weddings.
Dried fruit, usually consisting of prunes, raisins, currants, citrus peel and cherries, are soaked in brandy and amber rum. The longer it soaks, the better the cake. Mine were soaking for over a year, since Thanksgiving 2009. Butter, sugar, eggs, flour and spices are then mixed with the dried fruit, along with browning. Browning is a burnt sugar product sold in Caribbean markets and it is what makes the cake black. After the cake is baked at a low temperature for 2 1/2 hours, the cake is pricked and fed more alcohol (rum and cherry brandy) periodically for the next day. Then it is ready to be eaten or some cover it with Marzipan and Royal Icing. It is a deliciously drunk, moist cake.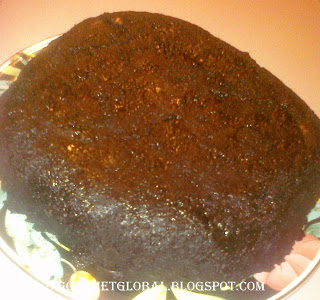 Not the most photogenic cake; but after one bite, it won't really matter!
I stray – enough of Black Cake. I am extended my deepest apologies for being MIA. I have been adjusting to a new cooking gig – Chef/Cook/Recipe Developer for a day care center. This new gig has me waking up at 5am every day and I am NOT a morning person, so the adjustment has been leaving me tired and not up to doing much else. I am pretty much adjusted now and getting back into the swing with all my other duties again, so I will be blogging again on a regular basis.
This entry is more of a commentary entry – one thing I have been doing as I have been adjusting to my new schedule is spending more veg. time in front of TV than before and am just amazed at the overnight success of Buddy, the Cake Boss. A year ago, I would not have any idea of who he was and now there is a search he is leading for the next great baker for the honor of working at his shop. He's even an author now! Unbelievable. Would love to hear your comments on the overnight success of Buddy!!!