Last Updated on April 11, 2018 by Chef Mireille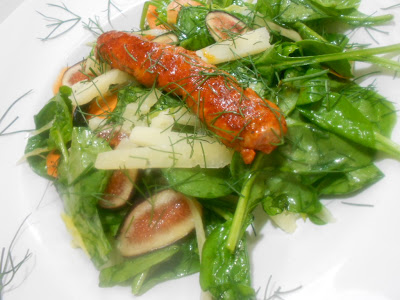 It's Labor Day weekend and there are lots of barbecues going on with burgers, hot dogs and potato salad.  After you overeat at the barbecue, here is a light summer salad you can prepare next week to balance the eating you will be doing this weekend.
As I like to do with all my meals, there is a great combination of flavors in this salad with the salt from Spanish Manchego, spice from the chorizo and sweetness from the fresh fig. Spain and Asia come together with Spanish ingredients, but with an Asian inspired dresssing.
Hope you enjoy!
Asian Ginger Dressing
1 tablespoon ginger, grated
3/4 cup rice vinegar
1 tablespoon sesame oil
1/2 cup olive oil
salt and pepper, to taste
4 cups baby spinach leaves
1/2 fennel bulb, thinly sliced (reserve ends for garnish)
1 carrot, thinly sliced
2 figs
1 chorizo sausage, grilled and split lengthwise
2 ounces Manchego cheese
1 – To make dressing, combine ginger, vinegar and sesame oil in a small bowl.  Slowly drizzle in olive oil, while whisking continuously.  Add salt and pepper, to taste.
2 – Using a mandolin, thinly slice carrots and fennel.
3 – In a large bowl, toss spinach, fennel and carrots with a few tablespoons of salad dressing.
4 – Place in a serving plate.  Arrange sliced figs on top.  Add a few shavings Manchego cheese. Place grilled chorizo on top.
5 – Garnish with the ends of the fennel bulb.