Last Updated on September 8, 2021 by Chef Mireille
These Angel Biscuits are a classic Southern tradition. With three leavening agents, this southern classic is a NO FAIL BISCUIT RECIPE – guaranteed height and tenderness.
Also traditionally called Bride Biscuits, because they are SO EASY even a new bride could make these biscuits with perfect results.
These biscuits are soft and tender inside with the perfect outside crust. This Angel Biscuit Recipe is made even better with herbs. This will compliment any breakfast!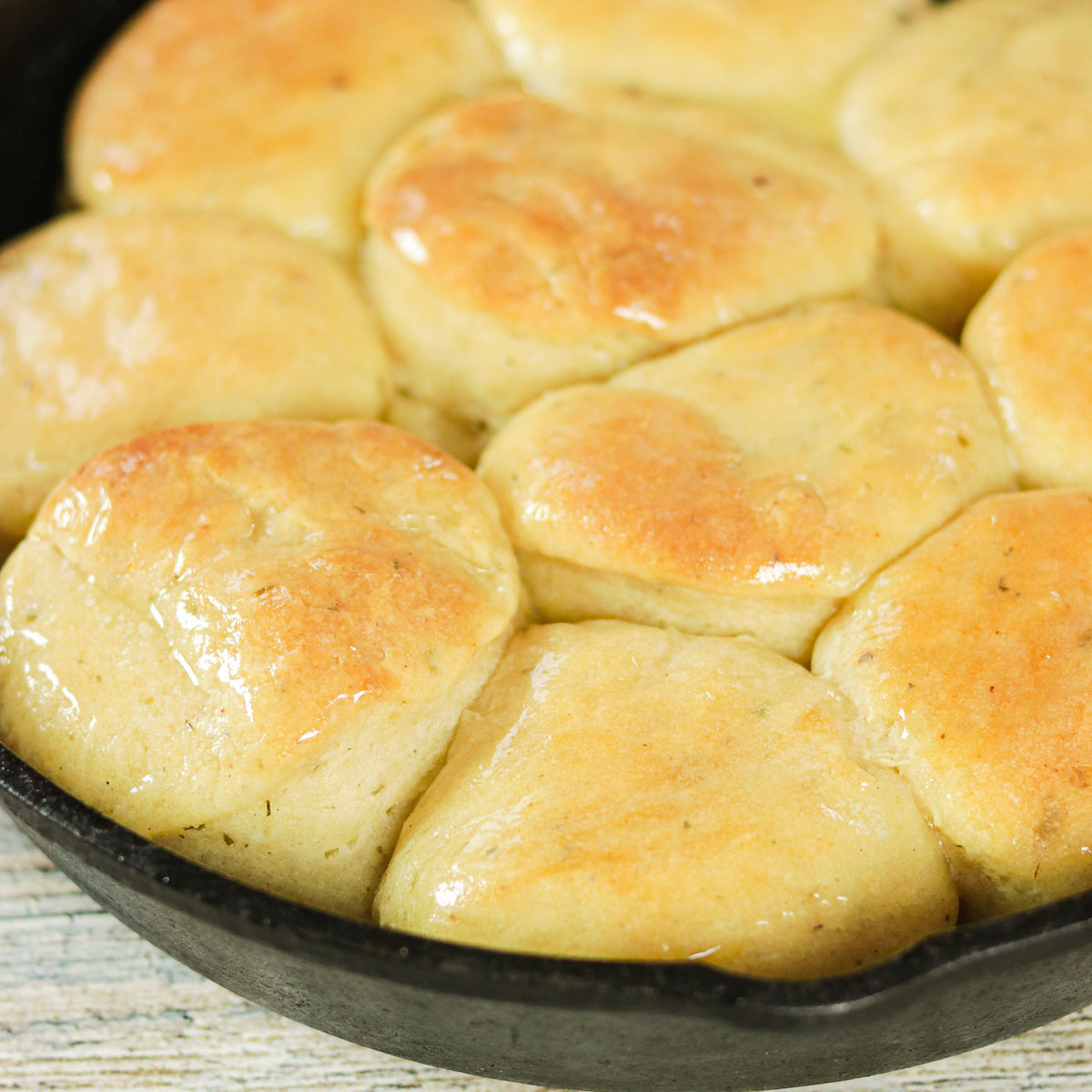 This post may contain affiliate links.
Angel Biscuits are a classic southern staple. Have it for breakfast with fried ham or sausage gravy, like they do or simply enjoy as is with melted butter for tea time. It is absolutely delicious.
Often called bride's biscuit because these Classic Angel Biscuits are so easy to make even a new bride could make it, it has 3 leavening agents, leading to a super light and airy biscuit. It is like a cross between a classic Buttermilk Biscuit and a Parker House Roll.
This was my classic Southern breakfast of fried ham with milk gravy! Use this Gravy Recipe and just sub milk for stock!
How did Angel Biscuits get their name?
Because they have a tendency to split apart when baked because of the way they are rolled, folded and rolled. This splitting resembles angel's wings to some and this is how it got it's name.
Although they are great as is, you all know I have a penchant for spice. So I added some herbs and a little red pepper to make them even more flavorful. With the seasoning, they are delicious as is and really do not need any accompaniment.
What size pan should I use?
Angel Biscuits are traditionally made in cast iron pans. I have a 10" and a 14". Unfortunately, one was too big and one was too small. I used the 10" and a small 4" I have for an extra biscuit.
Ideally, if you have a 12" cast iron skillet, that would be the perfect size.
This is only if you are making them all at one time, but the dough can be prepared several days in advance.
Can I prepare Angel Biscuit dough in advance?
YES YOU CAN!
Prepare the dough and let it rise for 2 hours. You can then refrigerate the dough in a closed container for up to 5 days.
If you like, you can prepare the dough on the weekend. Then every morning just make 1 or 2 of them for breakfast!
How do Angel Biscuits get their light and airy texture?
Instead of rolling out the biscuit dough, the dough is patted with your palms, folded and then patted again. This procedure is done at least 2x for light and airy biscuits!
Cutting out Angel Biscuits
Normally, when we make biscuits, we dip the biscuit cutter in flour. We then press the biscuit cutter down and twist out the biscuits. DON'T DO THAT!
Since Angel Biscuits are made with yeast, this will cause them to deflate. You want to cut out these Herbed Angel Biscuits using an up and down motion a few times. Then carefully lift out the biscuit from the remaining dough.
There is no way you can fail with these yeast raised biscuits!
That melted butter before and after make all the difference!
Guaranteed light, airy and tender biscuits!
Herbed Angel Biscuits
With 3 leavening agents, anybody can make Herbed Angel Biscuits with guaranteed results of light, airy and tender ones!
Ingredients
1

package

instant yeast

2 1/4 teaspoons

¼

cup

warm water

3 ½ – 4

cups

all purpose flour

2

tablespoons

sugar

1

teaspoon

baking powder

½

teaspoon

baking soda

1

teaspoon

salt

1

teaspoon

parsley

½

teaspoon

dried thyme

½

teaspoon

crushed red pepper

6

tablespoons

cold butter

¼

cup

cold vegetable shortening

1

cup

warm buttermilk
Topping Ingredients:
4

tablespoons

butter

melted

¼

teaspoon

salt
Instructions
Place warm water (about 120 F) in a shallow bowl. Sprinkle yeast on top and wait until it becomes foamy (5-10 minutes).

In a large bowl, combine 3 ½ cups of the flour, sugar, baking powder, baking soda, salt, parsley, thyme and red pepper. Stir to combine.

Using a pastry blender, cut in the butter and shortening until it is the size of small peas.

Heat buttermilk until it is lukewarm, about 1 minute in the microwave.

Add buttermilk to the proofed yeast and mix to combine.

Add the buttermilk combination a little at a time, until you have a soft and elastic dough.

Add a little more flour if necessary, if the dough is too wet. The dough should be soft and elastic, but not sticky.

Place in a lightly greased bowl and cover with plastic wrap sprayed with non stick spray. Cover with a kitchen towel.

Leave to rest in a warm place for about 2 hours, until doubled in size.

Preheat oven to 400 F. Spray a 12" cast iron pan with non stick spray.

On a lightly floured surface, pat dough to about 1" thick.

Fold over twice into a triangle and pat to 1" thick again. Repeat.

Using a 3" biscuit cutter, cut out biscuits using an up and down motion.

Transfer to prepared pan with biscuits touching.

Repeat and pat and fold procedure with the leftover dough and cut out the remaining biscuits.

Cover with a kitchen towel and leave to rest for 15 minutes.

Combine melted butter with salt and mix to combine or use salted butter.

Brush biscuits with melted butter.

Bake for 20-25 minutes, until slightly golden.

Brush with melted butter again when you remove them from the oven.
Nutrition
Calories:
434
kcal
|
Carbohydrates:
64
g
|
Protein:
10
g
|
Fat:
15
g
|
Saturated Fat:
8
g
|
Cholesterol:
27
mg
|
Sodium:
397
mg
|
Potassium:
166
mg
|
Fiber:
3
g
|
Sugar:
3
g
|
Vitamin A:
349
IU
|
Calcium:
52
mg
|
Iron:
4
mg
Did you try this recipe? Leave a comment below.
Please follow me on Instagram @chefmireille or tag me #chefmireille with your pics! I'd love to share them!
With this no fail recipe, you have to try it today!
DO YOU YUM? SAVE IT BELOW!
Yum
Don't forget to visit the RECIPE INDEX with over 1000 recipes from around the world including lots of Vegetarian Recipes and Gluten Free Recipes!