Last Updated on May 20, 2015 by Chef Mireille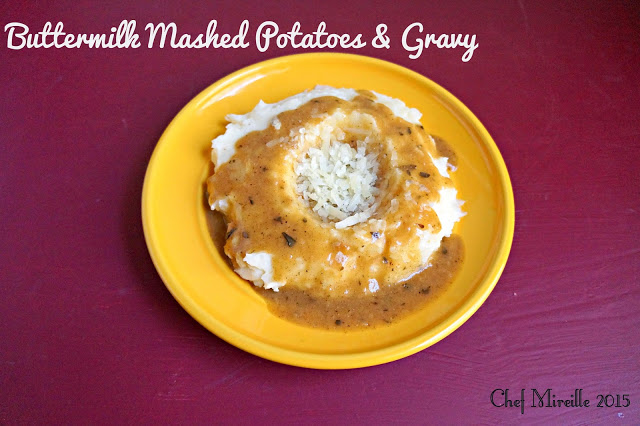 Although I most often celebrate global foods, I am an American after all. Born and raised in NYC, today I am celebrating one of the all American classic comfort foods.
What kid or even adult for that matter doesn't love mashed potatoes and gravy. What's Thanksgiving without this all American side dish? It's one of the most popular dishes at BBQ and chain restaurants like KFC.
Sometimes on a cold winter night it can even serve as the perfect bowl of comfort food by itself instead of its usual side dish status.
Whipping the potatoes with an electric mixer really makes the potatoes light and creamy, so don't skip this step and just mash it by hand. The texture really won't be the same.
Buttermilk Mashed Potatoes & Gravy
Serves 4
Mashed Potato Ingredients:
1 1/2 lbs.peeled potatoes
3/4 cup buttermilk
2 tablespoons butter
1/4 teaspoon salt
a pinch of freshly ground nutmeg
Gravy Ingredients:
2 tablespoons butter
2 tablespoons flour
1 cup chicken broth (or tomato free vegetable broth)
1/2 teaspoon mustard powder
1/2 teaspoon paprika
1/2 teaspoon dried oregano
1/4 teaspoon white pepper
1/2 teaspoon salt
Topping Ingredients:
4 tablespoons grated Romano cheese (cheddar or monteray jack can also be used)
Place potatoes in a large pot of water. Bring to a boil and cook until tender.
While the potatoes are boiling, let's make the gravy.
In a small saucepan, add the butter and flour. Cook, stirring frequently for a few minutes until deep golden brown. Add broth and spices. Simmer for 3-4 minutes, until thickened.
Once the potatoes are cooked, drain and leave to cool for a few minutes.
Transfer to the bowl of an electric mixer. Beat with butter, buttermilk, salt, pepper and nutmeg. Beat until smooth. It's a matter of preference how smooth you like it, so it's up to you if you want to leave a few chunks.
To serve, place some mashed potatoes on a plate. Using a ladle, depress a well in the middle. Pour the gravy in the well and top with the grated cheese.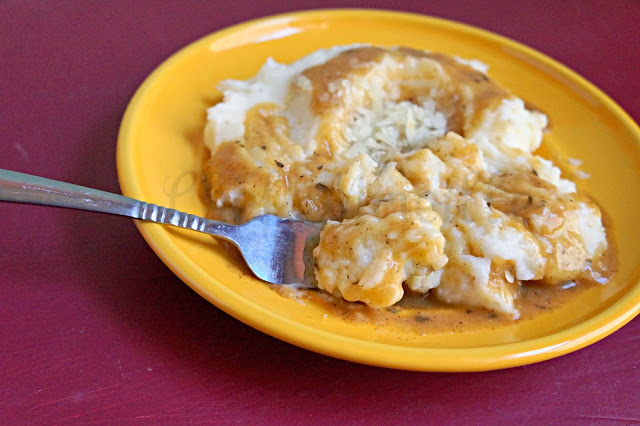 Perfect creamy comfort food!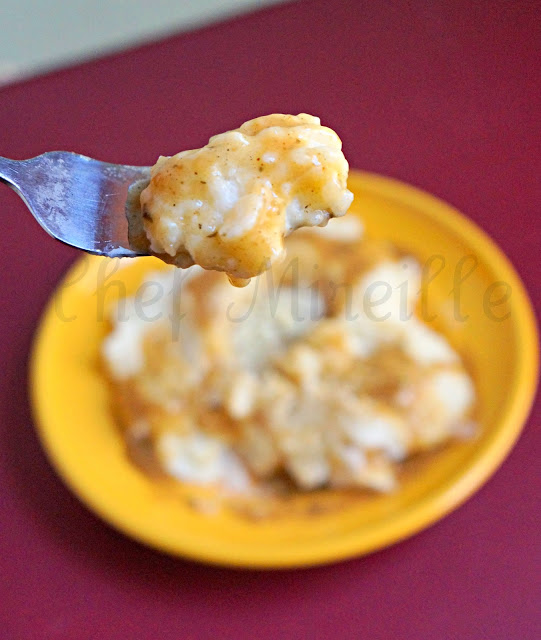 …linking to Kid's Delight – Creamy Foods hosted by me here
Let's start a conversation…Leave your thoughts
Chef Mireille