Last Updated on June 3, 2015 by Chef Mireille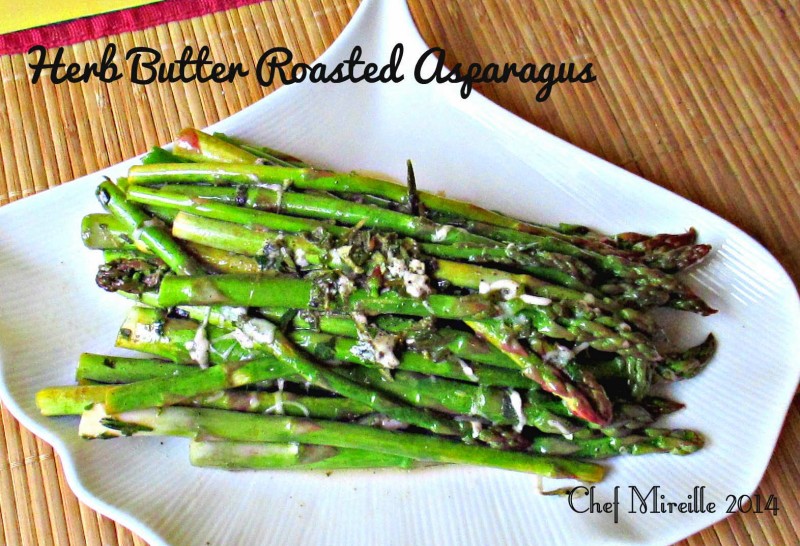 This month Food of the World is going to France, where the art of cuisine as an art began. Most European and American cuisine is derived from the basics rooted in French cuisine.
Compound Butters are a classic accompaniment to grilled and roasted foods in France. Although it is considered a bit passe, it is a simple way of heightening the flavors of food. A compound butter is a flavored butter. It can be flavored with herbs, spices or dried fruits. Here I have created a delicious herbed butter to be cooked with asparagus, a very popular vegetable in France and one of my personal favorites.
Herb Butter
Ingredients:
1 stick unsalted butter
1 clove garlic
1 stalk fresh rosemary leaves
5 stalks fresh oregano leaves
1 tree fresh thyme leaves
1 small handful parsley leaves
1/2 teaspoon salt
Rough chop all of the herbs. Combine in a food processor with the garlic and buzz for 1/2 a minute until well chopped. Add butter and process until thoroughly combined.
Wrap in plastic wrap or in a ramekin with a cover and place in refrigerator. Chill.

A slice of the chilled butter can be added to grilled and roasted foods. The heat of the cooked food will melt the butter into the food. It's also just as delicious on some toasted bread. Althiough compound butters are usually added after the food is cooked, I cooked the asparagus with it to infuse the flavor directly into the asparagus as it is being cooked. The butter did not need to be chilled for this recipe.
Herb Butter Roasted Asparagus
Ingredients:
1 bunch asparagus
1 tablespoon lemon juice
salt and pepper, to taste
2 tablespoons herb butter
2 tablespoons Parmesan cheese, shredded (optional)
Preheat oven to 350 F.
Trim the rough ends of the asparagus. Toss with lemon juice, salt and pepper.
Place in a baking dish with the butter. Cover with aluminum foil and cook in oven for 15 minutes.
Toss with cheese and serve with crusty French bread.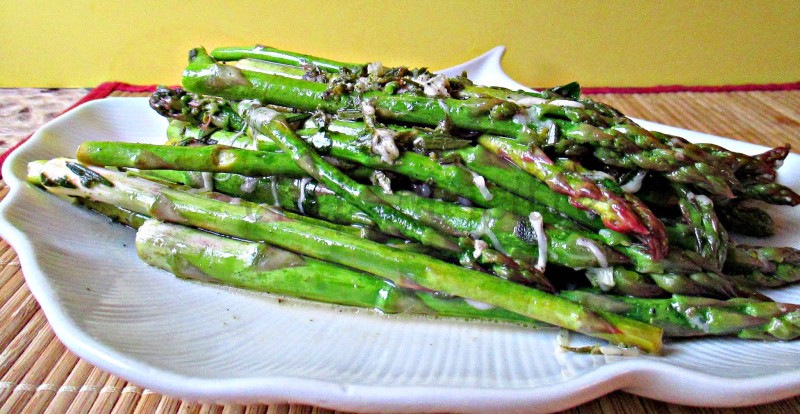 This is a super simple recipe and may not look like much, but the butter imparts such an amazing flavor into the vegetable.
Notes:
This will also work great with carrots and other root vegetables and even broccoli or caulflower.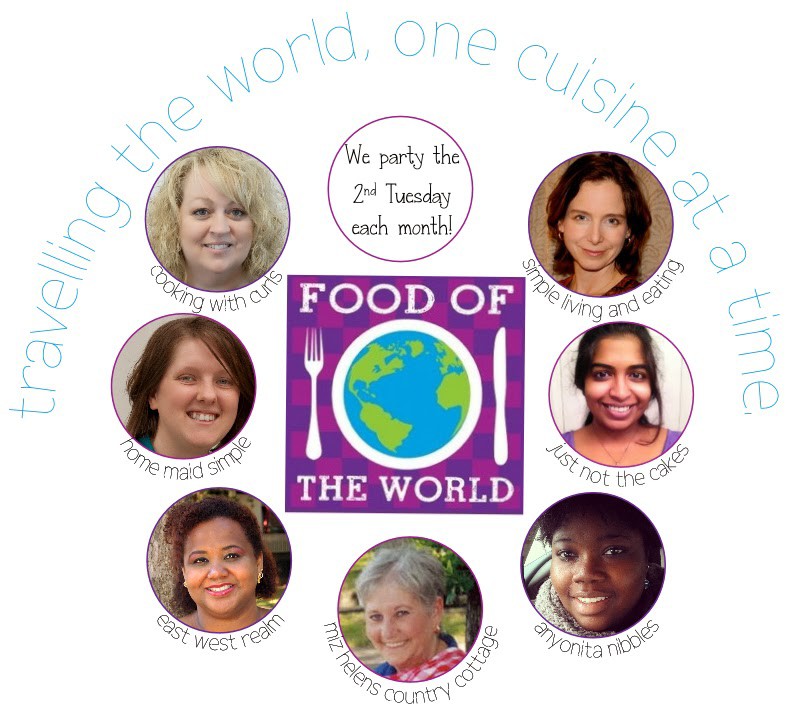 document.write(");
Submit your French recipes using the Linky Tool below.
Visit our co-hosts and follow their sites:
Grab our button on my sidebar and link up your recipes.
Submissions will be accepted until July 7th, 2014. Archived recipes are welcome.
LIKE THIS RECIPE? LEAVE A COMMENT..I LIVE FOR THEM!
Chef Mireille