Last Updated on May 20, 2020 by Chef Mireille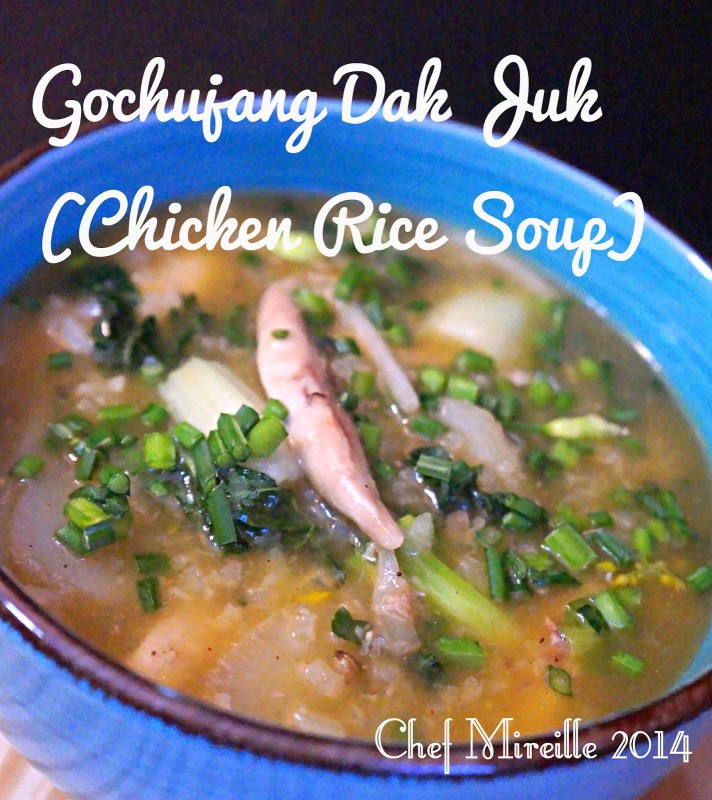 Congee or jook is the name for a rice porridge that is a common breakfast item in China. In Korea, it is called juk and with the addition of gochujang, I made a spiced up Korean version. Previously, I made a Vegetarian version here and in this version I used chicken (dak in Korean). There are many variations to juk and beef and pork are also often included.
I made this version a little looser consistency so it is closer to an American style soup than an Asian style porridge but this makes a perfect meal to enjoy as the temperatures start to dip.
Gochujang Dak Juk
Serves 4
Broth Ingredients:
5 chicken legs
1 large onion, peeled and quartered
3 garlic cloves, peeled
1 tablespoon coriander seed
1 teaspoon black peppercorns
1 black cardamom
5 cups water
Soup Ingredients:
1 teaspoon ginger, grated
2 teaspoons gochujang (Korean red pepper paste)
1/2 cup sweet rice/sushi rice
2 1/2 cups broth (from above)
3 1/2 cups water
5 cups Shanghai bok choy, chopped
1/4 cup chives, chopped
1 tablespoon sesame oil
8 oz.canned sliced water chestnuts, drained
1 cup bean sprouts
salt, to taste
Combine all broth ingredients in a pot and bring to a boil. Cook at a high simmer for 30 minutes. Using tongs, remove the chicken pieces. Strain the broth and discard onions and spices. You should have about 2 1/2 cups of broth.
As soon as the chicken is cool enough to handle, remove meat from bones. Discard skin and bones.
Combine broth, ginger, gochujang and water in a pot and bring to a boil. Add rice. Reduce to a medium simmer and cook for 40 minutes.
Add bok choy, chives, water chestnuts and sesame oil. Cook for 5 minutes.
Add bean spouts, chicken and salt. Cook for another 2 minutes.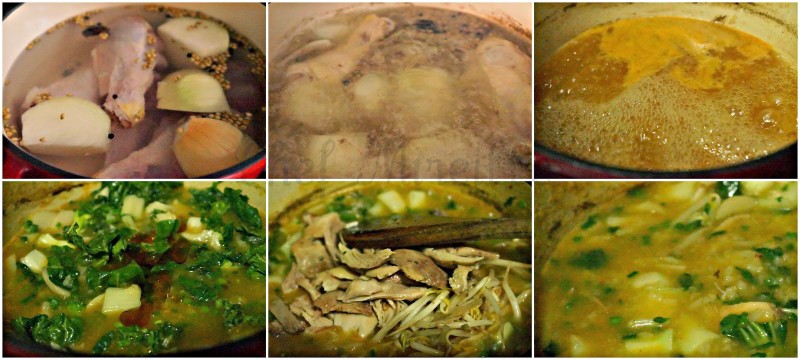 Breakfast as they do in Asia or dinner, it's a perfectly balanced soup to enjoy for any meal.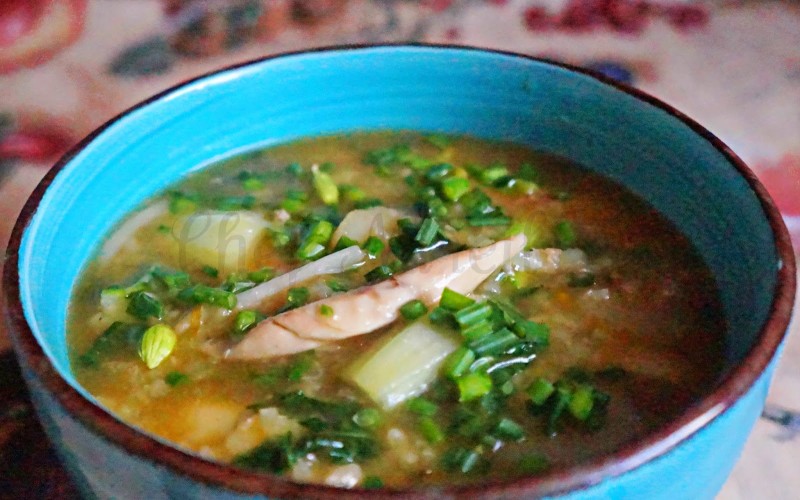 If you have some gochujang sitting in the back of your fridge that you used for a different recipe, this is a delicious way to utilize it. You can change this soup with whatever vegetables you have on hand. Have some veggies in the bin that need to be used up? Just dump it in this soup.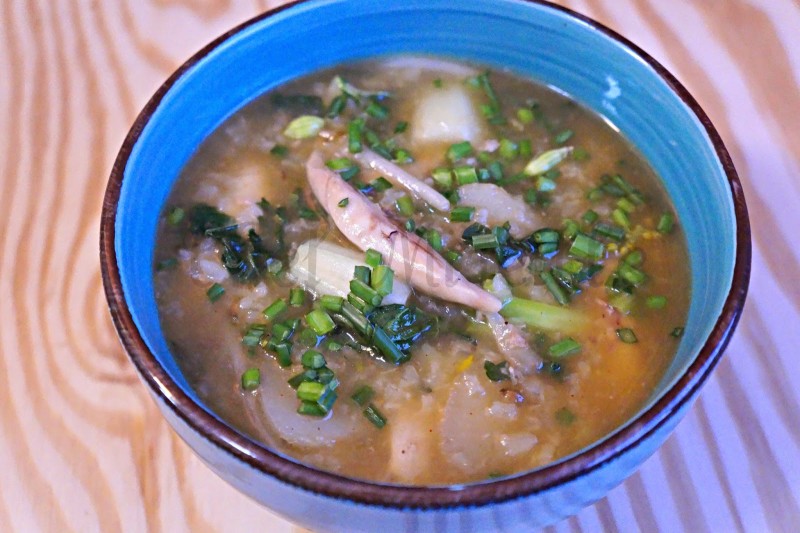 …linking to Souper Sunday & No Waste Food Challenge hosted by Slice of Me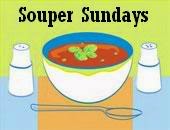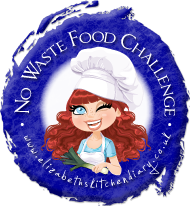 LIKE THIS RECIPE? LEAVE A COMMENT..I LIVE FOR THEM!
Chef Mireille