Last Updated on June 3, 2015 by Chef Mireille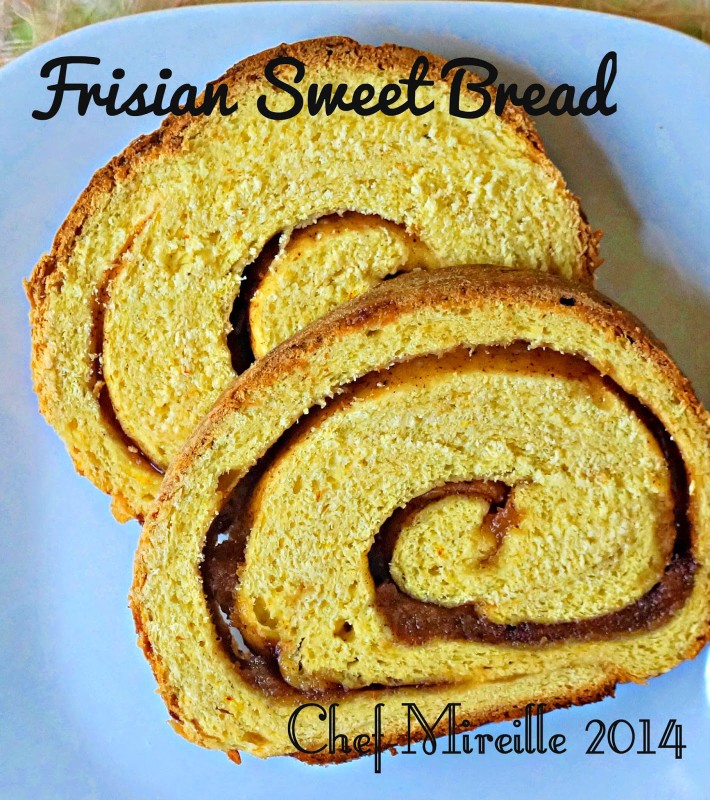 This has been in my drafts since last September, when I originally planned to make this as part of the mega marathon then. I was glad for this yeasted bread BM theme so that I could eliminate at least 1 of my 100+ drafts.
The Frisians are an ethnic group descended from Ancient Europe prior to the Roman Empire. Descendants today largely inhabit the coastal areas of Holland & Germany, as far north into Germany that was once Denmark. This Frisian recipe is today enjoyed all over Holland, usually with breakfast.
My mother is from the Dutch Caribbean and much of her family has migrated from Suriname, Aruba & Curacao to Holland. I have been visiting since I was a child. A few years ago when I was on line at my Food Coop on a Saturday afternoon I was stuck in the cookbook section. I now no longer visit the coop on Saturdays as I have better things to do than to spend an hour on line at the market. The photos of the baked goods – custards, pastries and breads – looked so good I couldn't resist and bought the book. However, this is the first recipe I am trying from the book.
Breakfast is a big deal in Holland. Holland, like many European countries, enjoy their heavier meals earlier in the day. Dinner is usually a light meal, followed by dessert and tea. Breakfast with my Dutch family usually consisted of fresh white and wheat bread, delivered by a local baker in the early morning hours. Just like here in America the newspaper gets delivered while we are still sleeping, the same occurs with bread in Holland. I would wake up at my uncle's house to find four loaves of fresh bread on the porch, every morning. Then the buffet would be laid out. Several types of cheese would accompany the bread including Edam, a mild Gouda and a sharp aged Gouda. Nutella before it came to America, cured meats, sweet butter, several jam varieties and fresh fruit also accompanied the meal.
Although I can't specifically remember having this bread in the Netherlands, I am sure on one of my many trips, I have had it at one time or another.
Frisian Sugar Bread
(adapted from Dutch & Belgian Food and Cooking)
Ingredients:
Yield: 1 loaf
4 cups bread flour
2 packages dry active yeast
1 1/ 4 cups milk
1/4 cup sugar + 3 tablespoon
1/8 teaspoon ground cinnamon
1/8 teaspoon ground nutmeg
1/4 teaspoon saffron, crushed
1/4 cup butter, softened
1 egg yolk
2 teaspoons salt
Filling Ingredients:
9 oz. sugar cubes, crushed
1 teaspoon ground cinnamon
Heat the milk to 120 – 130 F. In a small bowl, combine 1 cup of the milk with 1 tablespoon of the sugar. Whisk. Add yeast and give it a quick stir. Let sit for 10 minutes until yeast is foamy.
Add saffron, the 1/8 teaspoon cinnamon and nutmeg to the rest of the milk.
Using an electric mixer, combine the flour, remaining sugar and salt with the paddle attachment. Add proofed yeast, saffron milk, butter and egg yolk and mix well using the dough hook. Continue to knead with the dough hook until the dough comes together to a soft dough, for about 5 minutes. (Knead for 10 minutes if doing by hand)
Cover with plastic wrap and a kitchen towel and let rise for 1 hour, until doubled in size.
In a small bowl, combine the filling ingredients and mix well. (I ran out of sugar cubes so used a combination of sugar cubes and sugar candy)
Punch out air from risen dough. On a lightly floured board, roll out dough to a rectangle. Sprinkle cinnamon sugar on top. Starting at the narrow end, tightly roll the rectangle into a cylinder.
Spray a loaf pan with non stick spray. Sprinkle remaining 2 tablespoons sugar for dusting inside the loaf pan.
Place dough, seam side down in the pan. Cover and let rise another hour, until doubled in size.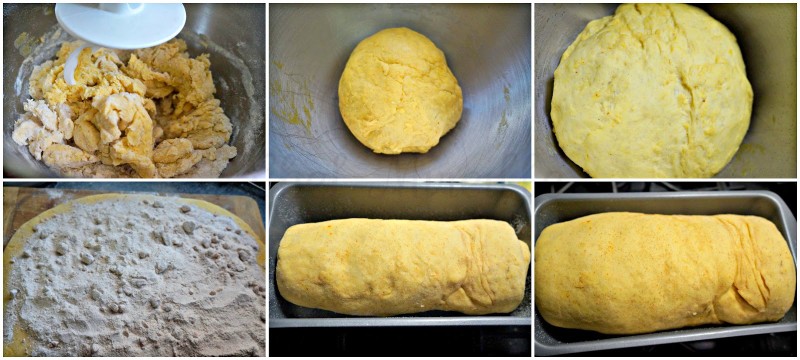 Preheat oven to 400 F.
Bake for 30 minutes.
Toasted, it complemented my breakfast with an omelette and watermelon.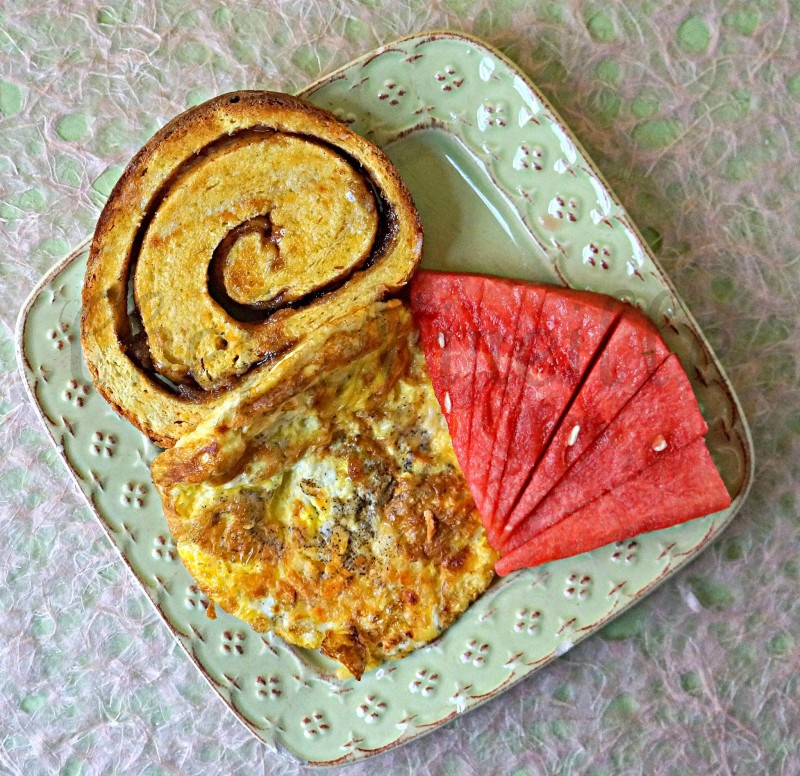 Notes:
Make sure you roll it very tightly. As you can see from my photos, mine needed to be rolled tighter.
Make sure the sugar is crushed well. I left some big chunks which did not melt when cooked. It really should be ground and not just crushed.
Store in the refrigerator. If you leave it at room temperature, the sugar will melt and leak throughout the bread.
Due to the sugar content, this is definitely the kind of bread to eat as a sweet treat and definitely not as sandwich bread. It was very nice when eaten toasted in the evening with a cup of tea. With the perfume of saffron and spices, it was delicious.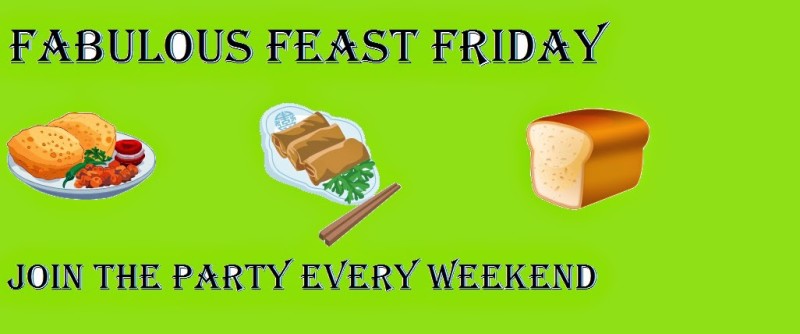 Check out the Blogging Marathon page for the other Blogging Marathoners doing BM# 40
…linking to Yeastspotting, Come Join Us for Breakfast & FFF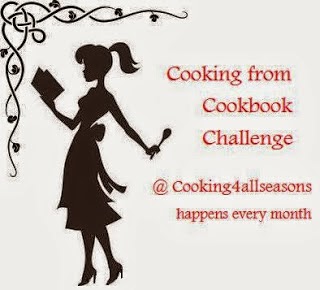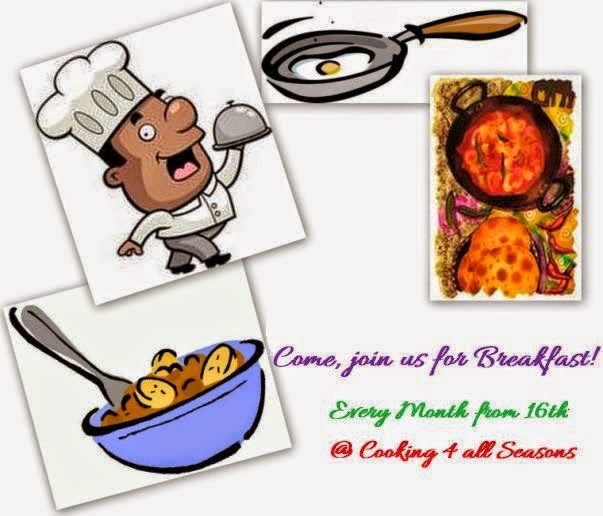 This post is for the CC Challenge of the month
LIKE THIS RECIPE? LEAVE A COMMENT..I LIVE FOR THEM!
Chef Mireille