Last Updated on June 3, 2015 by Chef Mireille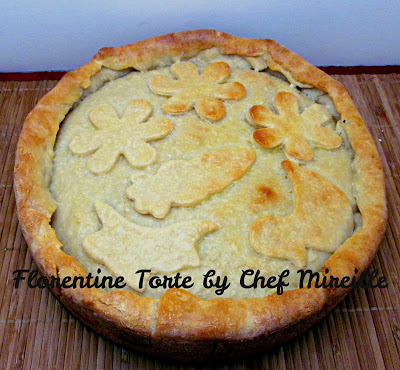 Blogging Marathon #24
Theme: Stuffed Breads
For the last stuffed bread, I went to one of my cookbooks, Sunset Breads. I have had this cookbook for many years and have looked through it many times. They have many unique breads that have piqued my interest, but I hadn't yet tried any of the recipes from this book. Looking for inspiration for the final recipe, I came across this Italian stuffed bread and I knew it was perfect for this week's BM theme. With a few adaptations, this came out so delicious.
Florentine Torte


Serves 8
Filling Ingredients:
1 tablespoon olive oil
1 onion, finely chopped
4 eggs
1 fennel bulb, thinly sliced (or 1/2 bulb if the fennel is very large)
1 bell pepper, thinly sliced
2 cups baby spinach, firmly packed
2 teaspoons dried basil (better to use fresh basil, but I forgot to buy it)
1/4 cup parsley, finely chopped
2 cloves garlic, finely chopped
3 tablespoons Parmesan cheese, grated
1 cup Gruyere cheese, grated
1 teaspoon salt
1/2 teaspoon black pepper
Bread Ingredients:
3 to 3 1/3 cups bread flour (or all purpose flour)
2 1/4 teaspoons dry active yeast
1 tablespoon sugar
1/2 teaspoon salt
1 1/4 cups milk
1 tablespoon butter
Topping Ingredients:
1 egg
1 tablespoon heavy cream
Heat oil in a skillet. Add onion and garlic and saute until softened. Add bell pepper and fennel and cook for 5 minutes. Add spinach and cook until wilted. Let cool.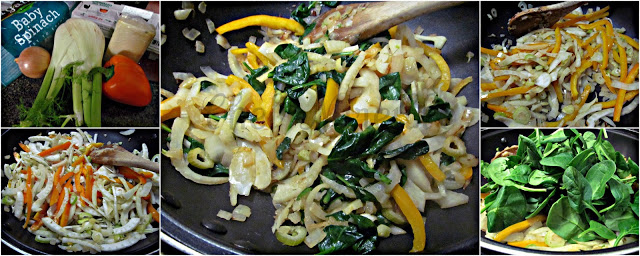 In a large bowl, beat 4 of the eggs. Transfer the vegetables to the bowl and mix well with the basil, parsley, cheeses, salt and pepper.

Combine 3 cups of the flour, yeast, sugar and salt in a large bowl.
Heat milk and butter to 130 F. Add milk to flour and mix well. Knead for about 5 minutes until smooth and elastic, adding additional flour if necessary.
Place in a greased bowl. Cover and let rest for 15 minutes.
Grease a 10 inch springform cake pan.
Cut off 1/4 of the dough and set aside. Cut off 1/3 of the remaining dough and set aside as well, leaving these sections in a covered bowl.
Preheat oven to 350 F.
On a lightly floured surface, roll the remaining dough into a 12 inch circle. Arrange dough on the bottom and up the sides of the pan. Spread the vegetable mix in an even layer on top of the dough.
Roll out the reserved 1/3 of the dough and place on top of vegetable mix. Bend over where the top and bottom layers meet, to seal.

Roll out the remaining dough and using cookie/biscuit cutters, cut out decorative shapes. (I used Easter themed cutters)
In a small bowl, beat remaining egg and cream. Lightly brush this over the torte and place dough cutouts on top. Brush the top again with the egg-cream mix.

Bake in oven 30-40 minutes, until browned.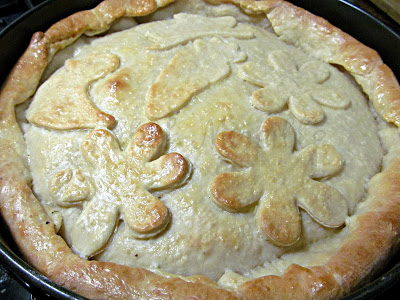 Let cool for 15 minutes before removing the sides of the pan.
I found the filling to be a little on the watery side, so next time I would use 1 less egg. Other than that, this is a pretty great recipe and definitely a great show piece to present on the table.
Enjoy a slice with a green salad, for a complete meal!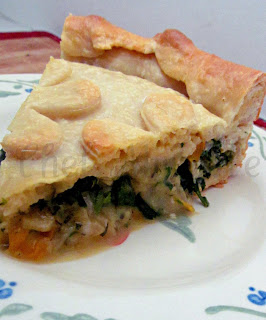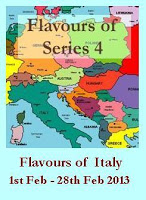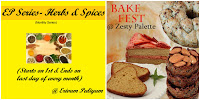 …linking to Julie's Herbs & Spices hosted by me & linking to Bake Fest hosted by Sumee
Nayna's Flavours of Italy hosted by Divya
LIKE THIS RECIPE? LEAVE A COMMENT..I LIVE FOR THEM!
Chef Mireille
Like me on FACEBOOK!
Follow me on TWITTER!