Last Updated on June 3, 2015 by Chef Mireille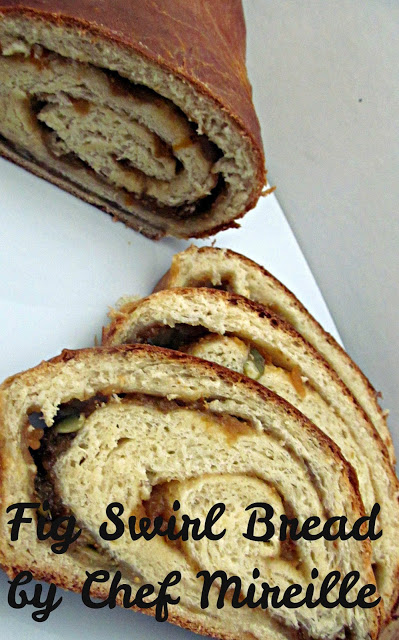 Blogging Marathon #24
Theme: Stuffed Breads
This bread is so soft, sweet and delicious – it doesn't need anything. Perfect on it's own with a cup of coffee/tea or a late night snack with a glass of milk.
It can almost be classified as a dessert because of the sweet filling, however it is still complemented with savory Middle Eastern foods like grilled halloumi, roasted tomatoes or roasted bell peppers. It's also great with nutella as well as the spread detailed below.
Fig Swirl Loaf
(click here for printable recipe)
Serves 16
Ingredients:
4 3/4 – 5 1/2 cups bread flour (or all purpose flour)
4 1/2 teaspoons yeast
1 teaspoon salt
1 1/2 cups buttermilk
1/2 cup water
1/2 cup butter
3 tablespoons honey
2 tablespoons melted butter
1 cup fig paste/ fig jam
2 tablespoons orange blossom water
1/4 cup freshly squeezed orange juice
zest of 1 orange
2 tablespoons pumpkin seeds/pepitas, separated
In a saucepan, heat buttermilk, water, butter and honey to 120 – 130 F.
In a large bowl, combine yeast, salt and 2 cups of the flour.
Add wet mixture to the flour mixture and blend well, until thoroughly combined.
Add another 2 cups of flour and mix well.
By hand, knead in an additional 3/4 cup to 1 1/4 cups of additional flour for about 10 minutes, until the dough is smooth and elastic.
Cover and let rise for 45 – 60 minutes, until doubled in size.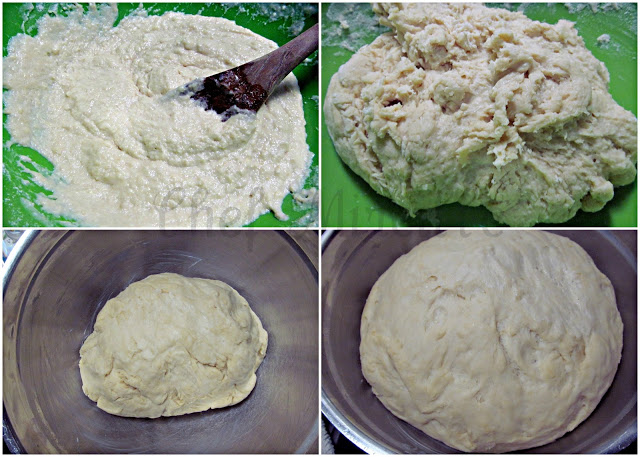 In a small bowl, combine fig paste, orange zest, orange juice and orange blossom water and mix well.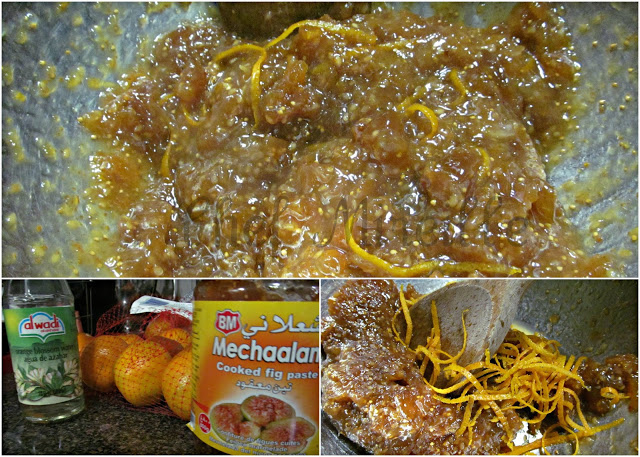 Lightly grease two loaf pans or spray with non stick spray.
Punch down air and divide dough into two balls.
Roll out each ball into a rectangle. Spread half of the fig spread over the rectangle. Spread 1 tablespoon of the pumpkin seeds over each rectangle. Starting at the narrow end, roll up the rectangle. Place each in one of the prepared loaf pans.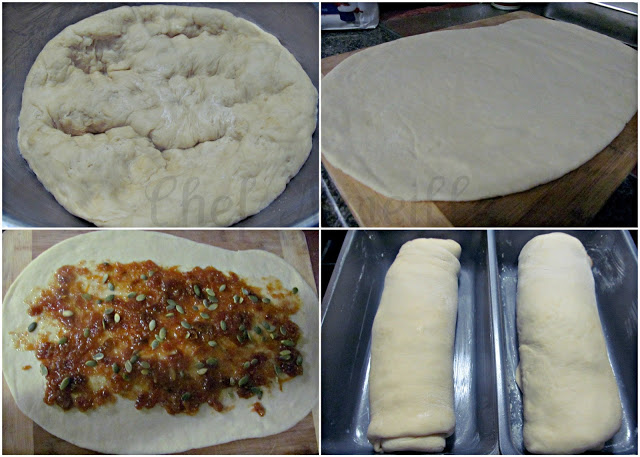 Cover and let rise until double in size. (for me, it took 1 1/2 hours which is uncharacteristically long however I think it is due to the fact that I made this on one of the coldest days we have had this season – it was around 28 F. I would start checking it after about 45 minutes)
Preheat oven to 375 F.
Bake for 30 minutes. Brush with melted butter and bake for another 10 minutes.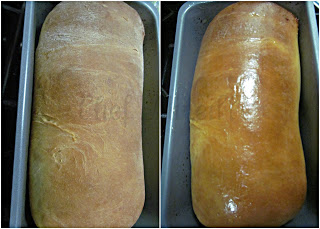 Try this spread, which complements the flavors in this bread wonderfully. This is an unusual spread almost like the consistency of a thick, chilled porridge. Surprisingly, it is delicious with this bread.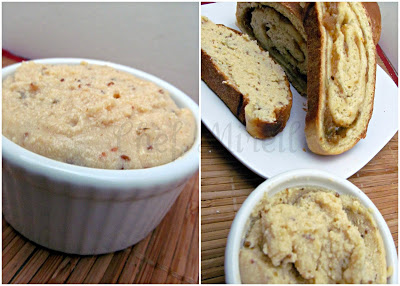 Anise Ricotta Spread
(click here for printable recipe)
Ingredients:
1 teaspoon anise seed, crushed
1/4 cup honey
1 cup Ricotta cheese
1/2 teaspoon agar agar
1 tablespoon crystallized ginger, chopped
In a saucepan, heat and honey, anise seed and ginger on medium heat for about 5 minutes.
In a bowl, combine the Ricotta cheese, orange zest and honey and mix well.
Return to the saucepan and add the agar agar. Cook for another 2 minutes and let cool.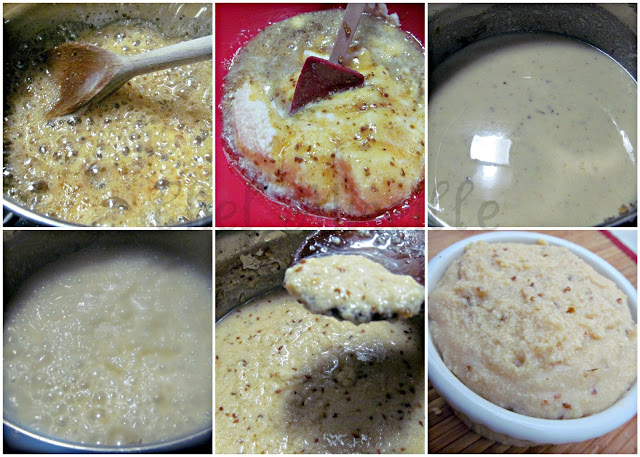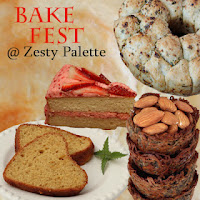 Check out the Blogging Marathon page for the other Blogging Marathoners doing BM#24
linking to Bake Fest hosted by Sumee, Yeastspotting & Bake Your Own Bread
LIKE THIS RECIPE? LEAVE A COMMENT..I LIVE FOR THEM!
Chef Mireille
Like me on FACEBOOK!
Follow me on TWITTER!