Last Updated on June 4, 2015 by Chef Mireille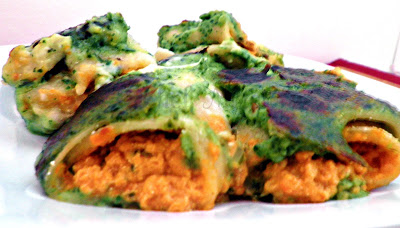 This is my first month participating in the Daring Cooks Challenge…a challenge put forth every month to a rather long list of food bloggers to challenge themselves to cook something new. We all cook the same dish, however, most months some type of customization is allowed so many different recipes of the same food are developed with interesting results. For this month, Manu is our hostess.
Manu from Manu's Menu was our Daring Cooks lovely June hostess and has challenged us to make traditional Italian cannelloni from scratch! We were taught how to make the pasta, filling, and sauces shared with us from her own and her family's treasured recipes!
I've never before made Canneloni (what we Americans call Manicotti), nor have I ever even ordered it at a restaurant. Although I made fresh pasta when I was in culinary school, I don't usually make this at home because I do not have a pasta machine and is very labor intensive without one. The only thing I've made at home without a pasta machine is ravioli and that was A LOT of rolling (this was no different). However, I did not want to bail out of the first challenge so here's my version of Canneloni…without a pasta machine.
Very involved with many components and since part of the challenge is to make everything fresh (no bottled stuff allowed) this was very involved and that is why I am a week late in posting it…but better late than never right?
Canneloni are flat pasta sheets that can be rolled with anything from meat to veggies and Ricotta. The stuffing is rolled into the pasta sheets and then placed on a Bechamel base and topped with Marinara or Pesto. The fillings and variety of combinations with the sauces are endless. Here is my variation of classic Italian canneloni.
I happen to be on a fast this month, eating only Vegetarian. Therefore, I made an eggless pasta dough.
Eggless Pasta Dough
1 cup semolina
1 3/4 cups all purpose flour
1/2 teaspoon salt
1 1/4 cups water
2 tablespoons olive oil
Mix flour, semolina and salt. Make a well in the center.
Add olive oil and water in the well. Slowly incorporate liquid into flour until it comes together. Knead for a few minutes until you have a soft dough that is smooth and elastic.
Let rest for 15 minutes.
Pumpkin Canneloni with Spinach Pesto
Pumpkin Stuffing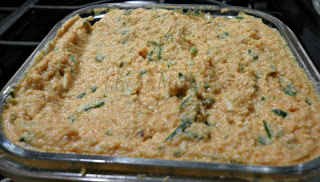 Stuffing Ingredients:
1 1/2 cup pumpkin puree
1/2 teaspoon ground sage
2 tablespoons parsley, finely chopped
2 tablespoons Parmesan cheese, shredded
1 cup Ricotta Cheese
1/2 teaspoon crushed red pepper
1 teaspoon salt
Combine all ingredients in a bowl and mix well. Put in the refrigerator until ready to use.
Next, make the pesto.
Spinach Pesto

Although I made a spinach pesto a few months ago when I made Spinach Pesto Pizza, this one is much milder, so can be used simply to toss with pasta and other various uses.
Pesto Ingredients:
3 cups spinach leaves, washed
1/4 cup parsley leaves, washed
3 garlic cloves
2 tablespoons cup pistacchio
1/4 cup Parmesan cheese
1/2 cup olive oil
salt, to taste
Mix all ingredients in a food processor until well blended. Set aside in refrigerator until ready to use.
Lastly, we need to make a Bechamel Sauce. Bechamel is one of the 5 mother sauces. In classic French cuisine, there are 5 sauces that all sauces are derivatives of. These are known as the Mother Sauces:
Bechamel
Espagnole
Tomato
Hollandaise
Veloute
Bechamel Sauce

Ingredients:
3 1/2 tablespoons butter
1/3 cup all purpose flour
2 1/3 cups milk
1 pinch of nutmeg
1/2 teaspoon salt
1/3 cup Parmesan, shredded (optional)
In a saucepan, heat butter and flour. Cook for a few minutes until golden, stirring constantly to form a blond roux. Add 2 cups of the milk, stirring constantly and simmer for 5 minutes, until thickened. Strain to remove any lumps. Add remaining milk, cheese, nutmeg and salt. Cook for 1 more minute, stirring well, until the sauce coats the back of a spoon.
Now let's make canneloni!!!
Pumpkin Canneloni
Since I don't have a pasta machine, let's do it the old fashioned way. Keep a large shallow pan of salted, boiling water on the stove.
Line a cookie sheet with parchment paper and sprinkle cornmeal on the parchment.
Take a ball of dough and on a floured surface, roll to a very thin rectangle. Trim the edges with a pizza cutter so you have a straight edged rectangle.
Place in the boiling water and cook for 1 minute. Place on parchment lined cookie sheets to cool. Repeat for all the pasta sheets.
Take 1 boiled pasta sheet and put a few tablespoons of filling at one end and roll.
Line the bottom of the pan with 1 cup of the bechamel sauce.
Place the rolled and filled pasta sheet in the bechamel lined pan. Repeat for all the remaining pasta sheets.
Combine the rest of the bechamel sauce with 1/2 cup of the pesto and pour on top.
Preheat oven to 350 F. Bake for 30 minutes.
Place in broiler for 5 minutes. (Next time, I think only 3 minutes)

While this was delicious, will I be making it again..NO WAY…not until I get a pasta machine. It's just way too time consuming. Until then, I will stick to pizza. Do check out some of my pizza recipes:
Spicy Sausage Pizza
Spinach Pesto Pizza
Breakfast Pizza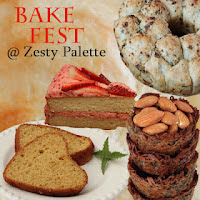 …linking to Vardhini's Bake Fest hosted by Resh and Let's Cook Kid's Special
LIKE THIS RECIPE? LEAVE A COMMENT..I LIVE FOR THEM!
Chef Mireille
Like me on FACEBOOK!
Follow me on TWITTER!