Last Updated on December 14, 2020 by Chef Mireille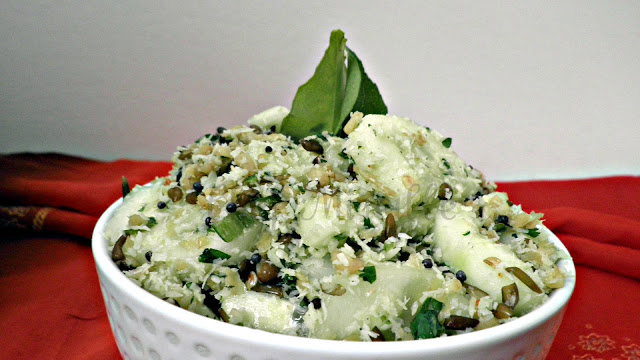 Kakadi Kosumalli
Blogging Marathon #17
Theme: Archived Recipes Revisited & Improved
The final week of Blogging Marathon brings me to the final 3 recipes that I am re-doing for the purpose of getting better photographs and showing my new readers some recipes they missed in the earlier days of the blog.
In my early days of blogging, I was not diligent in quoting my sources. Now I do. This recipe is actually from Raghavan Iyer's The Turmeric Trail. It is apparently very common to have this salad served at weddings and special occasions in South India. I believe the name is int he Tamil language, but don't quote me on it 🙂


South Indian Cucumber Salad
(click here for printable recipe)
Ingredients:
1/4 cup split and hulled mung beans (aka green gram)
2 cups water
2 cucumbers, split lengthwise and then thinly sliced
1/2 cup coconut, grated
2 tablespoons cilantro, finely chopped
3 Indian chiles
1/2 teaspoon ghee
1 teaspoon brown mustard seeds
1/4 teaspoon asoefetida
15 curry leaves
salt, to taste
In a saucepan, bring the split mung beans and water to a boil and cook for about 30 minutes, until tender. Drain.
In a medium bowl, combine the cucumbers, coconut, cilantro,chiles and cooked mung beans. Add salt, to taste.
In a small skillet, heat the oil Reduce the flame to medium and add the mustard seeds. Stand back as the mustard seeds will pop. When the seeds finish popping, add the asoefetida and curry leaves to the hot oil and fry for about 1 minute, until the leaves are wilted. Add this mixture to the cucumber.

Mix well. Serve chilled or at room temperature.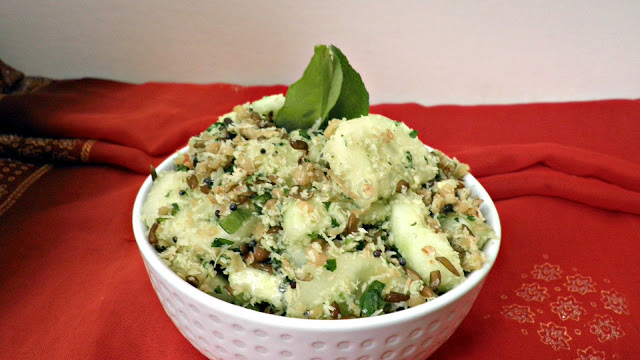 Don't forget to check out the Blogging Marathon page for the other Blogging Marathoners doing BM#17
…linking to Krithi's Serve it…Raw, hosted this month by Oh Taste N See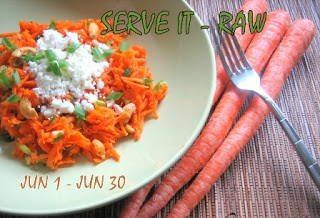 LIKE THIS RECIPE? LEAVE A COMMENT..I LIVE FOR THEM!
Chef Mireille
Like me on FACEBOOK!
Follow me on TWITTER!