Last Updated on December 14, 2020 by Chef Mireille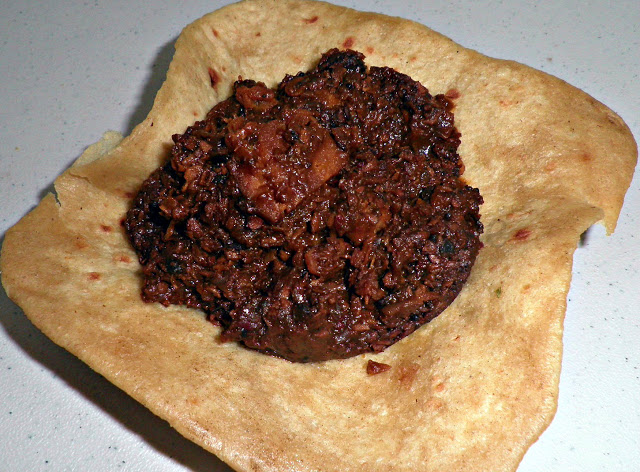 Blogging Marathon #17
Theme: Archived Recipes Revisited & Improved
Although I started this month's BM theme with recipes from everywhere from the Caribbean to Southeast Asia, I seem to be ending it with re-doing a lot of the Indian recipes I have on this blog. Here is another vegetarian one I hope you enjoy as much as I did. The first time I did the recipe, I used potatoes, pumpkin and carrots. This time I changed the veggies a bit, based on what I had in my refrigerator.
This recipe is from the Indian state of Goa. Goa is located on the southwestern coast of India. Under Portuguese rule for many years, even after the rest of India had their independence from England, their cuisine is known for their abundant use of chiles and their various seafood dishes. One of the hottest Indian curries – Vindaloo – comes from Goa.
This vegetable curry is another one of my Cookbook Recipes from Camelia Panjabi's The Great Curries of India. See the original posting here.
Kath Katha (Goan Vegetable Curry)
Ingredients:
1 cup coconut
4 tablespoons oil
2 onions (1 finely chopped, 1 sliced)
3 dried Guajillo chiles
2 teaspoons coriander seeds
1 2-inch piece of cinnamon stick
4 cloves
10 peppercorns
1/2 teaspoon mustard seeds
1/2 teaspoon cumin seeds
1/4 teaspoon asoefetida
1/4 teaspoon ground turmeric
1 bay leaf
2 blades of mace (can be purchased from Kalustyans)
1 pound vegetables, chopped (I used vegetables that have about the same cooking time – sweet potatoes and pumpkin)
1 teaspoon lime juice
salt, to taste
Method:
Heat 1 tablespoon of oil in a non-stick skillet. Add the coconut and saute for 5 minutes, stirring constantly, until golden brown. Remove and set aside in a bowl.
Remove the heads of the chiles and place in the skillet with the coriander seeds. After 3 minutes, add the cloves, peppercorns and cinnamon and cook for about 2 minutes until you start to smell the cinnamon and cloves. Remove from the pan and add to the bowl with the coconut. Let cool for a few minutes.
In a blender or food processor, combine coconut-spice mixture, roasted spices, sliced onion and 3/4 cup water.
In a large skillet, heat the remaining oil. Add the mustard seeds, cumin seeds, asoefetida and turmeric. After 2 minutes, add the bay leaf and chopped onion. Fry on low heat for about 10 minutes, until onions start to carmelize. Add the coconut-spice mix and the mace and fry for 15 minutes, until the liquid has evaporated.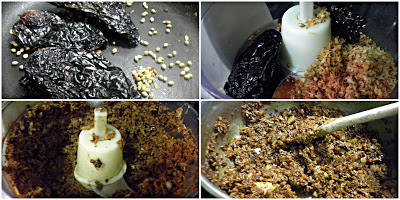 Spice Paste
Add 3 cups of water, salt and stir to combine.
Bring to a boil and add the vegetables. Cook until vegetables are cooked through.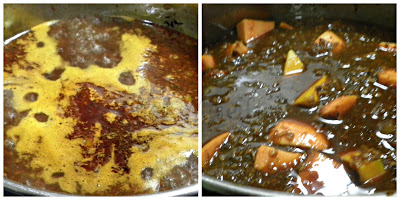 Add the lime juice and taste for seasonings. Add salt, if necessary and serve with paratha.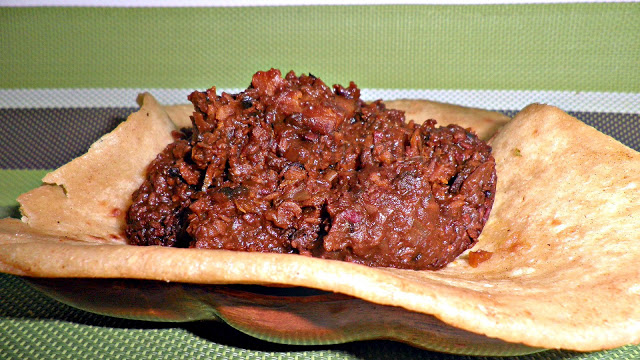 It made a delicious meal with paratha (no, I did not make those perfect looking paratha – they were store bought) and yesterday's Kakadi Kosumalli.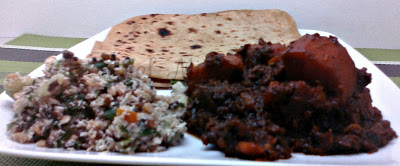 I don't know if I have improved on cooking Indian food or if my palette has become more developed, but whatever the reason, I enjoyed this way better than I did the first time I made it and I strongly suggest you try this delicious curry. Mopping up the delicious spice paste with the paratha was heavenly.
Don't forget to check out the Blogging Marathon page for the other Blogging Marathoners doing BM#17
LIKE THIS RECIPE? LEAVE A COMMENT..I LIVE FOR THEM!
Chef Mireille