Last Updated on June 4, 2015 by Chef Mireille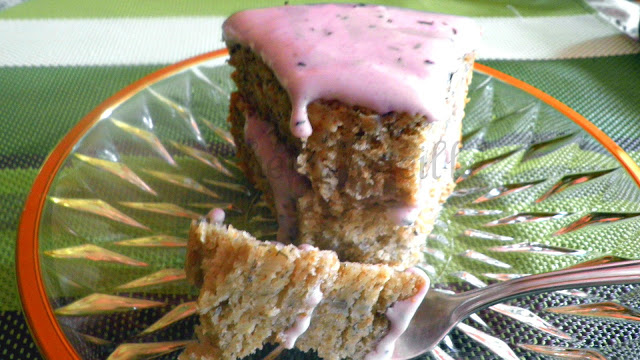 Moist Eggless Cake – perfect for pure vegetarians
This moist cake with a soft, creamy frosting is a yummy treat. It's eggless, so even pure vegetarians can enjoy this delicacy.
Banana Cardamom Cake
(click here for printable recipe)
Ingredients:
1 cup whole wheat flour
1 cup all purpose flour
2 teaspoons ground cardamom
1 1/2 teaspoons baking powder
1 teaspoon baking soda
1/4 teaspoon salt
3/4 cup sugar
3 very ripe bananas, mashed
1 cup sour cream
1 stick butter, melted
1/2 cup milk
Preheat the oven to 350 F. Grease and flour 2 round 8-inch cake pans.
In a large bowl, combine flours, cardamom, baking powder, baking soda, salt and sugar. Mix well.
In another bowl, mash the bananas. Add sour cream, butter and milk. Mix well. Add this wet mixture to the flour mixture and mix well, until thoroughly combined.
Pour half into one cake pan and half into the other. Bake for 45 minutes. Let cool completely and then remove from pans by flipping over onto a plate.
I had some blueberries and attempted to make a blueberry frosting because I thought the flavor would complement the banana well. Of course, I was doing this late at night and in the process, I ran out of powdered sugar. This is a frosting that is kind of on the thin side, but is also less sweet than most frostings – many cakes I scoop off the frosting because it is way too sweet. This is a great cake with a great balance of flavors.
Soft Blueberry Cream Cheese Frosting
Ingredients:
1 cup blueberries
1/3 cup milk
1/3 cup coconut milk powder
1 teaspoon vanilla extract
4 1/4 cups confectioner's sugar
8 oz. cream cheese
In a food processor, combine blueberries and milk and process for a few minutes, until the berries are completely broken down. Transfer to the bowl of an electric mixer.
Add the rest of the ingredients to the mixer and process well for about 5 minutes on high, until well blended and it is thick and creamy. Refrigerate for at least one hour.
Place a thick layer of the frosting on top of one of the cakes and spread. Place the other cake on top and press down. Frost the top and sides of the cake. This soft frosting will drip onto the plate, so the plate will become quite messy.
Using a spatula, transfer the cake to a clean plate and refrigerate for 1 hour.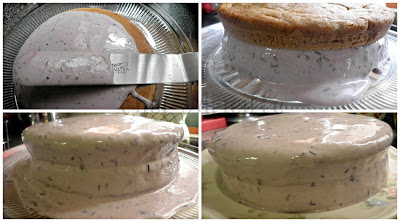 frosting the cake – with blueberry cream cheese frosting
This frosting/glaze is soft and creamy so it is alright if it is a little drippy.

Since it is not too sweet, it's great to dip pieces of the cake into or even serve as a topping over fresh fruit.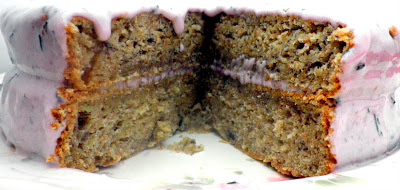 Banana Cardamom Cake and Soft Blueberry Frosting
Store cake in refrigerator and take out 20 minutes before serving to bring to room temperature. You don't want it kept out too long or the frosting will soften too much. It's best after 1 day in the refrigerator after the creamy frosting is firmer – it will be like the consistency of thick Greek yogurt.

This cake is off to Favorite Cake Recipes, Let's Cook…Kids Special , Vardhini's Bake Fest, hosted by Resh & Priya's Veggie/ Fruit a Month hosted by Harini
LIKE THIS RECIPE? LEAVE A COMMENT..I LIVE FOR THEM!
Chef Mireille
Like me on FACEBOOK!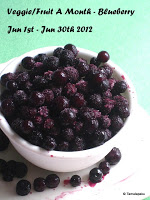 Follow me on TWITTER!