Last Updated on July 9, 2022 by Chef Mireille
Homemade Cranberry Sauce with Chia Seed is so quick and easy with the addition of chia seeds in this version. Healthy Cranberry Sauce packed with protein, fiber, calcium and omega-3's from the chia seeds is not only the best addition for your next Thanksgiving meal, but a great condiment to have on your breakfast table all year round.
Easy breakfast with bread or biscuits with cranberry jam and eggs is ready at a moment's notice if you have some leftover cranberry sauce about.
After all, what is cranberry sauce really but jam. The only required ingredients to make fresh Cranberry Sauce are cranberries and sugar. Fruit and sugar = jam. Why we call it sauce instead of jam is beyond me.
Cranberry Sauce made from fresh cranberries is the only way to include it as part of your Thanksgiving meal. Once you make your own homemade cranberry sauce, you will wonder how you ever even ate the canned stuff.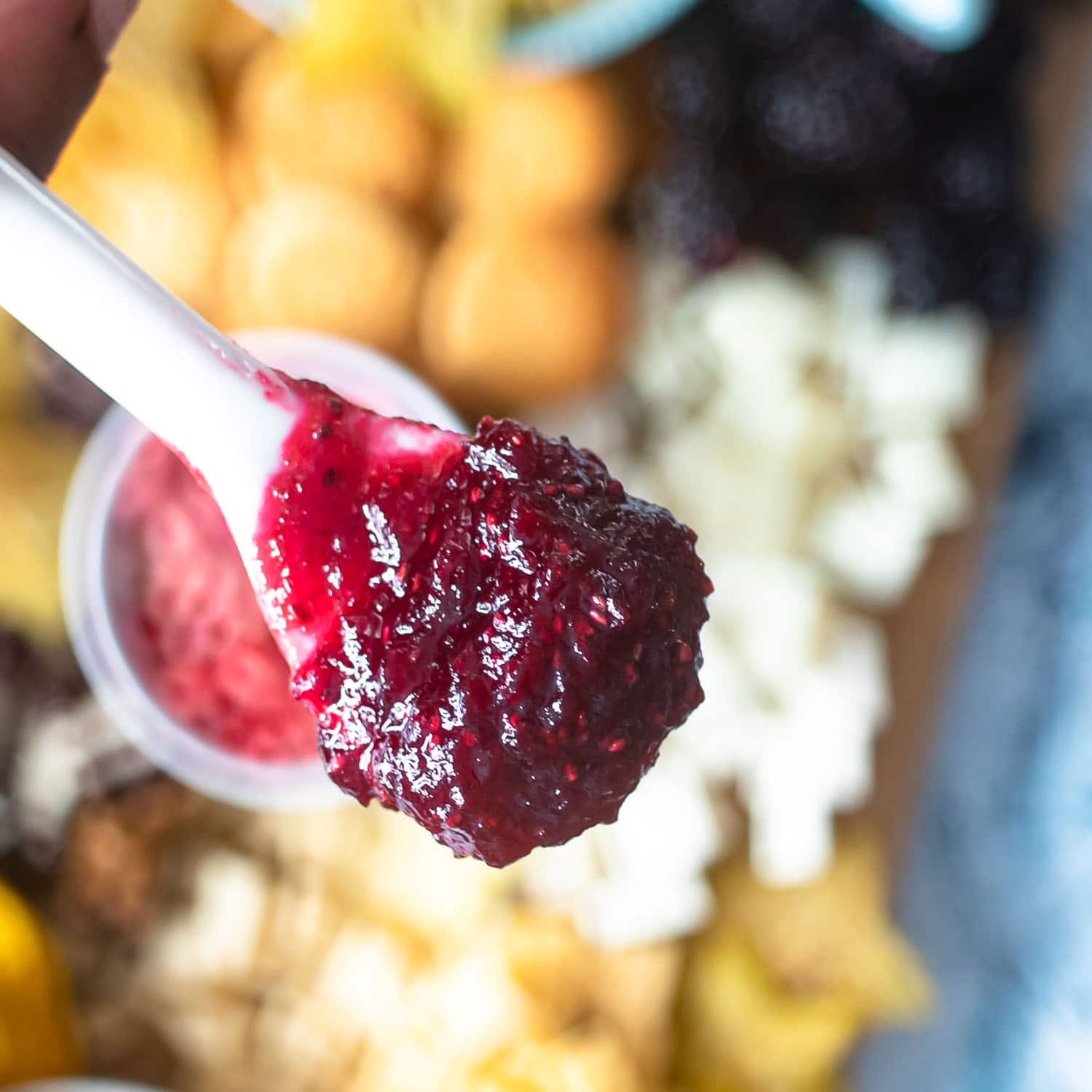 This post may include affiliate links.
Here in America, no Thanksgiving table is complete without cranberry sauce. We need that tart sweet sauce to balance all the other savory and smoky flavors to equal the perfect taste of Thanksgiving.
Cranberry Sauce on a holiday table is as iconic in America as apple pie. There are two types. There is the homemade version and then there is the jellied mass that comes out of the can in one go with a reverberating swoosh out of the can. The ones who love the canned version usually hate the freshly made version and vice-versa. I am definitely in the second camp. 
Another reason why it is preferable to make your own cranberry sauce is you can ensure no fillers are added. This is especially important if you may be Vegan or Gluten Free. You can be sure that this homemade version does not include any gelatin, as naturally made Cranberry Sauce is gluten free and vegan.
Since my parents aren't American, I didn't grow up with typical Thanksgiving foods. My parents were not turkey people and in fact, most Caribbean & Latin people I know did not have turkey because their parents hated it also. Our parents all thought the meat was too dry. My Latin friends had pernil (roast pork) and fried or roast chicken. My Caribbean friends had baked ham and curried or stewed chicken. My parents tried a compromise and they would stew turkey wings, where the meat is more tender.
It's only with my friends of first generation Americans that turkey started making its way onto Thanksgiving tables. When we all reached the age where we started helping with cooking for the meal, the roast turkey started making its way onto Caribbean and Latin Thanksgiving tables.
Needless to say, cranberry sauce was a non issue as it was never on the table. The first time I had cranberry sauce was at a friend's home. I was attending University in New Mexico and a friend invited me home for her for the holidays so I wouldn't have to be one of the ones staying at school. Her family was a canned cranberry sauce one. Of course, I wanted to taste all the traditional foods I had been deprived of as a child. I thought it was the most disgusting thing I had ever consumed. From that point on, I stayed away as if it was poison.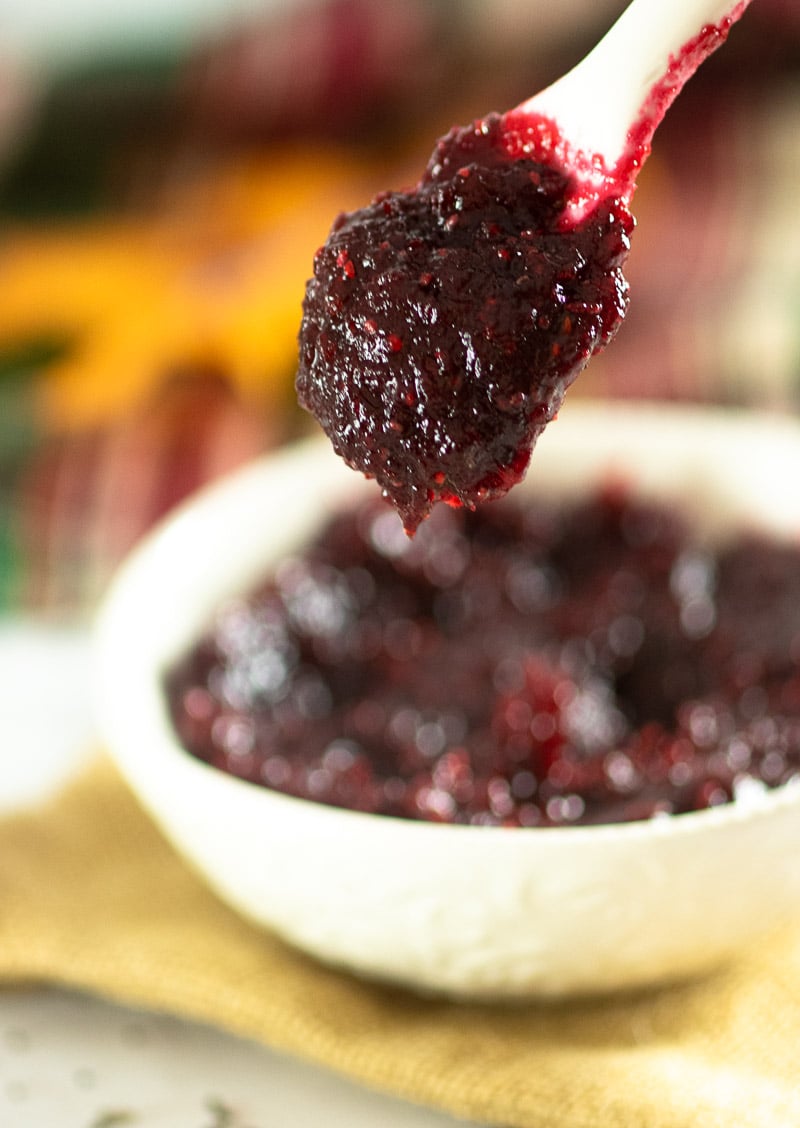 Several years later when I bought my apartment and was hosting the first Thanksgiving dinner in my new home, I decided I would make a traditional American Thanksgiving dinner. Of course, I still had to include the Caribbean classics to keep everyone happy. It was a 3 day cooking process as I was cooking for 20 people, since I had family visiting from the Netherlands that year.
Anyway after tons of research, I decided to try a homemade cranberry sauce version. I figured even if I didn't like it, some of the guests would. I ended up loving it and from that point on, every year no matter where Thanksgiving is being held, I am responsible for bringing it.
I have a few different versions I make. You can check out this other Cranberry Sauce Recipe if you don't have any chia seeds.
Why is this Cranberry Sauce made with Chia Seed?
Chia Seeds not only add tons of nutritional value to this Cranberry Chia Jam, but the natural jelling qualities of chia seed can be used for so more more than the ever popular chia pudding.
By utilizing chia seed, this Cranberry Sauce jells super quickly. Not only that, if you want to make your cranberry sauce with reduced sugar, you can even eliminate the sugar completely. This Cranberry Sauce will still jell due to the chia seeds. You can use alternative sweeteners like a few tablespoons maple syrup or honey instead.
Recipe Notes
After you blend the Cranberry Sauce, if you find it is too thick, you can add a few tablespoons water until you achieve the desired consistency. 
Although I flavored this one with lavender and rosewater, you can also spice it up for the holiday season by adding things like cinnamon, nutmeg, cloves and allspice. Alternately, you can use 1 teaspoon of pumpkin pie spice. 
You can use either fresh or frozen cranberries.
Frequently Asked Questions
How long does Cranberry Sauce last?  
Just like homemade jam, Cranberry Sauce can last in the refrigerator for up to 3 months. It should be stored in an airtight glass jar like a Mason jar. 
How to can Cranberry Sauce?
Cranberry Sauce can be canned, using the same process of canning any type of jam. 
How to make cranberry sauce from dried cranberries? 
Dried Cranberries should first be reconstituted in warm water until the cranberries become plump. Then you can cook the cranberry sauce following these instructions. Note that dried cranberries usually have sugar added, so you will want to reduce the sugar content of this Cranberry Sauce recipe.
The ingredients for this homemade Cranberry Sauce are few. All you need are cranberries, sugar, chia seed and lavender. Actually the lavender is optional and you can omit it, if you are not a fan of the floral flavor infusion of lavender.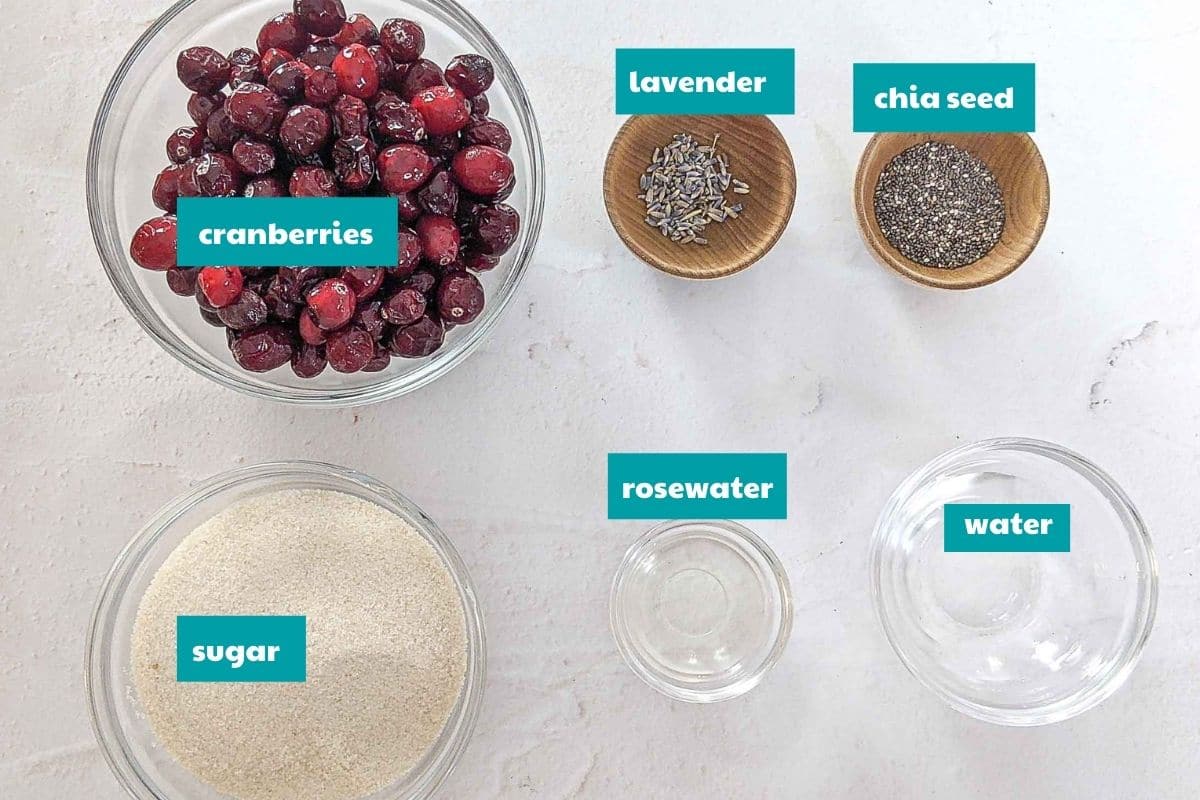 You might also need:
How to make Cranberry Chia Jam (Cranberry Sauce)
Combine fresh cranberries (or frozen) with the sugar, lavender, rosewater, water and chia seed in a saucepn. 
Bring it to a boil and let it cook for about 15 minutes, until the cranberries pop. 
Transfer it to a blender and let it cool for a few minutes, so you don't get burned. 
Process it until you have a loose jam consistency. 
Homemade Cranberry Sauce made quick and easy!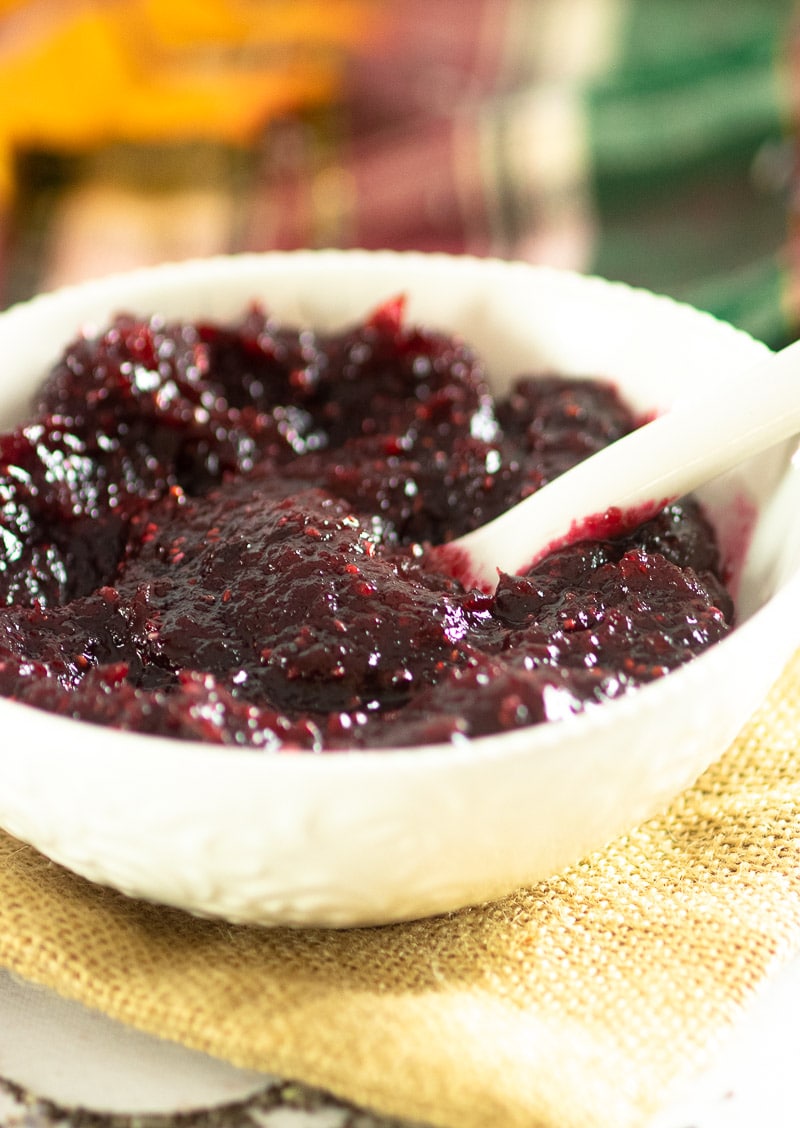 It is also a great addition to a Fall Charcuterie Board. Find out how I put together this awesome Fall Grazing Table here. It is definitely a great addition to your Thanksgiving night.
Cranberry Sauce with Chia Seed
Floral Infused Cranberry Sauce with lavender and rosewater is ready in just 15 minutes, with chia seed.
Instructions
In a medium saucepan, combine cranberries, chia seed, lavender, rosewater, sugar and 1/4 cup water.

Bring to a boil.

Reduce to a simmer and cook on medium heat for about 15 minutes, until the cranberries pop and the sauce is thickened.

Leave to cool for a few minutes.

Transfer to a blender or a food processor and blend until jam consistency.
Notes
Yield: approximately 1 1/2 cups
Nutrition
Calories:
230
kcal
|
Carbohydrates:
58
g
|
Protein:
1
g
|
Fat:
1
g
|
Saturated Fat:
1
g
|
Polyunsaturated Fat:
1
g
|
Monounsaturated Fat:
1
g
|
Trans Fat:
1
g
|
Sodium:
2
mg
|
Potassium:
57
mg
|
Fiber:
3
g
|
Sugar:
52
g
|
Vitamin A:
38
IU
|
Vitamin C:
8
mg
|
Calcium:
19
mg
|
Iron:
1
mg
Did you try this recipe? Leave a comment below.
Please follow me on Instagram @chefmireille or tag me #chefmireille with your pics! I'd love to share them!
Don't forget to visit the RECIPE INDEX with over 1000 recipes from around the world including lots of Vegetarian Recipes and Gluten Free Recipes!