Last Updated on September 18, 2020 by Chef Mireille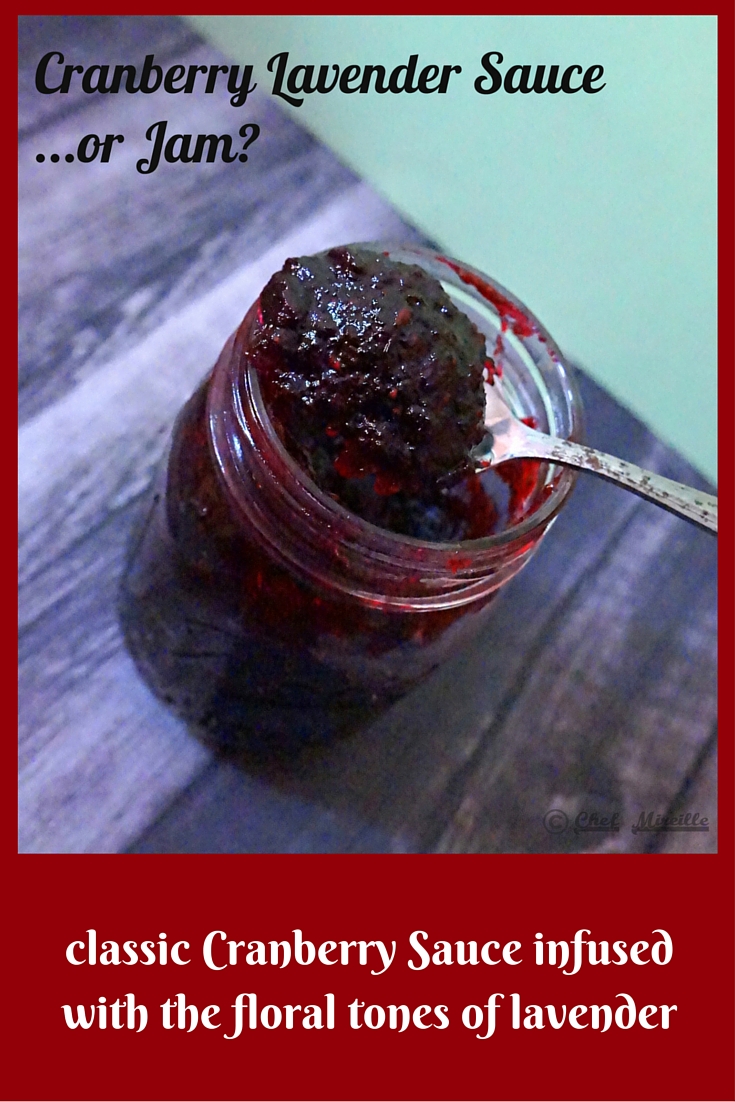 If you subscribe to my Instagram feed, you would have gotten this recipe a few days ago. For everyone else, I hope it's not too late for you to infuse some floral tones into your Thanksgiving meal.
Why do we call that fruity, tart #Thanksgiving condiment we all put on your turkey Cranberry Sauce? It's really a jam isn't it. This is as iconic in America as apple pie. There are two types of cranberry sauce. There is the homemade version and then there is the jellied mass that comes out of the can in one go with a reverberating swoosh out of the can. The ones who love the canned version usually hate the freshly made version and vice-versa. I am definitely in the second camp.
Since my parents aren't American, I didn't grow up with typical Thanksgiving foods. My parents were not turkey people and in fact, most Caribbean & Latin people I know did not have turkey because their parents hated it also. Our parents all thought the meat was too dry. My Latin friends had pernil (roast pork) and fried or roast chicken. My Caribbean friends had baked ham and curried or stewed chicken. My parents tried a compromise and they would stew turkey wings, where the meat is more tender. It's only with my friends of first generation Americans that turkey started making its way onto #Thanksgiving tables. When we all reached the age where we started helping with cooking for the meal, the roast turkey started making its way onto Caribbean and Latin Thanksgiving tables.
Needless to say, cranberry sauce was a non issue as it was never on the table. The first time I had cranberry sauce was at a friend's home. I was attending University in New Mexico and a friend invited me home for her for the holidays so I wouldn't have to be one of the ones staying at school. Her family was a canned cranberry sauce one. Of course, I wanted to taste all the traditional foods I had been deprived of as a child. I thought it was the most disgusting thing I had ever consumed. From that point on, I stayed away as if it was poison.
Several years later when I bought my apartment and was hosting the first Thanksgiving dinner in my new home, I decided I would make a traditional American Thanksgiving dinner. Of course, I still had to include the Caribbean classics to keep everyone happy. It was a 3 day cooking process as I was cooking for 20 people, since I had family visiting from the Netherlands that year. Anyway after tons of research, I decided to try a homemade cranberry sauce version. I figured even if I didn't like it, some of the guests would. I ended up loving it and from that point on, every year no matter where Thanksgiving is being held, I am responsible for bringing the Cranberry Sauce.
This year I brought a different flavor profile with lavender. This version jells very quickly with chia seed. In 15 minutes, your thick and jellied cranberry sauce will be on the table!
Cranberry Lavender Sauce
Prep Time: 5 minutes
Cook Time: 15 minutes
Yield: approximately 1 1/2 cups
Ingredients:
12 oz. package cranberries
1 tablespoon ground chia
1 teaspoon culinary lavender
1 1/2 cups sugar
1/4 cup water
Combine all ingredients in a saucepan. Cook on high heat for 15 minutes, stirring frequently, until the berries start to burst and sauce is thick.
Let it cool for a few minutes.
Transfer to a blender and process until smooth.
After Thanksgiving, you can use the leftovers for your day after turkey sandwiches.
Cranberry Lavender Sauce …or Jam?
Ingredients
12

oz.

package cranberries

1

tablespoon

ground chia

1

teaspoon

culinary lavender

1 1/2

cups

sugar

1/4

cup

water
Instructions
Combine all ingredients in a saucepan. Cook on high heat for 15 minutes, stirring frequently, until the berries start to burst and sauce is thick.

Let it cool for a few minutes.

Transfer to a

blender

and process until smooth.
Did you try this recipe? Leave a comment below.
Please follow me on Instagram @chefmireille or tag me #chefmireille with your pics! I'd love to share them!