Last Updated on June 3, 2015 by Chef Mireille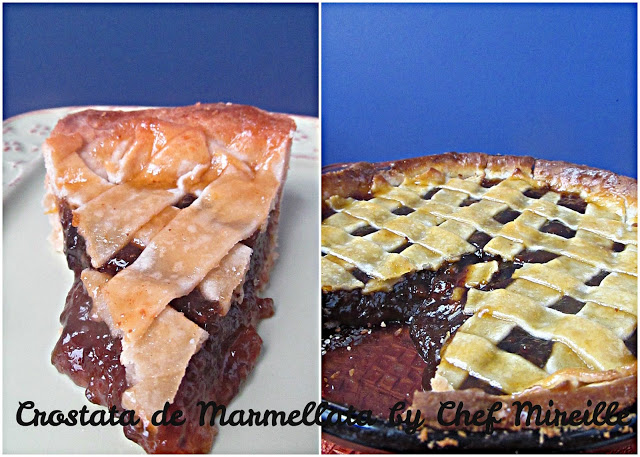 After several month's hiatus, I participated in both the Daring Cooks and Daring Baker's Challenge this month.
Rachael from pizzarossa was our lovely June 2013 Daring Bakers' host and she had us whipping up delicious pies in our kitchens! Cream pies, fruit pies, chocolate pies, even crack pies!
I've selected this traditional Italian pie, using Carol Field's recipe, that can be filled with anything from jam to almond paste to pastry cream. Since I started making jam last year, I haven't been using bottles of jam purchased before then. These are just collecting dust in the pantry. I decided to use this opportunity to use up those bottles of jam that have been in the pantry for a few years now.
I had purchased this cloudberry jam when I visited a Scandinavian supermarket in Bay Ridge, Brooklyn a few years ago. Cloudberries are popular in Scandinavian countries. They even make a liqueur with it.
Cloudberry Crostata di Marmellata
Serves 8
Ingredients:
2/3 cup unsalted butter, 10 1/2 tablespoons, at room temperature
1/3 cup sugar
1 egg
1 teaspoon vanilla extract
zest of 1 lemon, grated
1 2/3 cup all purpose flour
a pinch of salt
1/4 cup apricot jam
2 teaspoons lemon juice
2 teaspoons water
2 cups jam ( I used 1 1/4 cups cloudberry and 3/4 cup strawberry)

Using the paddle attachment on an electric mixer, beat the butter and sugar until creamy, about 2-5 minutes.
Add egg, vanilla extract and lemon zest. Mix well.
Add salt and flour. Mix until just combined.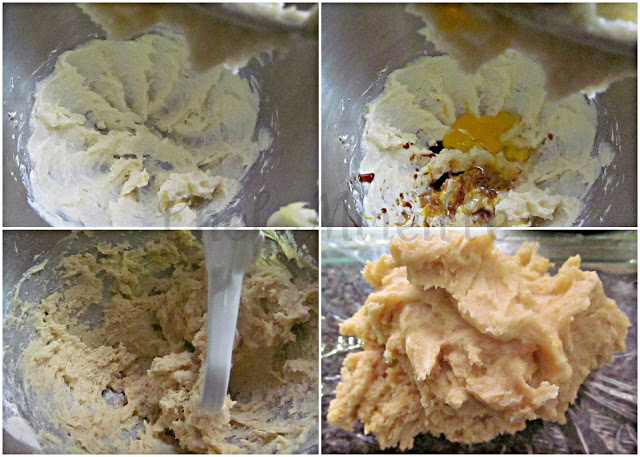 Wrap in plastic wrap and refrigerate for 1 hour.
Spray a pie plate with non stick spray.
Separate 2/3 of the dough (about 12 oz.) and refrigerate the rest.
On a well floured piece of parchment paper, roll out the dough to a circle a little larger than the size of the pie plate, dusting the top of the dough with flour as it sticks to the rolling pin.
Refrigerate for 30 minutes to prevent shrinkage before baking.
Preheat oven to 350 F.
Softly prick the dough with a fork. Place a piece of parchment or waxed paper over the pie crust. Fill with dry beans or pie weights.
Bake for 20 minutes, until crust is set. Let cool and remove beans.
Raise oven to 400 F.
On a lightly floured surface, roll out the remaining dough into a circle. Cut into 1/2 inch strips.
Pour the jam inside the baked pie crust. Arrange dough strips into a lattice pattern on top.
Bake for 20 minutes, until golden.
Meanwhile, heat apricot jam, water and lemon juice. Bring to a boil. Stir well, until jam melts. Strain.
Brush on top of warm pie. Let cool.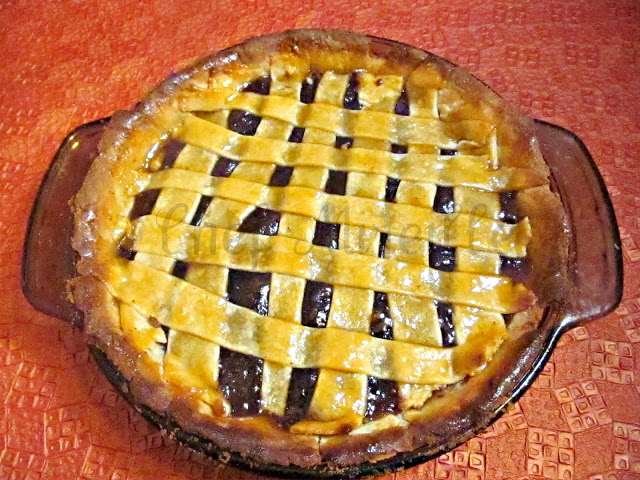 Note: This dough is VERY soft, making it difficult to work with. I had to end up adding about an additional 1/2 cup of flour, in order to roll out the dough firm enough for me to be able to transfer it to the pie plate. It is traditional Italian style Pasta Frollo pie pastry, but I will stick to my own French/American style pie/tart dough I usually use if I were to make this again in the future.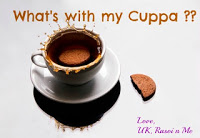 While delicious, I found the pie a little on the sweet side. With jam which is already sweet and such a sweet pie crust, the sugar content was a bit high. Increasing the flour content and decreasing the sugar content in the pie crust would definitely improve this pie, in my opinion, both in the execution of the pie crust and the taste.
…linking to What's With My Cuppa 2 & Bake Fest hosted by Radhika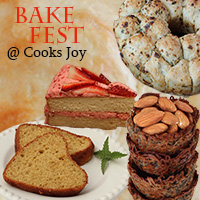 LIKE THIS RECIPE? LEAVE A COMMENT..I LIVE FOR THEM!
Chef Mireille