Last Updated on June 3, 2015 by Chef Mireille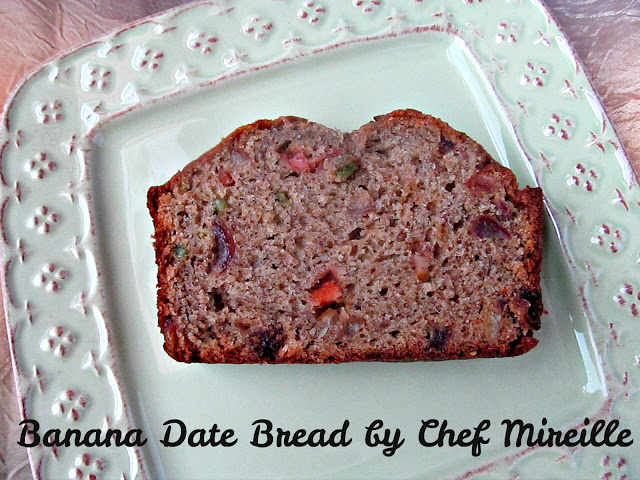 Blogging Marathon #30
Theme: Bookmarked Recipes
One of my idiosyncratic eating habits is that I only like under ripe bananas. Once the spots start appearing and they get soft and mushy, they get utilized in pancakes, smoothies and sweet breads.
When I was in the process of deciding which of my bookmarked recipes I should use for today's post, I had 2 over ripe bananas by my standards that needed to be used for something. That was what led me to Sumee's recipe for Cranberry Banana Bread here.
I had planned to follow her recipe exactly as is but after sifting the dry ingredients, I opened my cabinet to get the cranberries I thought I had. Nowhere to be found. I must have forgotten I finished them, so the cranberries had to be replaced with other fruit in the pantry.
Banana Date Bread
Yield: 1 loaf
Ingredients:
1 cup all purpose flour
1 cup whole wheat flour
1/3 cup ground flaxseeds
1 teaspoon baking soda
1 cup firmly packed light brown sugar
1/4 teaspoon freshly grated nutmeg
1/2 cup olive oil
2 eggs
2/3 cup strained yogurt
2 bananas, mashed
1/2 cup pitted dates, roughly chopped
1/2 cup candied fruit, aka tutti frutti
1/4 teaspoon salt
Preheat oven to 350. Grease a loaf pan.
Toss fruit with 2 tablespoons of the flour.

Sift flours with flaxseed, salt and baking soda.
Mix sugar and olive oil.
Add eggs, bananas and half of the yogurt.
Start adding the flour a little at a time, alternating with the remaining yogurt.
Fold in the fruit. Transfer to the prepared loaf pan.
Bake for 60-70 minutes, until toothpick inserted comes out clean.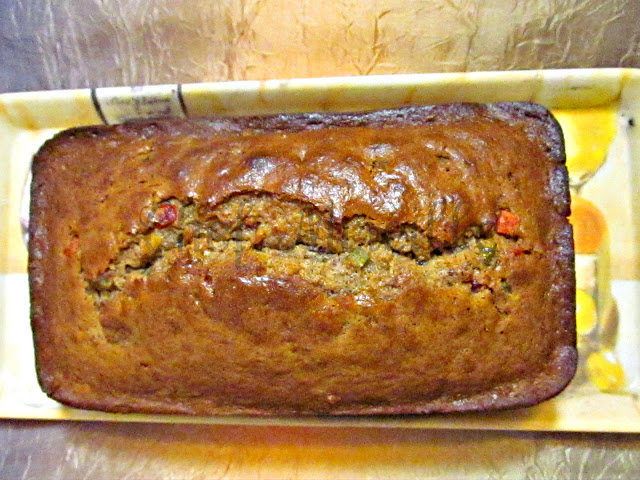 High in fiber with the use of whole wheat flour, flaxseeds and dates and low in fat by using olive oil, this is a healthy sweet bread you don't have to feel guilty about indulging in.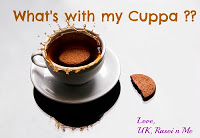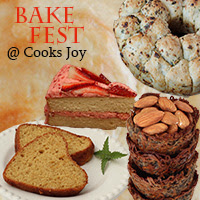 Check out the Blogging Marathon page for the other Blogging Marathoners doing BM#29
…linking to What's With My Cuppa 2 & Bake Fest hosted by Radhika
LIKE THIS RECIPE? LEAVE A COMMENT..I LIVE FOR THEM!
Chef Mireille