Last Updated on May 20, 2020 by Chef Mireille
Chickpea & Okra Ground Provision Soup is a Caribbean style soup that is both Vegan and Gluten Free full of hearty root vegetables. So filling it can be a meal on its own.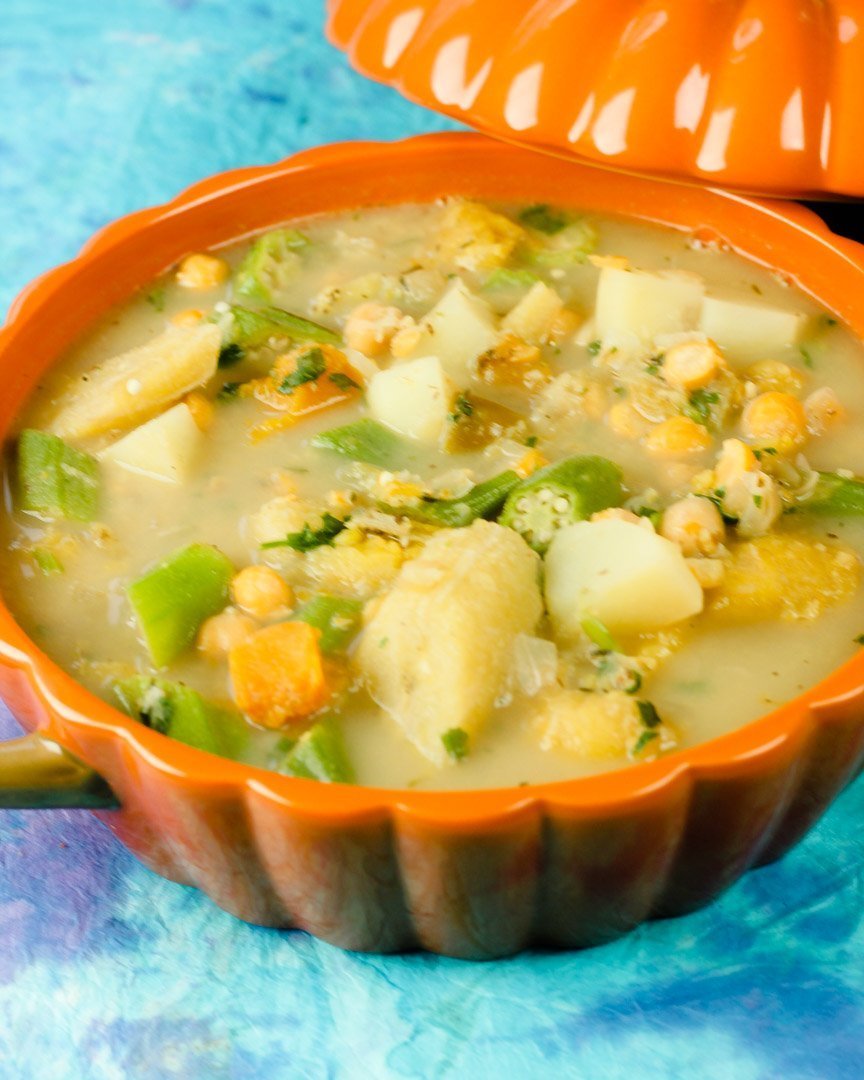 In the Caribbean, ground provision refers to any assortment of root vegetables served with meals. It can include potato, yam, sweet potato, plantain, green banana, pumpkin, eddoe and breadfruit.
In the last 10 years, Brooklyn, NY has been experiencing a gentrification, due to rising living costs in Manhattan. Brooklyn has become the most popular borough, after Manhattan. It's just a short train ride. For single, young people, there are many nice bars, lounges and restaurants. We have Prospect Park for bikers, runners and people who enjoy outdoor activities. Prospect Park also has a stage,where they run a concert series every summer. A museum, BAM (Brooklyn Academy of Music) the Botanical Garden and an aquarium, there are also many cultural activities to enjoy. People with families enjoy tree lined streets in relatively safe neighborhoods. Brooklyn is the oldest developed part of New York, with many old buildings and homes. Because of this, homes and apartment sizes tend to be larger than other parts. Take a walk through historic Flatbush and some parts of Ditmas Park and you will see homes that some would call mansion size.
When tourists come to NYC, most of them stay in Manhattan and they are missing a lot of the heartbeat of New York, by ignoring this wonderful borough where I live, although this has been changing in recent years. If you visit NY, don't ignore Brooklyn!!!
Neighborhoods that were previously cultural pockets of people originating from one region of the world have become diversified. The neighborhood where I live is one of those. What was once a primarily Caribbean neighborhood about 20 years ago has been transformed into a very diverse community. With this, an interest in global foods has been awakened in people who are now encountering new foods. I often see all American Manhattan transplants who are confirmed foodies in the market looking at products with confused faces as they stare at a vegetable they want to try, but have no idea what it is or how to prepare it. One of these items is breadfruit.
Breadfruit
Breadfruit is an optional ingredient you can choose to use as one of the ground provision in this soup. If breadfruit is a new ingredient to you, here is some more info on it!
Breadfruit is a fruit, eaten as a vegetable, similar to plantain. Breadfruit can be eaten green or ripe. When ripe, there is a sweetness that comes out, which makes it suitable for desserts as well. People may think it is spoiled when ripe, the skin is brown and unattractive. However, this is when it is the sweetest. Breadfruit can be boiled, roasted, stewed or fried. You must peel it, remove the center core and then it can be cooked countless ways, as versatile as potato. As people want more exposure to global foods, I even came across a breadfruit in the Union Square Whole Foods and I was surprised. I hope I encourage you to try these new foods and don't be afraid of them.
If you run across a breadfruit in the local market, you may also want to try my Breadfruit Puffs.
IN THE MAKING – HOW TO MAKE CHICKPEA & OKRA GROUND PROVISION SOUP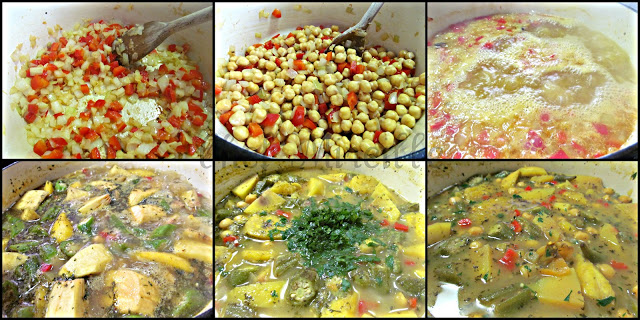 Use whatever ground provision you have available – basically any root vegetable that comes from the ground – or even a tree (breadfruit, plantains) can be used.
Perfect soup for cold winter evenings!
It is so hearty, bread or crackers is not needed as any accompaniment. The soup stands well all alone!
Chickpea & Okra Ground Provision Soup
Chickpea & Okra Ground Provision Soup is both Vegan & Gluten Free.
Ingredients
1 15.5

oz.

can chickpeas

drained and rinsed

2

tablespoons

oil

1

onion

chopped

3

garlic cloves

finely chopped

1

tablespoon

ginger

grated

1

bell pepper

chopped

1

Scotch Bonnet/ Habanero pepper

cut in half

1

teaspoon

ground turmeric

1

teaspoon

vegetable base powder

or 1 bouillon cube

8

cups

vegetable broth or water

2

cups

okra

sliced thick

1

yellow plantain

sliced thick (not over ripe, skin should be at least half yellow/half black)

1

green plantain

sliced thick

12

oz.

assorted ground provision

peeled and chopped (potato, sweet potato, pumpkin, breadfruit, eddoe)

1

tablespoon

parsley

2

teaspoons

dried thyme

salt and freshly ground black pepper

to taste

1/4

cup

parsley

finely chopped
Instructions
Heat oil.  Add onion, garlic, ginger and bell pepper.  Saute until vegetables are softened.  Add chickpeas and cook for 1 minute, while stirring.  Add Scotch Bonnet pepper, turmeric, vegetable base and water or vegetable broth.  Bring to a boil.  Reduce to a simmer and cook for 15 minutes.

Add plantains, okra, ground provision, dried parsley, thyme, salt and pepper.

Bring to a boil again. Reduce to a simmer and cook until vegetables are cooked through, about 15 minutes.

Add fresh parsley and stir to combine.

Remove Scotch Bonnet pepper as desired (see Notes below).
Notes
Remove the hot pepper once finished or the soup will continue to get spicier the longer the pepper is kept in the soup. Remove it sooner or later, depending how much hot spice you like in your soup.
Nutrition
Calories:
238.7
kcal
|
Carbohydrates:
45.41
g
|
Protein:
6.3
g
|
Fat:
5.62
g
|
Saturated Fat:
0.54
g
|
Sodium:
1044.79
mg
|
Fiber:
9.02
g
|
Sugar:
15.8
g
Did you try this recipe? Leave a comment below.
Please follow me on Instagram @chefmireille or tag me #chefmireille with your pics! I'd love to share them!
You might also like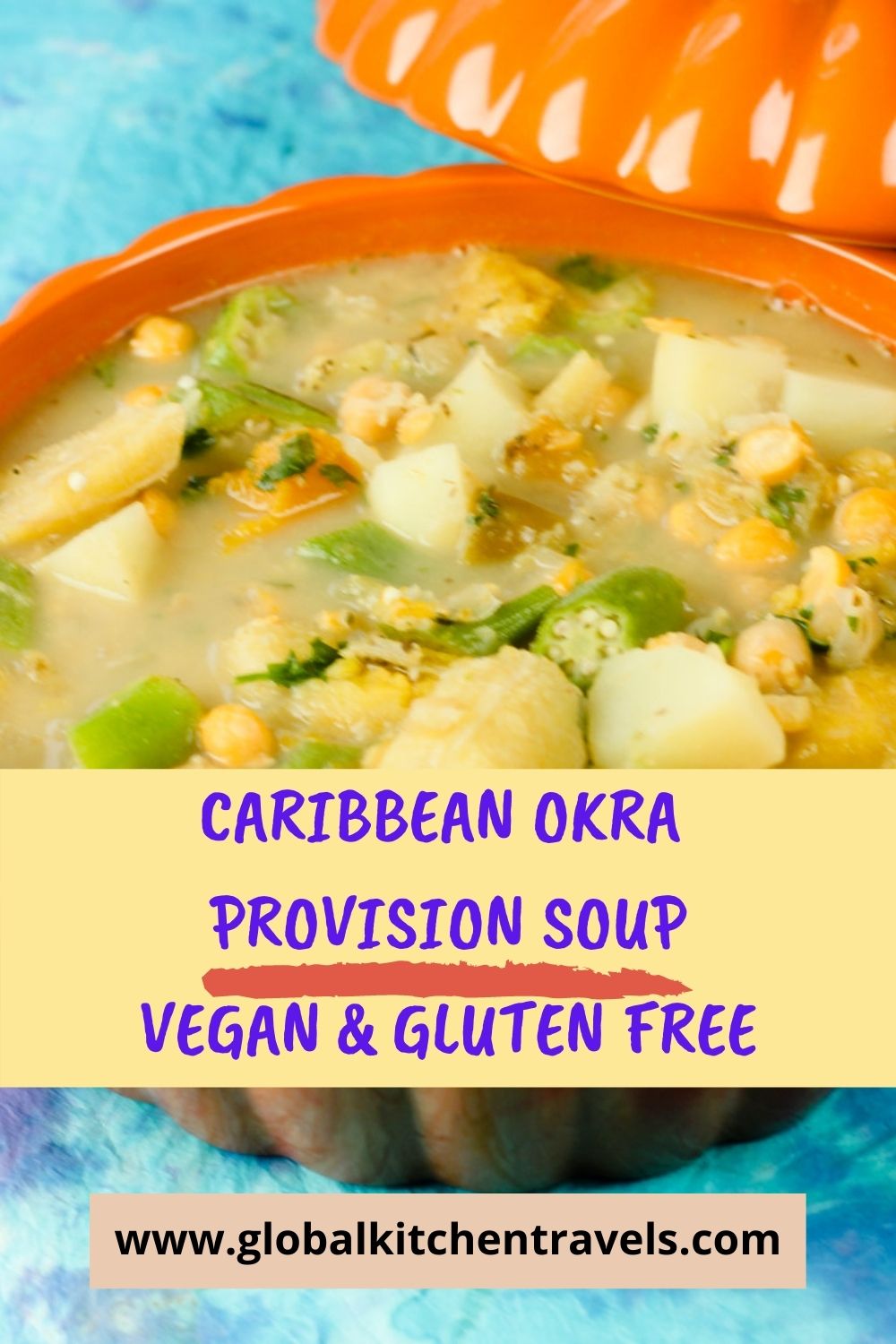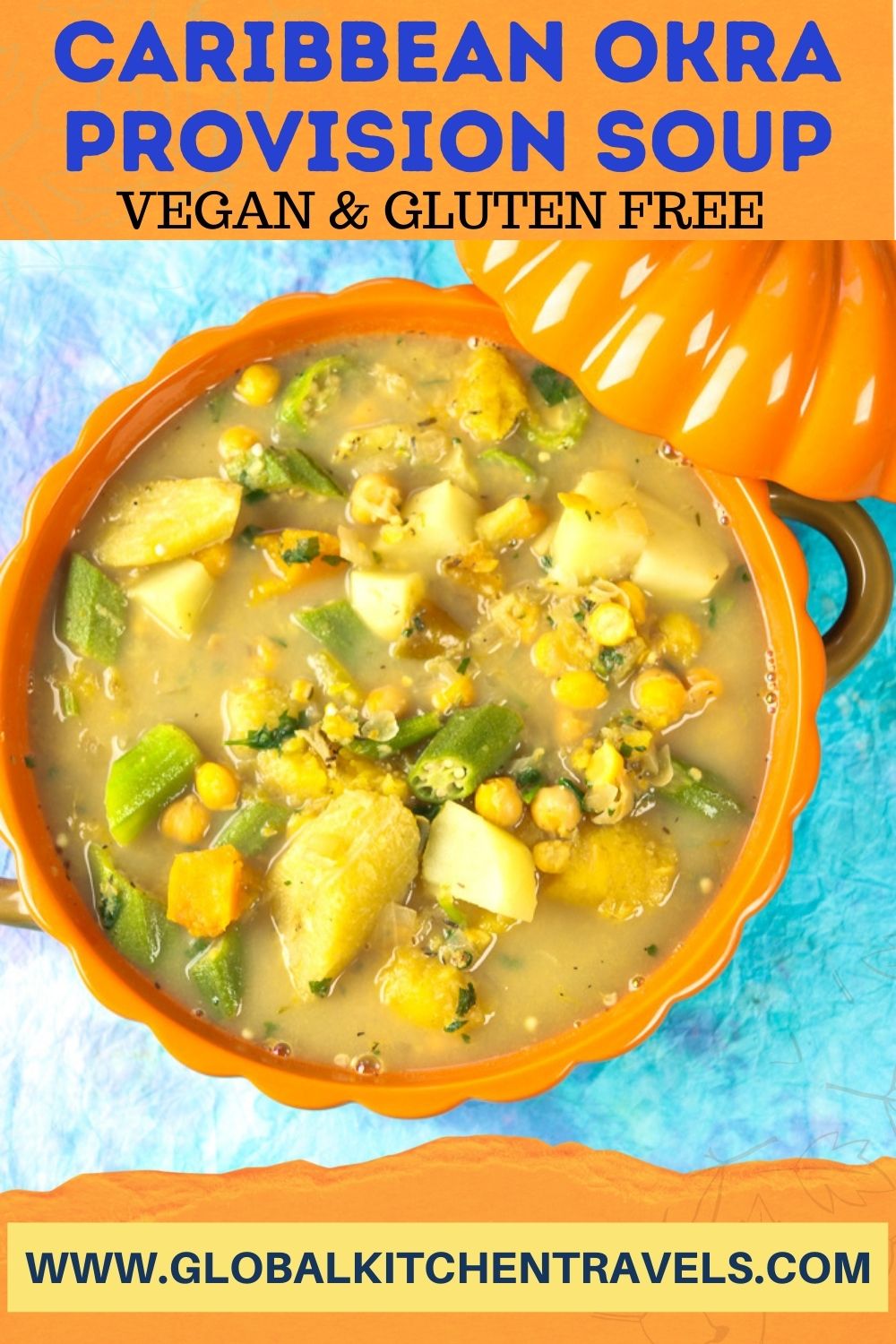 DO YOU YUM? SAVE IT BELOW!
Yum
Now I know you want to try some more Caribbean food! Check out my collection with over 100 Caribbean Recipes from the Caribbean diaspora!