Last Updated on May 20, 2020 by Chef Mireille
Chickpea Pomegranate Spinach Salad with Spiced Almonds is a protein packed salad that can function as a meal on its own.
Roasted Almonds
The first step is to roast the almonds. I am not a big nut person. I think the reason I have never liked nuts all that much is that I am violently allergic to some nuts. I can't even touch a Brazil nut. The oils will have my skin breaking out in hives. I go into anaphylaxis shock if I consume them. A natural defense mechanism since I was a child is that I don't particularly like nuts. I will eat them when they are put in other foods as I realize the healthy protein source, but you will never find me snacking on a bag of nuts, like many people do.
While I do not like plain almonds, I have found I do enjoy them when roasted with spices. I have started to keep these on hand to throw into my salads and even just munch on, when I want a snack. The way I roasted the nuts here it is almost like a brittle. For dryer nuts, you can try this other method I used in the past.
This salad also includes a few other specialty ingredients that can be homemade or store bought. If you would like to try the homemade versions, check out these recipes.
Specialty Ingredient Recipes
Pumpkin Jam (apricot preserves can also be susbstituted)
IN THE MAKING – HOW TO MAKE ROASTED ALMONDS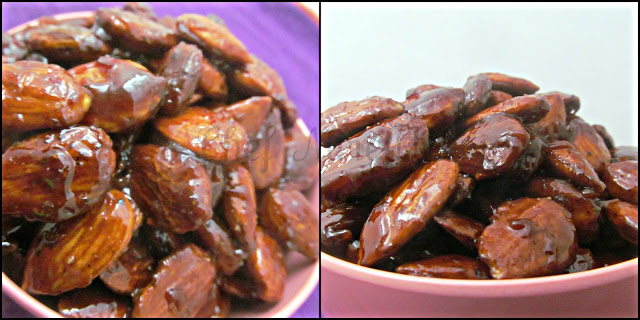 Honey Roasted Raz al Hanout Almonds
IN THE MAKING – HOW TO MAKE CHICKPEA POMEGRANATE SPINACH SALAD

Pumpkin Salad Dressing
This is a protein packed salad that is healthy and delicious!
This salad is very delicious, with lots of textural variety. The soft spinach leaves are balanced with the crunch of the nuts, apple and pepitas. Protein from the chickpeas and the nuts, this is a complete healthy meal.
Do you know anyone else who likes learning about international food, culture, history and travel? Bring them over here to join the party! Don't forget to use those share buttons!
Start Here to find out how the Schizo Chef can help you with your cooking, travel and other needs!
If you like this recipe, PLEASE LEAVE A COMMENT & SUBSCRIBE!
Check out the Blogging Marathon page for the other Blogging Marathoners doing BM#22