Last Updated on July 9, 2022 by Chef Mireille
This Blueberry Bread is a healthier quick bread recipe made with whole wheat flour and jam packed with fresh blueberries. All of the juicy blueberries results in a super tender and moist quick bread. Infused with cardamom, this is going to become one of your favorite recipes whenever you need a treat, with just enough sweetness. 
Using less sugar, this Blueberry Bread is perfect for breakfast with a cup of coffee. You won't feel guilty as can occur with overly sweet breakfasts. 
This is one of the most delicious Blueberry Quick Bread Recipes every – especially if you are a fan of sweet, juicy fresh blueberries.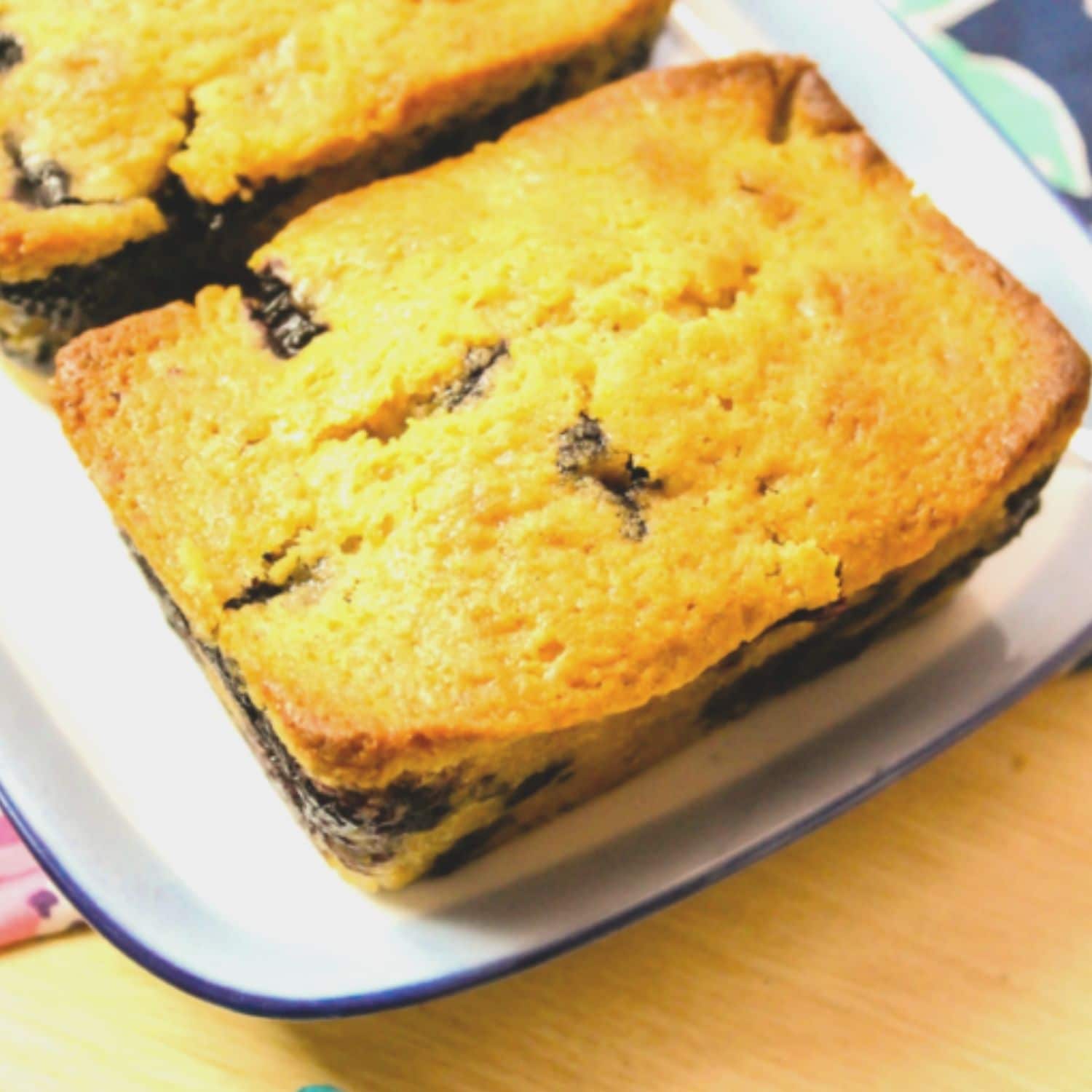 This post may include affiliate links.
A few years ago, I hosted a Thanksgiving dinner with about a dozen attendees. It's been a while since I did a traditional Thanksgiving with all the trimmings. You would think I did enough cooking for 2 days in preparation for the event. However, my friend, her mom and 2 kids were spending the whole Thanksgiving weekend with me. It was the perfect opportunity to make some extra sweets and let the kids eat the calories. I had bought lots of fruits to serve as snacks, in anticipation of the kids spending the weekend. One carton of blueberries was at hand to make this quick bread.

When I set to start baking, I realized I had all but a 1/2 cup of flour in my all purpose flour bin. Everyone was inside my cozy apartment watching movies – the kids in the bedroom and the adults in the living room – and no one, myself included, wanted to go outside in the cold to get flour. Luckily, I had whole wheat pasty flour.

Pastry flour is a high starch low protein flour which yields a very tender crumb in cakes, cookies and quick breads. This is a great whole wheat substitute for all purpose flour as you cannot tell the difference between this and 100% APF cakes. It is not dense like whole wheat cakes/cookies can often be, but light, fluffy and tender. If you don't have access to pastry flour, you can also substitute 1/2 whole wheat flour and 1/2 cake flour, however it wont be a 100% wheat cake as this one is.
This bread is just sweet enough for a dessert, but also not overly sweet so it can also serve as a breakfast treat. Great for long holiday weekends.
Although I made this during the holiday season, this is also a tasty bread to whip up when summer blueberries are in season. It will be so delicious with farm fresh blueberries.
If you have extra blueberries in your fridge, here are some other blueberry treats you can easily whip up!
Blueberry Recipes
Now before we get to the recipe, here are a few suggestions for variations and tips.
Frequently Asked Questions
Can I make it with frozen blueberries? 
Yes. You can use frozen blueberries, however defrost them and let them sit in a collander for at least 15 minutes to drain any excess liquid. 
If I bake them as blueberry muffins in a muffin tin, how long should they bake for? 
When baked in a standard muffin tin, it should take about 30-35 minutes to bake. 
Are there any alternatives if I don't have plain yogurt?
You can also use sour cream or Greek Yogurt. If using Greek yogurt, add 1 tablespoon of water. 
Are there any variations? 
Yes. You can use different spices like cinnamon, nutmeg and/or ginger. 
Turn it into delicious lemon blueberry bread by adding the zest and fresh lemon juice from 1 lemon. This will add some brightness to the flavor. 
Ingredients for Healthy Blueberry Bread
whole wheat pastry flour (or all purpose flour) 
baking powder 
eggs 
plain yogurt 
oil 
vanilla extract 
fresh blueberries 
Have you tried instacart yet? It's how I get all of my fresh grocery items delivered within 2 hours!
How to Make Delicious Blueberry Bread Recipe
Mix dry ingredients in a mixing bowl. 
Combine wet ingredients in a separate bowl. 
Add wet ingredients to dry ingredients and mix until thoroughly combined. 
Pour the batter into the prepared pan. 
Bake, using loaf pan or mini loaf pan tin. 
Alternately, you can use this same recipe to make Easy Blueberry Muffins. 
The perfect way to start your day!
Full of berry flavor, these are very moist and tender breads. se are very moist and tender breads.
With extra batter, you can also use this batter as a muffin recipe. Just use a muffin tin instead of the mini loaf pan I used. This recipe is essentially a blueberry muffin bread – a muffin batter baked in a loaf pan for a super easy Blueberry Bread Recipe.
Blueberry Cardamom Bread
Blueberry Bread packed with fresh blueberries and infused with cardamom. A delicious breakfast quick bread not too sweet. This Healthy Blueberry Bread made with whole wheat flour is perfect to start your mornings with.
Instructions
Preheat oven to 350 F.

Spray cooking spray in 1 loaf pan or mini loaf pans and muffin tins as desired.

In a medium bowl, combine flour, baking powder, salt, cardamom and sugar. Mix to combine.

In a large bowl, beat eggs, yogurt, oil and vanilla extract. Whisk until well blended.

Add dry ingredients to the wet ingredients and mix until thoroughly combined.

Using a rubber spatula, fold in the blueberries.

Transfer to prepared baking pan and cook until a toothpick/knife inserted comes out clean.

The baking time will vary depending which sized baking vessel you use.

Mini loaves will take 35 minutes. Micro mini muffins will take 20 minutes.

To test doneness, stick a tester into the center of the loaf to make sure it comes out clean.

Let the bread cool. To remove from pans, flip pan over on a plate. Bang the back of the pan with a wooden spoon to release the moist cakes. They should then slip out.
Notes
Can be made with with either fresh blueberries or frozen blueberries.
Nutrition
Calories:
241
kcal
|
Carbohydrates:
33
g
|
Protein:
4
g
|
Fat:
11
g
|
Saturated Fat:
1
g
|
Polyunsaturated Fat:
3
g
|
Monounsaturated Fat:
6
g
|
Trans Fat:
1
g
|
Cholesterol:
42
mg
|
Sodium:
124
mg
|
Potassium:
199
mg
|
Fiber:
2
g
|
Sugar:
21
g
|
Vitamin A:
84
IU
|
Vitamin C:
2
mg
|
Calcium:
70
mg
|
Iron:
1
mg
Did you try this recipe? Leave a comment below.
Please follow me on Instagram @chefmireille or tag me #chefmireille with your pics! I'd love to share them!
Don't forget to visit the RECIPE INDEX with over 1000 recipes from around the world including lots of Vegetarian Recipes and Gluten Free Recipes!