Last Updated on June 27, 2022 by Chef Mireille
Classic Baked Ziti with Meat Sauce is a family favorite that is always a hit. Pasta with Creamy Ricotta and Mozzarella baked into a flavorful casserole with a flavorful meat sauce is something that the whole family will love – both the kids and the adults.
This traditional Italian American dish is the perfect example how Italy has put their stamp on American cuisine.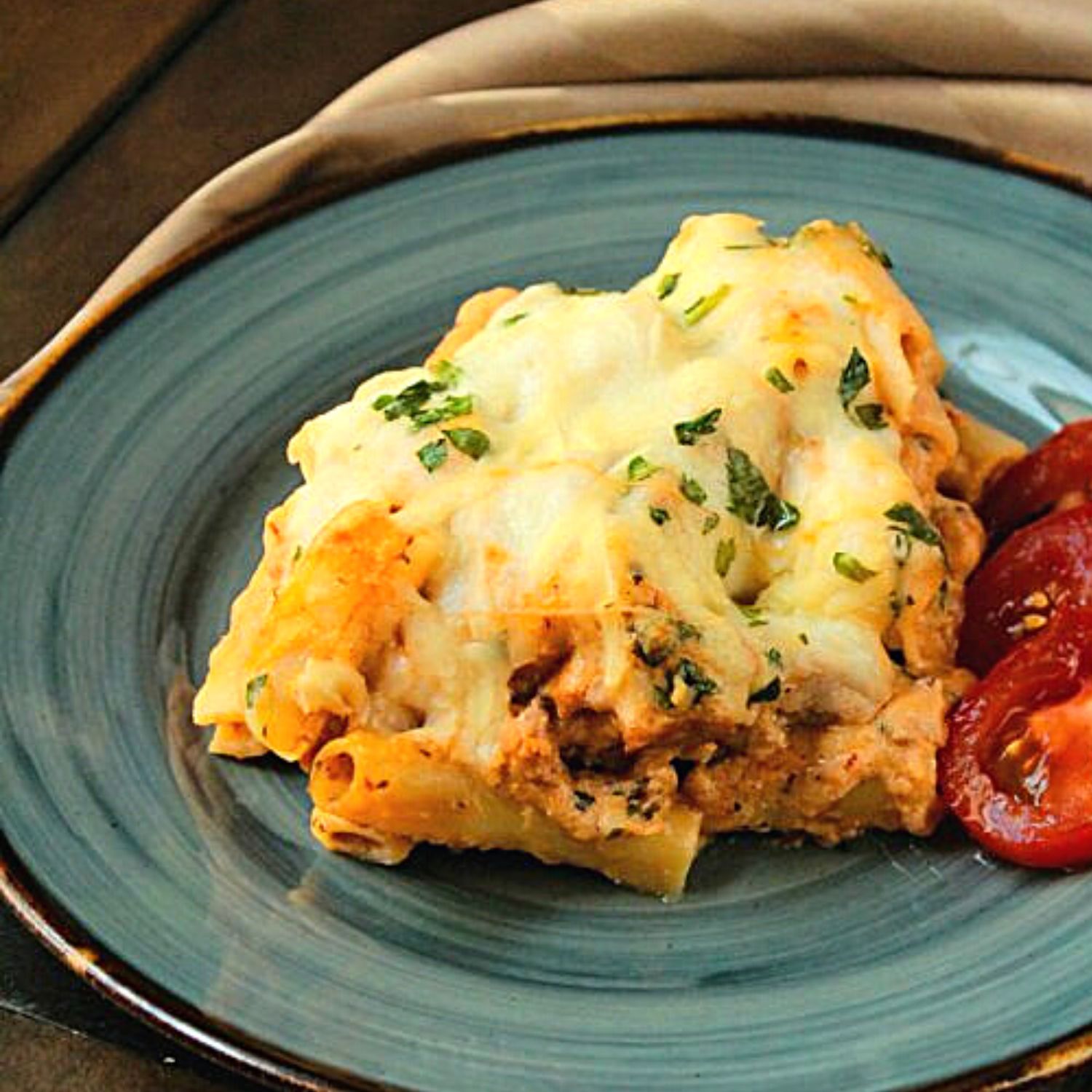 Many cultures when they travel across continents adapt their cuisine to the local flavors and preferences of their new communities. Although the base ingredients used may be the same, methods are changed and new recipes are formed.
What we call Chinese food here in America bares little resemblance to food in China. Italian food is the same. Italian and Irish are the two largest immigrant groups who both came in great waves dating back to the 1800's.
Most of the Italians came from Sicily and southern Italy. Mostly farmers plagued by poverty, oppressive taxes and foreign misrule, they sought a new life in the new world. Having been here for so long, many of the foods we regard as Italian were developed by these initial Italian immigrants and are uniquely Italian American creations and not traditional Italian foods. Baked Ziti is as American as apple pie.
You ask an American what's Italian food and besides pizza, the top 3 dishes that people will name are lasagna, spaghetti and meatballs & baked ziti. However, these dishes are not as popular in Italy and you would have to search far and wide until you find a restaurant that caters to American palates to find these dishes.
Baked Ziti is a truly traditional American dish of Italian origin and here is my version.
Before we get to this Italian American dish, let's try some traditional Italian and Italian American foods!
Italian Recipes
How to Make Baked Ziti
Cheesy and luscious…the perfect comfort food for the winter season!
Baked Ziti
Classic Baked Ziti with Meat Sauce is a delicious pasta dish with Creamy Ricotta and Mozzarella baked into a flavorful casserole with a flavorful meat sauce.
Ingredients
Meat Sauce Ingredients
2

tablespoons

olive oil

1

onion

small dice

3

cloves

garlic

minced

1

finely chopped onion

3

finely chopped garlic cloves

1

lb.

ground beef

½

teaspoon

dried basil

½

teaspoon

dried thyme

1

teaspoon

dried oregano

24

oz.

jar of pasta sauce

1/3

cup

Red wine

Salt and pepper

to taste

¼

cup

finely chopped parsley
Pasta Ingredients
1

lb.

ziti

15

oz.

Ricotta cheese

1

lb.

grated mozzarella cheese

2/3

cup

heavy cream

½

cup

grated Asiago

or hard aged cheese i.e. Parmesan, Romano, etc.
Instructions
Preheat oven to 375 F.

Boil ziti in a pot of salted boiling water until al dente, according to package instructions.

Run with cold water immediately after cooking and toss with a little olive oil to prevent sticking.

Meanwhile, heat olive oil in a deep skillet. Add onion and garlic. Saute for 2 minutes, until translucent.

Add meat and cook until meat is cooked through, about 5 minutes.

Add pasta sauce. Pour 1/3 cup water into the pasta jar and swish it around. Pour it into the skillet with the wine. Stir to combine.

Add basil, thyme, oregano, salt and pepper. Stir to combine. Simmer on medium heat for 10 minutes.

Add fresh parsley and stir to combine. Adjust salt and pepper, as necessary.

While meat is simmering, combine 2 cups of the mozzarella, ricotta and heavy cream in a bowl and mix well. Season with salt and pepper. Mix to combine.

Add meat sauce and cheese combination to cooked ziti and mix well until thoroughly combined.

Transfer to a 9×12 baking dish and spread evenly. Sprinkle remaining mozzarella and asiago cheese on top. Press down to make sure casserole is well compacted.

Transfer to oven and bake for 30 minutes, until cheese is melted and bubbly.
Notes
Any type of ground meat can be used. You can use ground turkey, ground chicken or even ground lamb, if you prefer.
Nutrition
Calories:
607
kcal
|
Carbohydrates:
44
g
|
Protein:
33
g
|
Fat:
33
g
|
Saturated Fat:
17
g
|
Polyunsaturated Fat:
2
g
|
Monounsaturated Fat:
12
g
|
Trans Fat:
1
g
|
Cholesterol:
104
mg
|
Sodium:
759
mg
|
Potassium:
590
mg
|
Fiber:
3
g
|
Sugar:
6
g
|
Vitamin A:
1107
IU
|
Vitamin C:
9
mg
|
Calcium:
556
mg
|
Iron:
3
mg
Did you try this recipe? Leave a comment below.
Please follow me on Instagram @chefmireille or tag me #chefmireille with your pics! I'd love to share them!
Don't forget to visit the RECIPE INDEX with over 1000 recipes from around the world including lots of Vegetarian Recipes and Gluten Free Recipes!