Last Updated on January 13, 2020 by Chef Mireille
Beet Mozzarella Salad is a twist on the classic Caprese Salad using golden beets. It makes a great first course for any meal.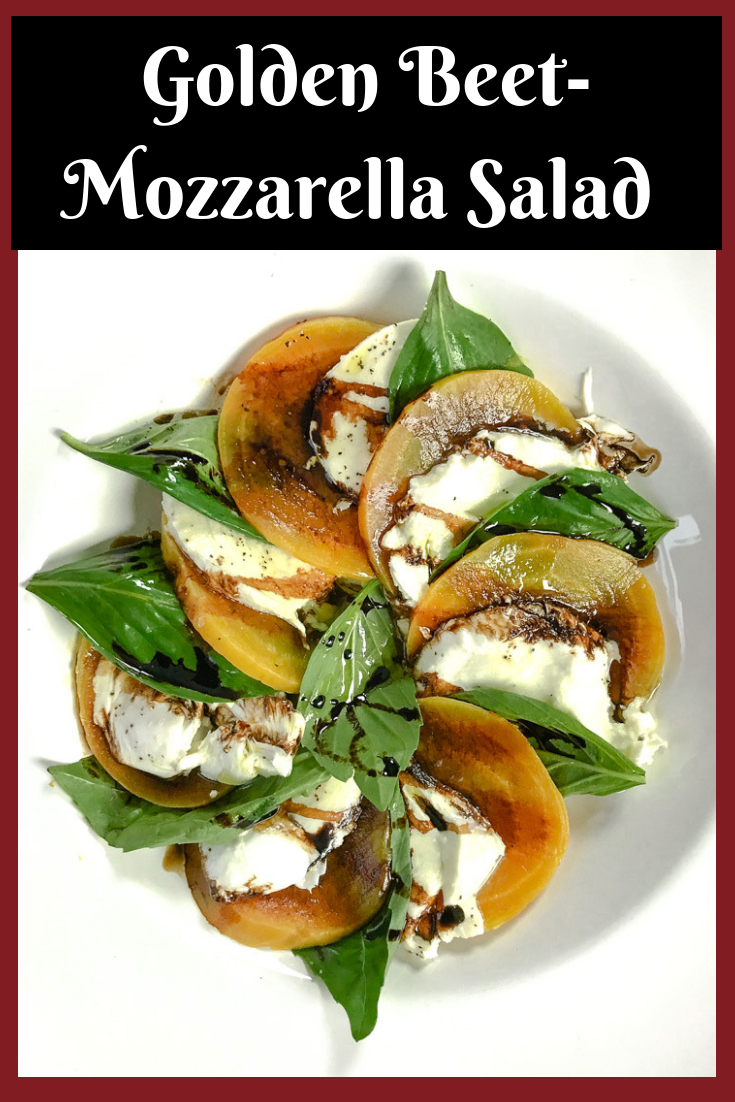 I am obsessed with golden beets, as you can see with some of my other Golden Beet Recipes
Beet Salad
Beet Raita
Golden Beet Fritters

I love the mild taste and vibrant color, on the plate. I have been eating them for several years, but usually I just boil or roast them and eat them with whatever starch and protein I am eating. Eventually, I get bored and don't want to see a beet for months. To make it more interesting, I am now creating a number of unique recipes, using this Vitamin-C packed veggie.
….a twist on a Caprese Salad and this recipe was born!
Balsamic Reduction
I LOVE Balsamic Reduction. Although bottles of balsamic glaze can now be purchased over the counter, I like making it myself so I can make different versions by infusing them with different spices and herbs as I desire. This one was flavored with orange and allspice, but I have made many different versions. It's versatile and can be used in both sweet and savory dishes.
---
This is a great first course for a dinner party!
It's a great combination of flavors. The sweetness of the Balsamic Reduction is a wonderful flavor to complement the mild flavored mozzarella and the fresh basil, with the sweet beets. The wonderful flavor of allspice cuts any residual acid left in the vinegar.
This really is a delicious, light salad to start any meal with.
Beet-Mozarella Salad
Beet Mozzarella Salad is a twist on the classic Caprese Salad using golden beets. It makes a great first course for any meal.
Ingredients
Balsamic Reduction Ingrediens:

2

cups

Balsamic Vinegar

Zest of 1 orange

Salad Ingredients:

1/4

cup

Balsamic Reduction

8

oz

golden beets, boiled and sliced

1

ball buffalo mozzarella

sliced and sprinkled with salt and freshly ground black pepper

fresh basil leaves

salt and freshly ground black pepper

to taste
Instructions
Bring balsamic vinegar, allspice and orange zest to a boil. Reduce to a simmer, until reduced by half, about 15 minutes-20 minutes.  Don't be concerned if it still looks thin.  It will thicken when it cools.

Drizzle a little of the reduction on the bottom of the plate.  To make salad, arrange slices of beets, then basil and then the mozzarella slices in an even pattern.

Drizzle Balsamic Reduction on top.
Notes
Try to do this when you don't have anything else to do in the kitchen.  As the vinegar oxidizes into the air, it will start to burn your eyes.  Just put it on and leave and start to check it after 15 minutes.
DO NOT reduce it on high heat to make the process faster.  This will cause the vinegar to burn and cause a bitter tasting reduction.
Did you try this recipe? Leave a comment below.
Please follow me on Instagram @chefmireille or tag me #chefmireille with your pics! I'd love to share them!
Do you know anyone else who likes learning about international food, culture, history and travel? Bring them over here to join the party! Don't forget to use those share buttons!
Start Here to find out how the Schizo Chef can help you with your cooking, travel and other needs!
If you like this recipe, PLEASE LEAVE A COMMENT & SUBSCRIBE!
Check out the Blogging Marathon page for the other Blogging Marathoners doing this BM#93